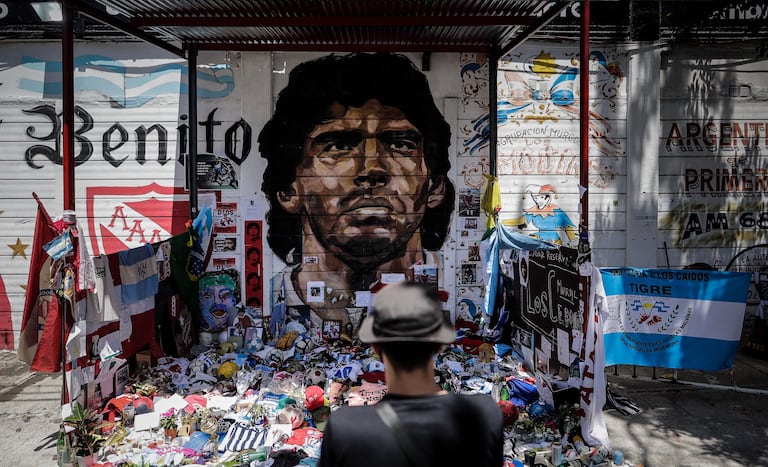 The Argentine Military Junta had been defeated by the ballot box, but the humiliation caused by the English victory in the Falklands War was still very evident in the streets of Buenos Aires that hot southern summer morning, December 10, 1983, in that the return to democracy was being celebrated. While from the balcony of the Cabildo the new president, Raúl Alfonsín, opened the new path to freedom with a beautiful speech, in the Chacarita cemetery, around the Carlos Gardel pantheon, there was a group of devotees, some standing, others on their knees, some with a bouquet of flowers in hand, praying.
From the depths of the city the din of the party reached the cemetery, enveloped, as is logical, in a deathly silence. In his mausoleum, Gardel has his own bronze sculpture, in which he appears with an open hand on the belt buckle. His worshipers often perform the ritual of placing a lit cigarette between his fingers and making a wish while the smoke rises to his smiling face and is consumed. Among that group of fanatics was a fat man on his knees, apparently deep in prayer. Suddenly, between two ladies there was a loud fight over a bouquet of flowers that they were struggling to leave at the same time at Gardel's feet. The fat boy raised his eyes to heaven and exclaimed: "More and more crazy people are coming here. And with this mess there is no way that Carlitos will answer my prayer ".
Someone said that that day also commemorated the anniversary of Gardel's birth, despite the fact that no one knows with certainty today where or when he was born, if he was French from Toulouse, Uruguayan from Tacuarembó or Argentine from the Abasto neighborhood of Buenos Aires, where he had lived as a child. It is only known for sure that Gardel was a natural son born into poverty and that he died on June 24, 1935, in a plane crash at the Medellín airport, and even in this case the legends did not cease. A doctor who had performed an autopsy revealed that his body could only be recognized because a silver knife had been embedded in his burned heart bearing this inscription: "I am from Carlos Gardel."
At that same hour, the cafes and restaurants in front of the Recoleta cemetery wall were full of beautiful people, scions of the patrician oligarchy, who did not participate in the popular joy. There they only talked about the miracle of a goal that Maradona had scored. Evita Perón rests her vain dreams in the Recoleta cemetery. The foreman of this enclosure was an Arab from Buenos Aires with light eyes who said: "I have the lady in here. There are rumors that Isabelita Perón and her compadre the witch López Rega arrived one night at the pantheon and performed a macumba. Isabelita slept one night on Evita's corpse so that her spirit could be transferred to her. But the rite didn't work. "
A diamond necklace on each ankle
She was born poor and also illegitimate, like any tango, but when Evita Perón came to Madrid on June 7, 1947, she wore a marabou cape, a million dollar diamond necklace on each ankle, and an emerald diadem on her forehead. , in which the crystal of leukemia also glowed. Beside him, Franco's wife looked like a grim secretary in a Sunday suit. The second time that Evita arrived in Spain it was already as an embalmed corpse, that after being kidnapped and traveling around the world, Perón kept it in a closet in his residence in Puerta de Hierro and to which Pilar Franco, the dictator's sister , and Isabelita Perón wore the suits that were worn each season in El Corte Inglés.
When the battered and several times restored corpse of Evita Perón was repatriated in July 1974 to Argentina and its spectrum had taken over the collective unconscious, Diego Armando Maradona was a shirtless 14-year-old boy, who had already managed to tame the ball in a field from Villa Fiorito. In a miraculous way, chance was subjected to his left leg, but fate wanted that in the life of that boy misery and glory would one day make a synthesis. It was during the 1986 World Cup in Mexico when this double charge came into contact and the explosion occurred.
The victory, half tricky and heroic, as revenge on England, on the one hand turned Maradona into a god and on the other hand condemned him to acquire the rest of his life the form of an obese wimp beaten by all winds. Diego, you are not a god, come down to earth, the shrinks told him, but at the end of the session they asked him on their knees for an autograph. In Olympus there is no morality. The gods are allowed any degradation. What is a hero? A being born into poverty, of uncertain origin, who at a moment in history embodies the passion of a people and dies defeated, like Gardel, Evita, Maradona.

elpais.com
Digsmak is a news publisher with over 12 years of reporting experiance; and have published in many industry leading publications and news sites.