Fernanda Paul
HayFestivalArequipa @ BBCMundo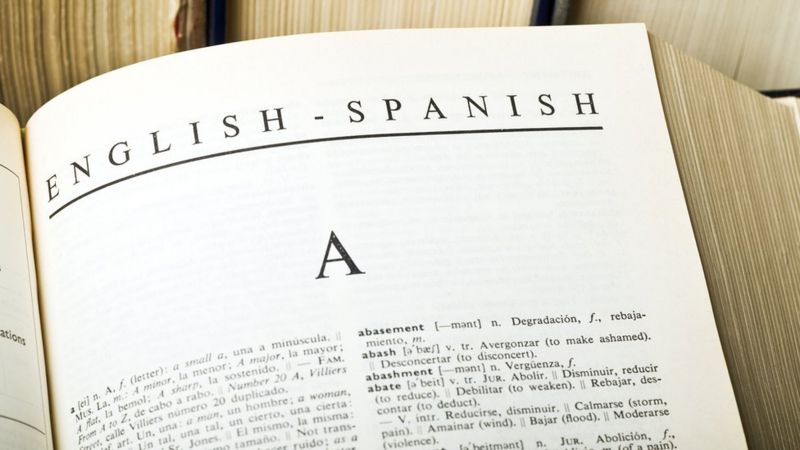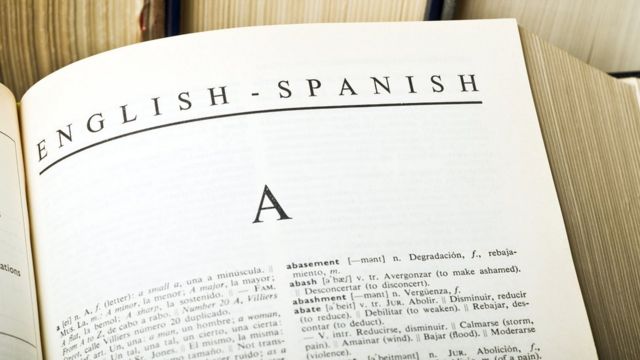 In the middle of one of those routine zoom meetings with my fellow BBC members, someone knocked on my door.
"I have to go open the gasfiter," I told them.
To my surprise, the only one who understood me was my boss, who, like me, is Chilean.
The rest, they asked the same question that you are probably asking yourself: ¿qWhat the hell does gasfiter mean?
He is a plumber, as they say in Spain, Mexico and other countries; a person whose job is to repair plumbing or sanitary fixtures.
But where does this curious word come from?
From "gas fitter", which in English means a repairman (fitter) of gas accessories but is also used to describe that person who fixes pipes.
As well as gasfiter there are many other words that Spanish took from English and adapted (or deformed) them according to their culture.
They are not necessarily anglicisms (such as, for example, "cool", "closet", "clip", "link" or "mouse", English words used by Spanish speakers today) but are expressions that were spontaneously taken by the different societies that They speak Spanish and distorted according to their pronunciation, most of the time regardless of how they are written in the original language.
The ubiquitous English has influenced thousands of languages ​​around the world, but the closeness of Latin America to the United States makes this even more evident here.
"It is a very normal phenomenon, when the speakers of a language want to bring a word from another language, the most common thing is that the pronunciation, and then its writing, adapts to the target language, following its patterns," he explains to the BBC World Carlos González Vergara, Chilean linguist and expert in morphology and syntax of Spanish.
"And it happens with all languages. Japanese, for example, also adapted English words, the typewriter is called Tappuraitā, which comes from tap writer," he adds.
For Fernando Zuniga, an expert in linguistic typology and Indo-American languages, there are different types of loanwords and in some cases, even the meaning can change from the original language to the target language.
"The loans come from a contact between two languages ​​that is often deep and prolonged. And it requires that there be a certain bilingualism, a certain part of the population that knows both languages, "he says.
"But when there is not a very widespread bilingualism, there are a lot of these things like the word gasfiter or others, that people take them, adapt the pronunciation and can even change the meaning because they do not really know the original," he adds.
Among all the BBC Mundo journalists, coming from different Spanish-speaking countries, we compile some of the most illustrative words of this phenomenon.
Many of them are not included in the Royal Spanish Academy nor do they have a solid theory to support their supposed origin, but popular belief can help us unravel that mystery.
Next, we show you a list of these very particular words. Can you think of any more?
Bichicome: This is how a homeless indigent person is called in Uruguay. It is believed that its origin comes from the English "the beach comers" (those who come from the beach) since at some point many of them spent the night in the coastal area.
Steak: beef steak. It comes from the English "beef (meat) steak (slice or fish market)".
Cotufa: in Venezuela it is used to say popcorn and comes from the English "corn to fry" (corn to fry).
Cachai: the classic Chilean expression to ask if you understood or not, comes from the English "to catch".
Cyellow: word that is called a temporary job in Panama and that is popularly believed to have evolved from the "come around" (come around) that Americans from the Canal Zone responded to Panamanians who asked for a job to earn extra money .
Cachifa: It is a derogatory way of referring to the domestic worker in countries like Venezuela. It is suspected that its origin comes from "K-Chief" or "kitchen chef" (chef).
Changüí: "Give me a changüí" means "give me a chance" in Uruguay. It comes from the expression "chance to win" (opportunity to win).
Charcot: in Panama it means shortcut and comes from the English "shortcut". For example, "he had to 'puddle' to avoid the traffic jam."
Chifear: also from Panama; It is used to explain when you evade, ignore or do not face a person or commitment: "he is 'chifeando' me". It comes from "shift", which means to shift or shift.
I escorted: this is what they say to a sticky tape in Cuba. The popular belief is that it comes from "scotch tape".
Tuxedo: In many places in Latin America the male formal suit is called a tuxedo. The name comes from the English "smoking jacket" which had a different meaning: it was the garment that was worn over the common suit to prevent the smell of tobacco from permeating the fabric when smoking.
Photo: Old Cuban cars or vehicles, comes from the word "foot it and go" used in a slogan of the Ford car brand in 1908.
Guachimán: watchman, ship keeper or rescue worker, comes from the English "watchman".
Guaipe: mass of cotton lint or pieces of cloth, used to clean machinery, tools or floors. It comes from the English "wiper" (windshield wiper).
Guagua: has different meanings depending on the country. In Cuba the bus is called guagua and, although there are different theories, it is believed that it comes from the initials Wa & Wa Co., the American company that brought the first buses to the island. It has also been said that it is a deformation of "waggon" (car). In any case, in other places guagua means baby or child and, in those cases, the word is inherited from Quechua.
Hanging: in Puerto Rico it is used to say that you are going out to have fun. It comes from the English "to hang around".
Jocho: Mexican expression to refer to hot dogs. The word is a direct translation of the English "hot dog". It is also used in other countries such as Panama or Puerto Rico.
Lonchera: container or bag to carry lunch. It comes from the English "lunch" (lunch).
Macundales: It is used in Venezuela to talk about a group of objects that must be collected, it comes from a deformation of the word "Mark & ​​Dales", a North American brand of tools.
Gold: offside, comes from "offside".
Ponqué: This is how a cake is called in Colombia, it is believed that it comes from the English word "pound cake".
Cupcake: in Chile and other countries they say queque a la torta or el ponqué. It comes from the English "cake".
Rompoy: It is used in some areas of Latin America to refer to a roundabout. It comes from the English "round point" (which, in turn, was taken from the French "rond point").
Cool: In Panama it is used to describe a person when they are strong or insensitive, or when something is too hard or difficult to understand. For example, "the test was good 'tof'". It comes from the English "tough" (hard or difficult).
Tuning: Many Latin Americans use this word to say that they are going to fix or adapt something, especially a vehicle, to personal tastes or interests. It comes from the English "to tune", which is to tune or adjust.
Vether (the water): toilet or bathroom. It comes from "water closet".
Remember that you can receive notifications from BBC Mundo. Downloada our app and activate them so you don't miss our best content.

www.bbc.com
Eddie is an Australian news reporter with over 9 years in the industry and has published on Forbes and tech crunch.