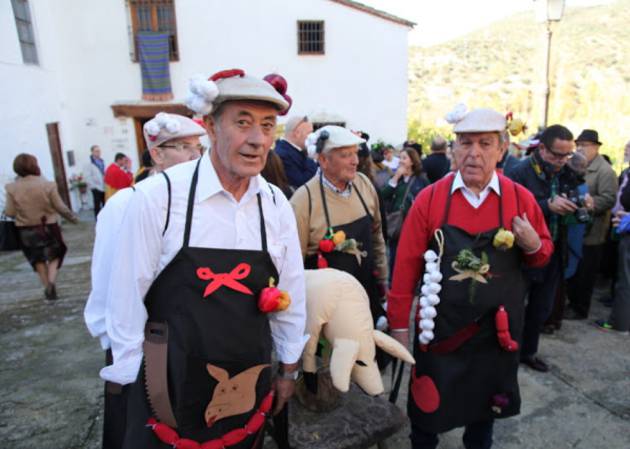 Why don't young people join an association where you have to wear a cape to meet up? You don't like Batman, Doctor Strange, Calvin and Hobbes' Stupid Man? The gastronomic brotherhoods, which proliferated in the last two decades of the last century, which collect and promote our culinary history in Europe and which on many occasions do not receive the recognition they deserve, are a hobby of retirees for those under 40 years of age. Older people who parade in Masonic clothing and put on the bars of delicacies in a clay pot, without soy sauce or sriracha or anything.
"We are not just a group of people who get together to eat, far from it," says jokingly Carlos Martín, president of the Spanish Federation of Wine and Gastronomic Brotherhoods (FECOES). Martín also chairs the European Council of Brotherhoods (CEUCO), a position he won seven years ago in a vote with Italians, Portuguese and … French! For once, the Spaniard was not the one who was left without a parachute in the plane joke. In the gastronomic struggle with our neighboring neighbors, the world of the brotherhoods shows a push beyond the Pyrenees that we would like well for other areas. However, from the mountains inwards, they seem like a parade custom and a decaying banner.
A brotherhood is not an association, a peña or a txoko: it surpasses any other group of diners for its commitment and its liturgy. The brothers maintain medieval rites, since the brotherhoods were born five centuries ago linked to religion, as groups with pious and charitable purposes, to guarantee their members health care and burial (in case the first one failed). Some conclaves led to the celebration of the yantar, and ended up being entrusted to a dish, a recipe or a meal instead of a saint or a virgin. They maintained, however, their protocols: the president is called the Grand Master; to the main meeting, Chapter. The celebratory attire usually requires a cape, bands, hats or similar frisbees, and of course, a dashing demeanor. They deliver solemn prizes and take solemn oaths such as "defend the Cantabrian anchovy". King Arthur pulling a fish out of the rock instead of a sword.
"If you don't give it a bit of posh, it seems that we are a brass band," says also jokingly Tino Sampedro, president of the Cantabria Anchovy Brotherhood. The funny thing is that his, born in 1998, is one of the unique ones, since he wears a simple blue suit, jacket and waistcoat, which would be used for any wedding or job interview: "When we became a brotherhood, we went to El Corte English and we bought 30 equal blue suits. I think they cost us 15,000 pesetas. And hey, they've held out until today. And everyone recognizes us when they see us. Although it is also because we are the only ones who always carry product, and people fight to sit at our table ", he adds, more jokingly.
However, behind the folklore, which obviously has a cultural value, the good brotherhoods carry out a commendable activity: rescuing knowledge about their particular culinary (origins, stories, disappeared recipes) and promoting its dissemination and consumption. They collaborate with denominations of origin and protected indications, investigate and claim; they organize conferences and tastings, they promote their hobby. The Cofradía de la Anchoa has published several books with the results of its heritage inquiries, as well as the Brotherhood of Friends of the Cheeses of Asturias and so many others. Eating together, in those cases, is the celebration of a job well done that keeps the history of our national tablecloth alive.
"There is a lot of effort behind what we do. The problem is that you have to know how to communicate, and the brotherhoods communicate badly ", says Rafael Secades, the Asturian Brotherhood. His brotherhood was established in 1982 and in 1988 it was one of the eighteen that gave birth in San Sebastián to the Federation of Gastronomic Brotherhoods (FECOGA). It also hosted the first FECOES congress in Oviedo in 2003, it is twinned with foreign brotherhoods, it has promoted the organization of The World Cheese Awards and in 2020 it became the first gastronomic society in Spain to obtain the title of "royal" granted by the monarchy.
Wait: are there two national federations of brotherhoods? Yes, there are two. Because in Spain this of associating ourselves with order and concert is bad for us; and not only in gastronomy. The Judean Popular Front and such. FECOGA was born as a union of the Cantabrian Coast and the French Basque Country, and its alma mater is the Basque Gastronomy Brotherhood, while FECOES emerged with the ambition of integrating the entire peninsula and its islands.
And how many brotherhoods are there in Spain in total? Well, I'm glad that you ask me that question, because the hubbub of regional registries and the mix of brotherhoods and associations turn the sum into a cabal or paella. "That they work as such there will be about 120", speculates the president of FECOES. Many wither away due to the loss of members or strength, and limit their activity to the annual Chapter, that is, the fraternity meal. Some, like Brotherhood of La Borraja and Crespillo de Aragón, once restless, they lose their bellows.
The dispersion, logically, reduces the force. "Ideally, there would only be one federation," says Enrique Sánchez Sacristán, Grand Master of the Asparagus from Navarra and for years secretary of FECOGA. "We are promoting the creation of a confederation", advances Pepe Oneto, who chairs the Island Gastronomic Guild "Los Esteros" Cádiz and also the Andalusian Federation of Wine and Gastronomic Brotherhoods (FECOAN). Because, indeed, and to add to the dizziness of acronyms, there are also regional federations, some as active as the Cantabrian or Andalusian. The latter has created a cross-border alliance with the Algarve region, has published four books in Spanish and Portuguese, awards awards, appoints ambassadors, holds congresses, maintains a gender parity among its members and prepares several documentaries, according to its secretary. , Juan Infante, in turn president of the Brotherhood The Dornillo.
But the real challenge is pointed out by Pepe Oneto: "This has to have continuity and for that we have to give way to young people". FECOAN is going to create a youth section. At Espárrago de Navarra "we are also incorporating young people. Well, young people in their forties or fifties, which for us is adolescence ", laughs Enrique Sánchez. "I have been since 1984 and this is getting very old. But young people do not want to join, because friends do not go or because they do not have love for this story ", laments Jesús Merino, of the Guijuelo Brotherhood, with 18 members in a unique town. "And there is another reason: we live in times in which nobody wants to pay anything for nothing, and this costs effort and money," adds Secades, from the Cheese.
Carlos Martín, who maintains a frenetic activity in Europe with an important influence, making Spain the spearhead in the defense of "culinary crafts", points out that aging is a trend in the EU: "It is the same challenge in all countries and we have to change some things. For example, create the figure of the junior brother. Or stop giving so many prizes to so many grandparents ", he jokes. In order to get closer to the youth, it is necessary to share their codes, which today are digital, and at the same time present a secular custom with enough appeal so that the novice is interested in a collective matter whose fundamental objective is to endure our common customs: "My own son sees a very senile environment. They have another idea of ​​what a meeting of friends is, "says Enrique Sánchez.
As a good traditional sector, self-criticism is done indoors, but little in public. The absence of women, for example, has been for decades one of the fundamental shortcomings of the brotherhoods, many of which, the most anchored in the stale past, maintained in their statutes the male exclusivity of their members until two days ago. Even today there is little female presence in the chapters (which does not invite young people to join in, by emphasizing the apparent lag with the times).
However, there is an experiment that has worked, and that is recounted by the president of the Anchoa de Cantabria; the ones in the department store suit. Based in Santoña, in just six years they have gone from eighty members to 220; many, thirty-somethings. How they did it? "We hooked up with a 40-year-old, a shipowner and boat captain, who has many young friends. And he was bringing more people ".
Denise Fernández Robledo is 27 years old and has just been sworn in as the new Anchovy member just a few weeks ago. He works in the Conservero Spanish Consortium and also in a bar in Santoña, the Tartufo: "My boss at the bar is a great brother and he had been telling me to cheer up for a long time." She did so, also driven by her love for a fish that in Santoña blends with the local identity. "We are a town of 12,000 inhabitants that produces the best anchovy in Spain, and that must be taken to all corners." Denise believes that renewal must spread among the brotherhoods, "because also, in our case, we are talking about a sector where the product is worked by women", the sobadoras.
Something similar to Spanish cuisine, supported by women at home but still mostly occupied by men when talking about stars. The world of the cape and the banner must also be renewed in feminine terms, because "a brotherhood with young people and women gives joy and life. I am already in the process of dragging more people ", Denise confides. Something as simple as word of mouth, which also multiplies its influence when it comes to food.

elcomidista.elpais.com
Eddie is an Australian news reporter with over 9 years in the industry and has published on Forbes and tech crunch.