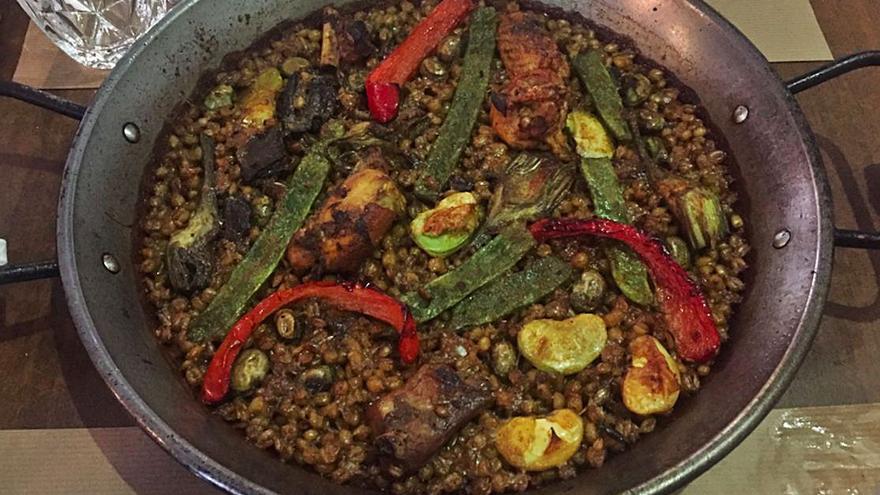 posts to comment on gastronomic milestones and ephemeris of 2020, why not point out that the Sunday gastronomy page of INFORMATION turned twenty years? His first appearance, under the heading When do you eat here, was on September 10, 2000, with reviews of the Tragallum in Alicante, of the novel La ignorancia de Milan Kundera -where wine and beer define two well-differentiated Europes- and Palacio de Bornos 1998, in addition to an article that reviewed the history of human nutrition from the apple of Adam and Eve to the disconcerting appearance of the mobile phone in restaurants. Titled Good appetite since 2008, it continued to be published uninterruptedly, without missing a single Sunday at the appointment and with the same scheme, until March 5 of this year. Confinement and everything else led us to rethink and redefine it: with you, Alone in the refectory. Around him there were chefs who pretended to be taking advantage to reflect on the divine and the human, while some more sincere confessed to feeling totally knocked out. It was enough to stand.
As it is, one took to talking about epidemics on the gastronomy page. The first time was on account of the spices, whose purifying effluvia was the great antidote to the plague since it was documented in Justinian's Rome, although in reality they were accomplices of its spread through the transoceanic trade. Then came the bacon produced in the French convent of Vienne where the relics of Saint Anthony the Abbot were kept, who gained a reputation as a miraculous remedy against ergotism in the 11th century and forever sealed the union of the saint with his piglet. Muhammad's alleged clairvoyance also came up when he outlawed pork to combat trichinosis. In the absence of restaurants and gastronomic news, we began to tell them stories and anecdotes about pizzas, chips, omelettes or salads.
The return of restaurants
As soon as we could, we talked about restaurants again. We started with two that seemed to have been born just when the world was ending: La Maka in Guardamar del Segura and La Quarantamaula in Castalla. Casa Pepa, in Ondara, had closed in September 2019, after its acquisition by BonAmb -the biestrellado of Xàbia-, and what was to be a restrained period of reforms became a forced closure until its brilliant reopening, a year later . The incorporation of Lula to the offer of La Herradura, in Los Montesinos, where it is like a restaurant within another, more gastronomic and just as deeply rooted, was also new. Our Barra, from Torrellano, opened a delegation in the Playa de San Juan area, while, also in Alicante, the Club de Regatas restaurant consolidated its new stage as Poniente -with chef Iván Iturralde at the helm- and Tribeca -la rogue option of the Gourmets Group, led by Monastrell- it was completely and spectacularly reformed.
L'Escaleta, the biestrellado of Cocentaina, resumed the celebration of its 40th Anniversary with a great parade of superchefs in an impressive program of star dinners. El Xato, in La Nucía, announced its intention to open a boutique hotel very close to the restaurant while continuing to celebrate its seniority with a brilliant Centennial Menu. The one presented by Audrey's, in Calp, paid tribute to Joël Robuchon, chef Rafa Soler's mentor. In the Pont Sec de Dénia there was the birth of an invention that seems historic to us: the paella de blat. But the most colossal novelty that we have noticed has been the opening of Odiseo in Murcia, with Nazario Cano from Alicante at the helm. He shared headlines, when talking about stellar additions to the Michelin 2021 guide, with Baeza & Rufete de Alicante. We were telling you about it last week, without going any further.
Essential wines and books
What has not lost prominence in this weekly chronicle is wine. The winemaker Pepe Mendoza has revolutionized that of La Marina Alta with the irruption of his personal project, Casa Agrícola. Something like this had to happen to definitively disprove a tremendous fake news: la giro, native ink of the region, is a very different variety from Garnacha, no matter how fashionable it is, which it is. Without prejudice or apriorism, this strain has stood out in our wine comments for 2020: there were red, rosé, white and sparkling garnacha wines-from Rioja, Navarra, Calatayud, Cariñena, L'Empordà, Utiel-Requena, València or Priorat- among the fifty long wines reviewed here this year, along with others from the most diverse origins, including Alicante, California, Champagne or Ribera del Duero. Extraordinary Iberian pork products or an incredible canned bean stew – in addition to oils, liqueurs, cider, ice cream, cheese, oranges or apples – have completed our review of the gourmet pantry.
For twenty years, books have been another hallmark of the Sunday gastronomy page of INFORMATION and there has indeed been a clear loss of intensity in 2020. Before confinement we were talking about The Taste of the Magic Mountain, published by L 'Escaleta, or the Sustainable guide, a pioneer from the Valencian Community in assessing the sustainability of restaurants, now that Michelin incorporates some kind of criteria in this field. We dedicate one of our chronicles to the book by Moisés Martínez, chef at El Buey in Almoradí: The artichoke, from the garden to the table. Then, we have hardly found readings to recommend them: the reissue of Crudo by Anthony Bourdain, the Voracious of the New York Times critic about René Redzepi, the articles by Fernando Huidobro compiled in Recreation Kitchen … We have also talked about the classic Contemporary Rice by Quique Dacosta or of the guide of the 55 essential restaurants of the CV.

www.informacion.es
Digsmak is a news publisher with over 12 years of reporting experiance; and have published in many industry leading publications and news sites.