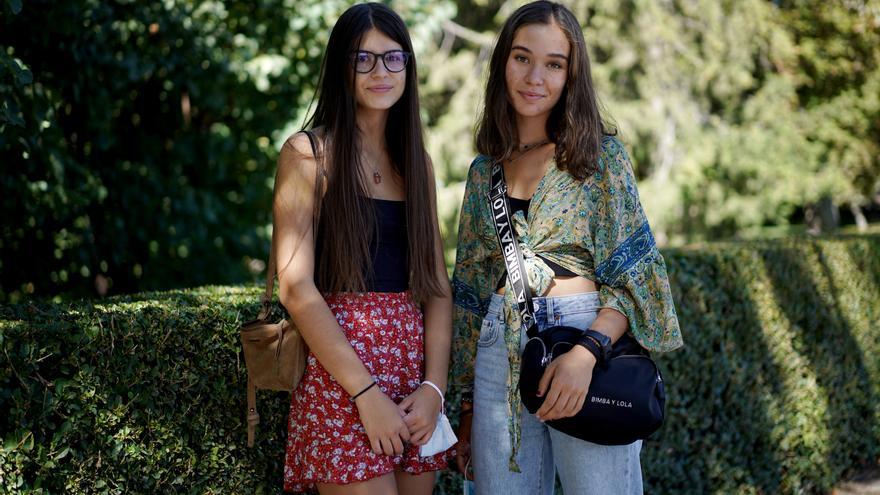 Lucia, Adrián, Marina, Cristián, Sofía, María, Ariadna and Paula They are about to enter the world of work, some finishing their studies or thinking about where they will do it, they may even already be immersed in a professional career of which they still do not know almost everything. Born in the late 90s and early 2000s, technology, social networks and communications are some of the hallmarks of their generation. Although, in this case, they also share an identifying trait: They are the post generation 11S.
None lived the moment, 20 years ago today, in which two planes were colliding with the Twin Towers of New York, in the heart of the World Trade Center, causing the death of 2,996 people, the disappearance of another 24 and more than 25,000 injured, in addition to a gap in world history that has led to important changes in all areas, both in political and social life and in matters of security.
The 9/11 attacks -four in total-, perpetrated by members of Al Qaeda, followers of Osama Bin Laden, marked a before and after in universal historical memory, although it is the new generations that receive information from third parties or, in many cases, from no one, producing that the legacy of terror is fading until it mutates into something confusing and difficult to explain.
They did not see live, on television, how everything happened. They did not feel the tension of the moment, the confusion about what was happening, the uncertainty of what would happen next. But are aware that what happened then it is an important part of what happens today.
Cristián Bartolomé: "I don't remember who did it"
Cristián was born in Barcelona a year after the attacks. While his mother and aunt comment in the background that they saw everything live, "on the Matías Prats newscast," and that they thought that it was all a movie, "we couldn't believe that this was true," the young man makes a I try to remember what he heard. "What I heard and what I saw was that a plane driver had problems and crashed the plane into the twin towers, causing many deaths," he says. "I don't remember who did it … but I saw on the news that it was very serious, that it affected a lot of people", he adds with a serious demeanor.
The young man, who admits not having studied anything on the subject at the institute, remembers tributes in the courtyard of the same to the deceased. But was it 9/11? No. The kid you're thinking about the case of Germanwings Flight 9525, in which the pilot, with psychological problems, crashed a plane that had left Barcelona for France in the Alps.
And although Cristián has traveled to New York and has been in the museum honoring the victims of the World Trade Center, he makes a mess with the information. "I think that as a result of all that the security measures are now much stronger than they were. It was all a very hard blow for the city of New York and for the families of the victims, very great emotional and financial damages. "In this he is not without reason.
Ariadna Palacio and María Germain: "There were thousands of victims, right?"
Ariadna, 18, from Zaragoza, and María, 17, from Madrid, also know that 9/11 was an attack in New York and that it left many victims. "There were thousands of victims, right?", they ask to add that"The executor was Osama Bin Laden, or had something to do with it".
They acknowledge that the institute has not given an agenda on this terrorist attack, "neither on this nor on any one," including those in Spain. "Because this year we have given history of Spain, but nothing, they do not tell us much about those things," they sentenced.
Like the other young people, they comment that when they saw the images they felt a lot of impact. "I can't think of how anyone could think of such a thing", says Ariadna.
Adrián Suárez: "9/11 produced mistrust in Muslims"
You can see that Adrián surfs social networks. This 20-year-old from Toledo knows that in the wake of the 9/11 attacks, the United States and its then president, George W. Bush, decided to enter Afghanistan. "I think it was Al Qaeda, they attacked the Twin Towers, the Pentagon and I think it was somewhere else, but I don't remember it," he says.
The attack has never been discussed at home and it has never been treated as a subject in itself in class. "In English we have made some text comments, but without going deeper ", he acknowledges.
What little he knows he has seen or read on networks and the media. "The videos are very strong, I saw it on Twitter, people jumping into the void to escape the flames, despair … ", he comments while snorting.
For Adrián, the attacks "meant distrust of those who practice Islam and more security at airports. "
Lucía Badaleta: "In the US they are afraid that it will happen again"
Lucia, only 16 years old and from Madrid, lived for a time in the United States, where he also studied. With a shy voice, in a low voice, he walks with his dog Rosi and is somewhat reluctant to talk about the subject, although the word racism flies over his speech constantly. "When I lived in the United States there was a lot of talk about it. There is still a lot of fear there and there is still tension in the air. They are afraid that it will happen again, but at the same time there are many people who blame a group, which are very racist and very closed. "
With qualms about getting wet, Lucia finally admits that yes, she is talking about Muslims. "People do not reason, they blame them and they see no more".
He also comments that at home they have sometimes talked about the attacks and that "at school, there in the United States, we did not study the subject much except for the days leading up to the anniversary. They informed us about what happened."
Like the other young people, he has one thing clear: "When I see the images I think about the number of people who died and the fear they had to go through. It's something very strong".
Sofía Frigola: "I felt a lot of emotion in New York"
Sofia, from Barcelona and 16-year-old knows that "a group of terrorists crashed a plane into the Twin Towers and they collapsed. "Little more. She was not even born. But her family took it upon herself to take her to the memorial at the World Trade Center a few years ago on her trip to New York.
The young woman did not experience the impact of those images live and direct, but the impact of the relatives in a tribute act during their visit to ground zero. "It was just September 11 and they were commemorating the victims. It was very emotional to see people remembering those moments …", he says. "I was very excited to see them have such a hard time."
She has seen the videos on television and is clear that "it is very strong that so many people's lives were killed in a moment", but he does not know who or why he committed such an act. Furthermore, he recognizes that this topic has never been discussed in class. 9/11 coincides with the Diada in Catalonia.
Paula Cárdenas: "Now the role of the media is valued more"
Paula plays the cello in the Retiro park in Madrid with a friend. At only 19 years old, he wants to get money to go to Italy with a baroque choir. She also did not live 9/11 but has bothered to find out about it on the Internet. "It was a planned attack with airplanes, they kidnapped them and collided with the Towers. I know this because they have told me things and at some point I have looked for information. Also, in the institute we talked about it, "he says.
When she saw the images, Paula admits that she found it horrible, "It was awful and I hope something like this never happens again", but the truth is that he does not know details that go further, such as the number of deaths or if there were more attacks in other parts of the US.
As for the repercussions of the attacks, Paula assures that since then "the media were valued more because they played a very important role. People watched the attack live from their home. That was something very novel. "
Marina Pérez: "I hope it doesn't happen again"
Marina is 23 years old and has just entered the world of journalism, specifically in radio. Despite having studied a career and working in the media, her young age continues to be a gap when it comes to having knowledge on the subject. You know what you've heard. Like all. At no time in his academic life has the subject been discussed. "9/11 was an attack perpetrated by Al Qaeda that It occurred in the Twin Towers in New York and in two more places that I do not remember now"he says.
She knows that there were many deaths and that this Saturday is the 20th anniversary, she has also seen images, but when it happened she was only three years old. "What I have seen has been a posterior. It has seemed to me something very strong and shocking, something that is not seen every day and that we hope will not happen again".

www.informacion.es
Eddie is an Australian news reporter with over 9 years in the industry and has published on Forbes and tech crunch.