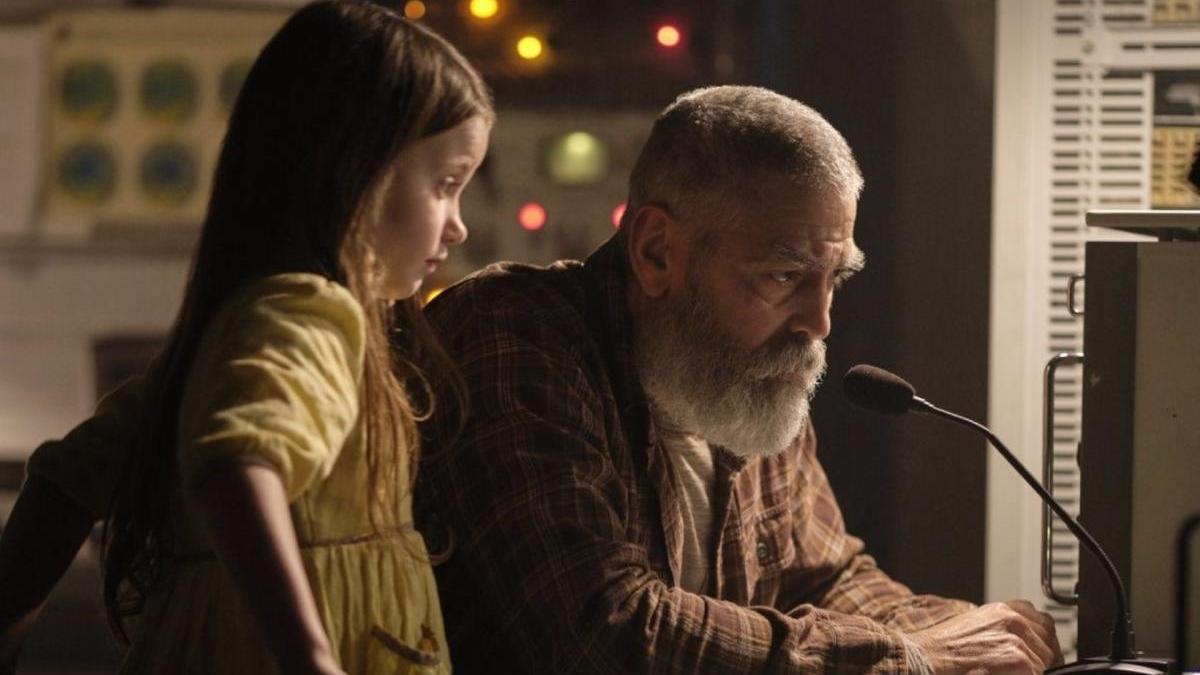 Science fiction drama 'Midnight sky' comes to Netflix this Wednesday, December 23. Directed, starred and produced by George Clooney, the film is the adaptation of 'Good Morning, Midnight', Lily Brooks-Dalton's acclaimed post-apocalyptic novel published in 2016.
In 'Midnight Sky', a mysterious world catastrophe devastates the human species. After the disaster, a scientist stationed in the Arctic (George Clooney) tries to warn an astronaut in deep space (Felicity Jones) and her crew of the dangers of returning to Earth. Even in the face of impending extinction, the human drive to connect travels light years to unite two of humanity's last survivors.
In addition to co-producing and directing the film, George Clooney was captivated by the title role of Augustine, that mature and lonely astronomer with the misfortune of witnessing in the front row the collapse of civilization.
According to Clooney, 'Midnight Sky' is a film full of optimism and hope. "In many ways it's a movie about regret, because of the character I play, but he gets redemption. And I think redemption is something really important that floods us and gives us hope. I feel like it's a very hopeful movie." explained the actor in a virtual meeting with various media.
The anecdote of the filming was carried out by the Unexpected pregnancy for actress Felicity Jones, who plays communications specialist astronaut Sully. "At first, I was very worried that I would be fired, so it was a great relief that George received the news in a very positive way when I told him about it. It made me feel completely comfortable throughout the whole process. When he told me that they would make changes in the script and that I could be pregnant in the film, I was relieved. It was a really special process, "recalls the British interpreter.
Clooney says Felicity Jones' pregnancy brought an emotional touch to the script. "The crew of the ship, these five wonderful actors, came together to protect it, they became a family. So we could write scenes about how to call the baby or do the ultrasound, which for me is an impressive scene," he said twice Oscar winner, who also stated that "Felicity's son, Wiber, has a credit in the film. He became just another character."
Apocalyptic world
'Midnight Sky' is a apocalyptic tale captured on a canvas that is both intimate and cosmic, narrates two plots in parallel. In one, a lone scientist stationed at an arctic outpost surrounded by snow endures the last days of humanity's terrestrial existence. In another, a team of interplanetary explorers hope to finally return, aboard a futuristic spacecraft, to their home after several years away from Earth. Those astronauts, trapped in their isolation, ignore what has happened to the planet.
"One of the things that I was passionate about filming was that the production design of our film is really impressive. It is one of the best things I have seen as an actor and that makes your job very, very easy. When I saw the film finished for the first time, I was impressed. I think it's a beautiful movie", stated the Mexican actor Demián Bichir during the virtual meeting with the media.
"I really like the space and I am really impressed by the visual effects of the film. And I love all the asteroids that approach the spacecraft, "said Caoilinn Springall, an eight-year-old actress who makes her film debut with this feature film.
Actors David Oyelowo, Kyle Chandler, Tiffany Boone, Ethan Peck, Sophie Rundle and Miriam Shor complete the cast of Midnight Sky.

www.informacion.es
Digsmak is a news publisher with over 12 years of reporting experiance; and have published in many industry leading publications and news sites.