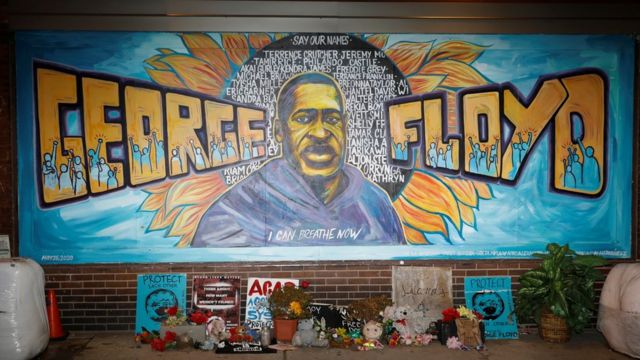 "America in the dock," say some US media headlines who are closely following the George Floyd death trial.
The hyperbole reflects the state of mind in a week in which there have been shocking testimonies about what were the last minutes of the life of the African-American man who died in May of last year after a police arrest.
Actually, the one in the dock accused of murder is former Minneapolis cop Derek Chauvin, who kept his knee on Floyd's neck, 46, for more than 9 minutes.
This Thursday, Floyd's girlfriend gave an emotional testimony in court, where she recounted what the couple's first kiss was like and spoke about their problems with opioid addiction.
Additionally, a paramedic testified that he had to instruct Chauvin to remove himself from Floyd's flaccid body when he arrived to treat him.
Chauvin, 45, denies the murder and wrongful death charges.
Floyd's girlfriend's statement
Courteney Ross is the first person to testify at trial that he knew Floyd.
He said they met in 2017 at the reception of a Salvation Army shelter, where he worked as a security guard and she was waiting to see her son's father.
He said Floyd asked him to pray with him.
"It was so sweet and at that moment I had lost a lot of my faith in God," she said, adding that they kissed that night.
Their first meeting, he noted, is one of his favorite stories to tell.
Ross added that they both suffered from chronic pain and were addicted to opioids (found in some pain medications).
"Addiction, in my opinion, is a lifelong struggle," he said. "It is not something that comes and goes, it is something that I will deal with forever."
Ross did not specifically mention whether Floyd had used opioids on the day he died.
In a statement, attorneys for the Floyd family, Ben Crump and Antonio Romanucci, denounced what they described as "attempts by the defense to construct the narrative that George Floyd's cause of death was fentanyl in his body."
"We want to remind the world that witnessed his death on video that George walked, talked, laughed, and breathed normally before Derek Chauvin kept his knee on its neck, blocking his ability to breathe and extinguishing his life, "wrote the attorneys.
What the paramedic said
Paramedic Seth Zachary Bravinder testified that Floyd appeared not to be breathing and had no pulse when he and his partner arrived at the scene.
Several officers were on Floyd and paramedics had to tell them to move, he said.
"They were still on top of him," Bravinder told the jury.
At first he thought it was a fight, but quickly realized that Floyd was flaccid.
When asked about video footage of Chauvin gesturing, Bravinder replied that he wanted "him to move" so he "can move the patient."
Bravinder supported Floyd's head as he was transferred to a stretcher to prevent him from hitting the ground.
The paramedics decided to put Floyd in the ambulance and get away from the crowd to focus on the resuscitation maneuvers.
They stopped the ambulance two blocks away to intensify resuscitation efforts.
When Bravinder, who had driven, went to the back of the ambulance he saw a flat line on the heart monitor.
"It's not a good sign," he said then.
What else has happened at the trial?
The Derek Chauvin trial is leaving powerful scenes, such as the heartbroken crying of Charles McMillian, a 61-year-old man well known in the neighborhood who witnessed the event, after seeing previously unpublished images of the ex-policeman's body camera.
Or the admission of feelings of guilt and sleep imbalances from some of the people who witnessed Floyd's last minutes.
In his opening statement, prosecutor Jerry Blackwell told jurors that Chauvin "betrayed his badge" by kneeling on Floyd's neck and using "excessive and unreasonable" force to arrest him.
Chauvin's attorneys have indicated that they will base their defense on that Floyd died of an overdose and poor health and that the force used was reasonable.
Cited Chauvin body camera footage seen in court Wednesday showed Floyd pleading with officers during the arrest: "I'm not a bad guy". He said.
Other images from the former policeman's camera show how the agent is confronted by Charles McMillian after Floyd was transferred in the ambulance.
"We had to control this man because he's a big guy," Chauvin told McMillian as he returned to his police car.
"Looks like he's high on something."
Guilt and regret
Darnella, the teenager whose recording of Floyd's arrest sparked protests around the world, said she stays awake apologizing to Floyd "for not doing more."
Christopher Martin, the young clerk at the store where the dispute over a dubious $ 20 bill began, testified in court that he briefly interacted with Floyd as a customer within Cup Foods shortly before his arrest.
Martin recounted that Floyd "seemed to be high" because he had trouble answering a simple question, but was lucid enough to carry on a conversation.
He described Floyd as "friendly and approachable."
Martin explained that he sold Floyd a pack of cigarettes and received a fake bill as payment.
The employee said he knew it was fake because of its color and texture, but added that Floyd "didn't seem to know it was fake."
He added that he thought about letting the store deduct the amount from his salary instead of confronting Floyd, but then decided to tell the manager.
Another employee proceeded to call the police.
Martin, who witnessed the arrest, said he felt "disbelief and guilt", because if he had simply not accepted the ticket, "this could have been avoided".
Throughout the testimonials, Chauvin has been taking notes almost constantly.
Why is this case so important?
The video Darnella took of Derek Chauvin kneeling on George Floyd's neck was played around the world and sparked massive protests against police brutality and racism in the United States.
"I'm tired of hearing news about the death of black people," said a protester in Washington DC. "I'm tired of being scared just from being stopped by the police."
But despite the worldwide claim, however, this is not a simple case. In the US, police officers are seldom convicted of on-duty deaths, if ever they are charged.
The verdict in this case will be widely interpreted as an indication of how the US legal system addresses deaths that occur in police custody.
The other three police officers who were present – Tou Thao, J Alexander Keung and Thomas Lane – and are charged with second-degree murder will be on trial later this year.
Remember that you can receive notifications from BBC Mundo. Download our app and activate them so you don't miss our best content.

www.bbc.com
Eddie is an Australian news reporter with over 9 years in the industry and has published on Forbes and tech crunch.