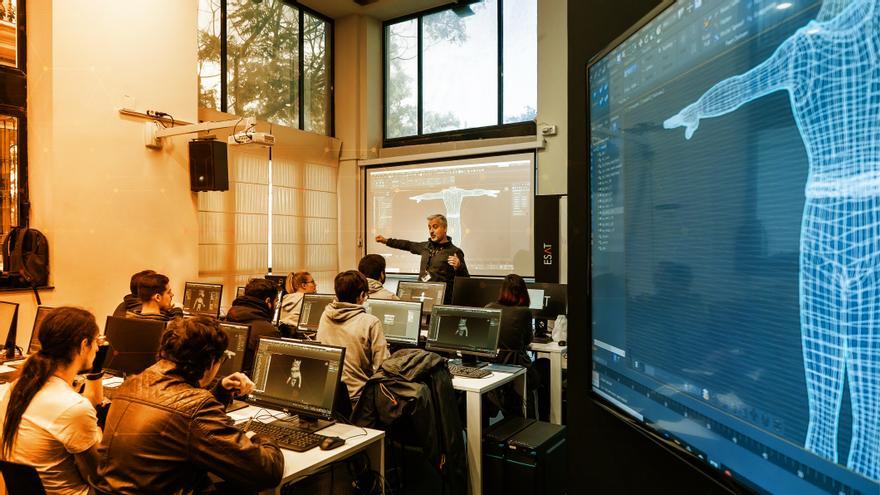 That there is a gap between the digital skills demanded by companies and those obtained by students who want to access the labor market is an alarming reality that our society should solve.
The recent report by the prestigious North American consultancy Gartner Group points out this lack and the threat it poses to the necessary digitization of our companies.
We must respond to this need urgently. The British and American universities Through their training plans adapted to the business reality and the digital model, they are responding, assuming this rapid growth of the digital sector, which must necessarily be covered with specialized and high-quality training. For more than 15 years ESAT arranged academic progression with hers, a fact that has led to the high and successful employability of its students in large digital development companies.
To study Interactive Digital Design, Development O Computer and Video Game Design, allows you to obtain these digital skills and other competencies so demanded in companies such as communication and teamwork, project management, personal and professional development or the new corporate culture.
In addition to being studios with international projection, they have a vocational component where the student feels highly motivated to study and later work on what they really like
High specialization degrees
On ESAT Valencia HND's are taught –Higher National Diploma–, Level 5 Higher Technical qualifications at the EQF (European Qualification Framework) and officially recognized in the British education system and highly demanded by large multinationals related to the digital sector worldwide.
The specialties that can be studied at ESAT Valencia, with its emblematic campus in the heart of the historic center of the city, are mainly: HND in Computing –Video Game Programming–, HND in Computer Game Animation – Art for Videogames and Animation-, HND in Art & Design –Art and Design-, HNC in Game Design –Video Game Design-.
The strict quality control of the British education system has allowed to maintain the quality level of a British college, becoming the Technical School in which we all would have liked to train, with a constant update of programs and taught by professionals in the exercise of their specialty, many of them with national and international awards to their credit.
The final degree projects of the HND Programming, Art and Design for the video game, as an example, are published directly on platforms such as STEAM to the delight of fans, with more than 4 hours of gameplay in all of them, which shows the quality of the studies after their completion.
Progression of studies to Bachelor's Degree, Master's and PhD
After obtaining their HND the student has the option of obtaining, in just one course additional study, your Bachelor's Degree in leading universities in the digital sector.
For this reason, ESAT is an academic partner of highly prestigious digital universities in UK, Japan, USA, Netherlands, France and Central Europe
Universities where students after passing through ESAT Valencia obtain the best records, as an example, these last two years have obtained the twelve best transcripts from the University of Sheffield Hallam and Computing.
The master's degree and doctorate remain a final decision of the student for an organic progression, although it will no longer be necessary to start working in the best multinational digital content companies worldwide such as Sony, Ubisoft, Nintendo or Microsoft …
ESAT also teaches specialization courses and masters aimed at enhancing all the student's abilities: Graphic Programming, Multi-thread and Parallel Programming, Low Level Programming, Front End Programming, Digital Interactive Design, 3D / 2D Art, Conceptual Video Game Design, Interactive Audiovisual, Advanced Illustration Course or the Master's degree in ESAT-Keytoon animation.
The Interactive Digital Design is in high demand and frontend developers, full stacks designers and UX / UI specialists are essential for the creation of market places and consumer apps for our smart devices.
The Digital Design, Programming and Technology are the foundation of ESAT training, deepening in the most relevant aspects of each area and influencing the personal and professional development of its students.
Digital employability
ESAT students are currently working in top-tier multinationals such as Disney, Warner Bros., Marvel Studios, Sony Entertainment, Square Enix, Nintendo, Ubisoft or RockStar Games, participating in blockbusters such as the GTA saga, Call of duty, Final Fantasy, Assassins Creed, Warhammer, Total War, Halo. And also in movies like Spiderman, Interstellar, Star Wars and Mowgli.
Digital Design, Programming and Technology are the foundation of ESAT's training, but not only in the most relevant theoretical-practical aspects of each area, but also influencing in the personal and professional development of their students.
To start the admission process at ESAT, you must contact them through their website www.esat.es and they will guide you through the entire process.

www.informacion.es
Eddie is an Australian news reporter with over 9 years in the industry and has published on Forbes and tech crunch.