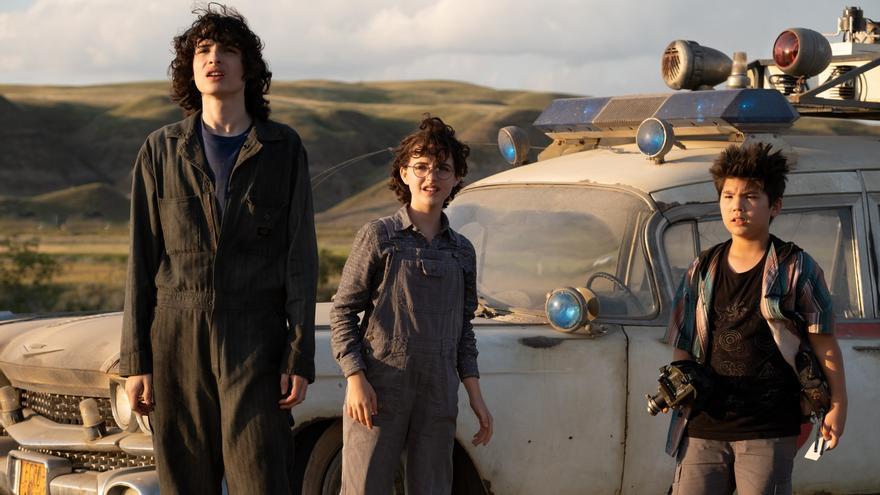 The return of "Ghostbusters", Paolo Sorrentino's most personal film, a family comedy with José Coronado and Belén Rueda or Rodrigo Cortés' trip to the Warsaw ghetto are some of the most outstanding film premieres of the week.
'Ghostbusters: beyond', everything stays at home
Jason Reitman takes up the legacy of his father, Iván Reitman, director of the original films of the 80s, in this sequel to "Ghostbusters" that voluntarily moves away from the one released by Paul Feig in 2016 and that counts again, although as characters secondary, with Bill Murray, Dan Aykroyd and Ernie Hudson.
The plot centers on a single mother (Carrie Coon), who together with her two children, who are played by Finn Wolfhard and Mckenna Grace, arrives in a town in the middle of nowhere and discovers that there is a connection to her ancestors. Those Ghostbusters that caused a sensation in New York.
'It was the hand of God', Sorrentino narrates himself
Paolo Sorrentino evokes his Neapolitan adolescence and the birth of his cinematographic vocation in his latest film "It was the hand of God", an autobiographical story in which he confronts the tragedy that marked his life, the accidental death of his parents due to a gas leak .
The title is a tribute to Maradona, football idol of the director of "The Great Beauty", who at that time was signed by Naples, a real event in the city.
Belén Rueda and José Coronado make people laugh in 'The perfect family'
The director of "Carmen y Lola" (2018), Arantxa Echevarría, makes the leap to the most commercial cinema with her second feature film, "The perfect family", a classic-style comedy starring Belén Rueda and José Coronado with which she wants to demonstrate that life doesn't end at 50.
The script, written by Olatz Arroyo ("Supernormal"), focuses on a woman (Rueda) who believes she is leading a model life and has everything under control, but the day her son announces that he is getting married she begins to realize that not only does he not control anything but he has cornered his own desires.
'Love in its place', light in the Warsaw ghetto
Rodrigo Cortés, one of the Spanish directors with the most international projection, travels to the Warsaw ghetto during the Nazi occupation in his new film, an exercise in cinematographic virtuosity and a story of survival through love and art.
"Love in its place" takes place in the winter of 1942, hundreds of thousands of Jews have been confined for a year, but the dilemmas of life and death do not prevent a group of actors from representing every night a musical comedy that makes them forget for a few moments how difficult your situation is.
'Black bock', a paranoid thriller about plane crashes
Directed by Yann Gozlan and starring Pierre Niney, this thriller delves into the world of plane crashes and the secrets kept in airplane black boxes.
The plot revolves around a Dubai-Paris flight that crashes in the Alps. Mathieu Vasseu is the lead investigator on this air disaster. Black box analysis will prompt you to conduct your own investigation in secret.
'Six ordinary days', a plumber comedy
True to her cinema halfway between reality and fiction, the Catalan director Neus Ballús structures in six chapters, corresponding to six working days, the film "Six ordinary days" starring three real plumbers.
Narrated in a comedy tone, the film won several awards at Locarno and won the Audience Award at Seminci.
Magic and adventures with 'Clifford, the big red dog'
Based on the children's book collection of the same name, comes this magic adventure movie starring a giant red dog who suddenly appears in the life of Emily Elizabeth (Darby Camp), a high school girl.
While her single mother (Sienna Guillory) is away on business, Emily and her funny but impulsive Uncle Casey (Jack Whitehall) embark on an adventure in the Big Apple.
'Let's have the party in peace', a Christmas musical
It is a project conceived in the midst of a pandemic to counteract its effects with music and good humor. Juan Manuel Cotelo directs this Christmas musical comedy based on royal families and in which it is the children who punish their parents for misbehaving, to end their arguments and rekindle their love.
'Aita Mari', a tuna boat to the rescue
Javi Julio narrates the transformation of an old tuna boat into a rescue boat by the Basque NGO Salvamento Marítimo Humanitario (SMH) and the bureaucratic problems suffered until obtaining permission to sail the waters of the Mediterranean and assist 80 people who escape from places of conflict going to sea in precarious boats.
'Limitless', a story of overcoming
Directed by Daniel Fernández Cañadas, this documentary tells the story of Jon Santacana, who at the age of 8 was diagnosed with a degenerative disease that would render him blind. Against all odds and pushing the body's own limits, Jon has become one of the best skiers in history.
'Brat boy', animation for adults
"Brat Boy" is an Austrian-produced animated comedy for adults co-directed by Santiago López and Marcus H. Rosenmüller that revolves around a teenager with artistic concerns who lives in a small town full of nostalgia for Nazism. In this suffocating climate, he begins a relationship with a gypsy girl his age that will change him forever.

www.informacion.es
Eddie is an Australian news reporter with over 9 years in the industry and has published on Forbes and tech crunch.