Vigo (Pontevedra)
Updated:
Keep

The slide of the «Gitana 17» will eventually melt, seeing the numbers of 30 knots is one of the most normal, and in the last hours it has not dropped below 35 knots of speed. In the last 24 he has traveled 814 miles over the ground at an average speed of 33.9 knots with 1,278.3 miles remaining to cross the finish line at Fort-de-France (Martinique).
The route of the «Gitana 17» evolves by gybing along 1,800 miles of the northeast coast of South America, between the Brazilian city of Natal and the capital of Trinidad Tobago. An exclusion area for the entire fleet of the 15th Transat Jacques Vabre.
Francois Gabart and Tom Laperche are third with the Ultime 32/23 «SVR – Lazartigue» after the «Banque Populaire XI», which at 4:00 pm today Saturday, November 20, 2021, separated them only 60 miles.
The wind is expected to strengthen from behind, as confirmed by Armel Le Cléac'h and Kevin Escoffier from the «Banque Populaire XI»: "We are keeping a closer eye on François and Tom so they don't take miles away from us. We are still learning about the boat, it is new, but we can see its potential. It goes at 40 knots very easily. There is still room to go faster, but with time we have had, we have been able to use the boat as well as possible and it is already great. We have three and a half days left, the last sprint, and we do not want to regret it ".
For the first classified, the arrival is getting closer and closer, with a date scheduled for this Tuesday night (UTC). Meanwhile, bosses are enjoying these latest long tacks. And "Actual Ultim 3" and "Sodebo Ultim 3", 4th and 5th respectively, still have to go around the last mark of the course, Sāo Pedro e Sāo Paolo.
The Ultime 32/23 speed pace will overtake the Ocean Fifty fleet shortly. The 'Primonial' is 400 miles ahead of the 'Gitana 17', which in about 36 hours will end up seeing Franck Cammas and Charles Caudrelier's maxi trimaran in the rearview mirror.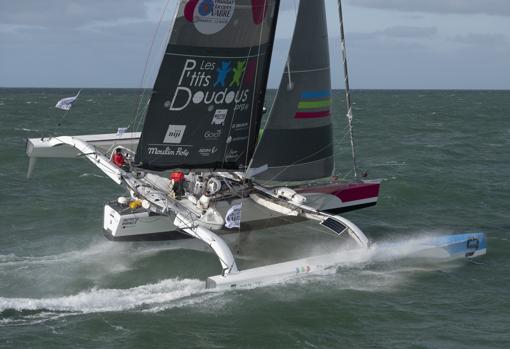 For the Breton Thibaut Vauchel-Camus and the Norman Fred Duthil aboard the «Solidaires En Peloton», in fifth position, these are "Some dream conditions, it is slippery, the sea softens, we are in shorts and a T-shirt! But we are looking forward to the night because the day is humid and too hot (laughs)." Despite the frustration of not being able to fighting with the same cards as the leaders, they relativize aboard the Ocean Fifty: "We are not where we wanted to be from a sporting point of view. We are making up our minds and we are going to learn from these little concerns. It is still a very interesting transatlantic regatta. Our common goal, for the moment, is to keep the wind funneling through the forbidden zone. And then we will head towards Martinique, a long straight for the next 24 hours ".
Within a 300 mile radius from the Cape Verdean island of Sal, you will find almost all Class40 monohulls. Of a total of 43 sailboats in regatta, of the 45 that set sail from Le Havre on November 7, 28 of them have already left this mandatory crossing point astern and the remaining 15 will do so in the next 24 hours.
The Class40 «Redman» is harassed by its rivals from two sides, from the northeast the «Guidi» (2nd) by Charles-Louis Mourruau and Andrea Fantini; and to the east the «Volvo» (3rd) by Jonas Gerckens and Benoit Hantzperg.
Just a tenth of a knot faster than the «Redman» on the last day is allowing Antoine Carpentier and Pablo Santurde to contain their pursuers.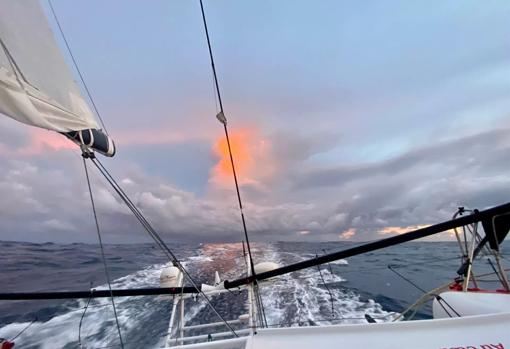 "The sun is absent and prevents the batteries from being charged efficiently, an imponderable for on-board electronics, which would allow us, in particular, to scrutinize the meteorological records, which are also real headaches!
One more day under the clouds! We are crazy for not having sun! No sun, no load or little load thanks to solar panels, no load, no electronics, no electronics, many bars, many bars, high energy expenditure and little food. As a result, it becomes physical, but also mental fatigue. It is not a party! Well, the wheel will end up spinning a bit …
We are still in the lead, but there are a lot of differences with our rivals, so it doesn't mean much, especially since they seem to be moving fast tonight … We should leave the last island of Cape Verde for the night, after We thought it would be easier but the last files uploaded make us do some upwind navigation at one point, yes upwind! There is even a change in tactics! It's a bit like losing our minds, we are going so far south that we are in the Doldrums! We still can't believe it with Pablo … You have to live it to believe it.
In summary, we have 10 days of regatta, 10 days with 2 meals a day. A small calculation per CP, if I lose 1 kilo every day, after 10, how much will I lose? We're not going to look like a big deal at the finish … we'll have to be careful with the Ti-punch cocktail!
What's new? We passed a freighter full of wind turbine blades that honored us by honking. We saw our first sargassum and that's not a good sign, it's the beginning of trouble!
Here we are crossing our fingers not to have lost too much ground with respect to our friends from the South … See you soon, Pablo and Antoine ".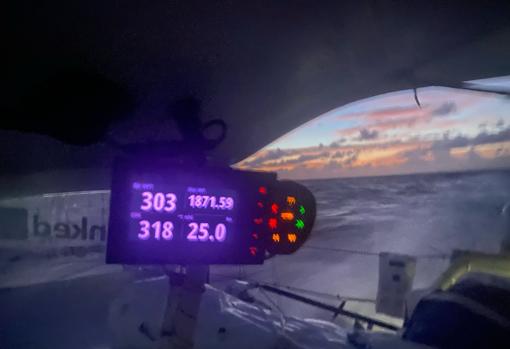 The three musketeers of the IMOCA Class, «LinkedOut», «Apivia» and «Charal» have already turned the Brazilian islands of Fernando de Noronha. At 22:22 hours yesterday, Friday, "LinkedOut" was the first to reach them, at 00:44 hours today, Saturday, the "Apivia" would do it, and at 02:42 hours, the "Charal."
The next ones in Fernando de Noronha will be the «Arkea Paprec» (4th) by Sébastien Simon and Yann Eliès, who are 81 miles from the Brazilian archipelago, and the «Initiatives-Cœur» by Sam Davies and Nicolas Lunven in fifth position. IMOCA.
Very positive Sam Davies: "Nico has gone to rest, we just changed the guard. We are happy to be in the southern trade winds, it is hitting very hard, we go fast! We should be in Fernando de Noronha tomorrow afternoon. The current and the weather They have been difficult, we had to do a lot of gybes and that's why it was quite demanding, but we have been training well since the Canary Islands and Cape Verde (laughs).
In principle we are not so bad. We are looking forward to seeing the coast of Martinique, but for now we live in the moment. The objective is to have a good regatta! The atmosphere is great, we are very happy to be here. We have no problem and although it takes a little longer to get to Martinique it is a great regatta ".
See them
comments

www.abc.es
George is Digismak's reported cum editor with 13 years of experience in Journalism