Being born listening to boleros can be a more or less cheesy metaphor or a vital circumstance with severe consequences in the sentimental education of any human being. But thus, literally, between lyrics and chords of unfortunate love affairs, Alejandra Fierro Eleta, born in Madrid in 1958, came to this world.
In the house of his parents – the Asturian and banker; She was Panamanian "very modern who typed, smoked and spoke English" – Lucho Gatica, Cuco Sánchez, Toña La Negra, Olga Guillot, and the family carried the genetic mandate that one of the uncles, Carlos Eleta, played at all hours. had composed the eternal classic The story of a love.
You are no longer by my side, heart, and in my soul I only have loneliness …
When we visit Alejandra in Villa Palmera, her imposing house in El Escorial, she soon recognizes that her thing is the music of "cracking the veins." Of course.
The stone walls of the house keep the most important collection of Latin music that is known. More than 60,000 vinyls, between LPs and singles of 45 and 33 rpm; 45,000 CDs, 3,500 photos. The shelves that go from floor to ceiling and cover a good part of the walls announce that there lives someone who takes his hobbies very seriously, so much so that he has made them the destination of his life —to say it as a good bolero would do— . Here is also the headquarters of Radio Gladys Palmera, a free and cultured space on Latin rhythms, on the air for more than 20 years and winner of an Ondas. "When I started all this, in Spain Latin music was the tit, the ass, the beach and the maraca," he says.
The news is that Alejandra will soon leave this mansion, will go to live in the center of town with her dog Cuba and will leave all her space to the Latin divas and gallants. "This will be the Gladys Palmera Foundation, a cultural and research center with residencies", he advances while he fantasizes about acoustic concerts of small-format bands in his patio or with joining the DJ Nicola Cruz with the musician from Barranquilla Pernett in Gladys Palmera's studio .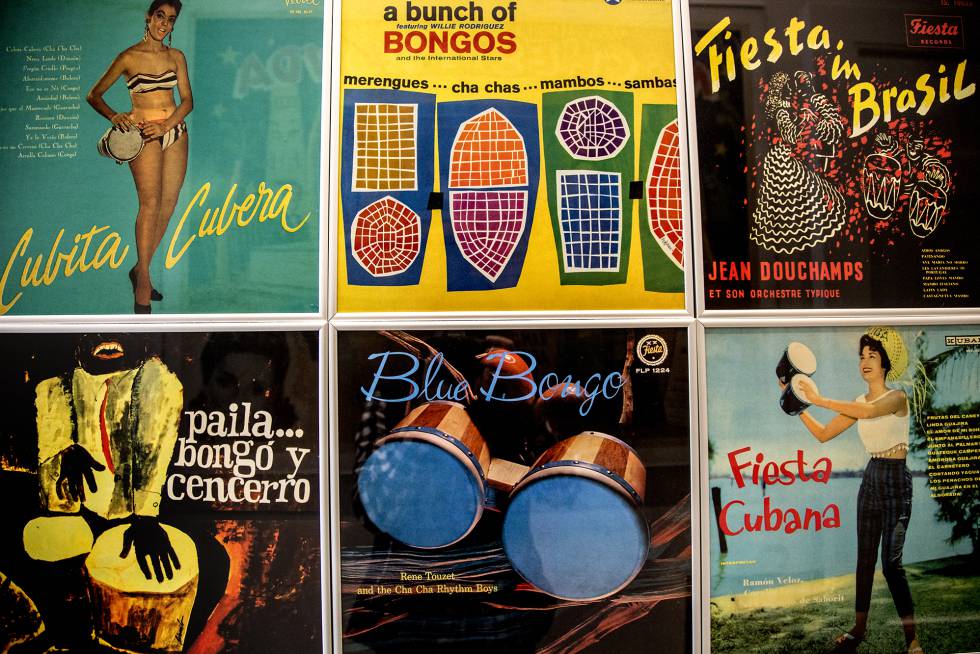 Gladys Palmera is Alejandra Fierra, and vice versa. "When I told my father that I wanted to do radio, he replied: 'With my name it won't be'. So I had to find another one. My brother traveled a lot to Latin America and said that all the secretaries there were named Gladys. He called me that, in a voluptuous way, knowing that I am the opposite. The Palmera thing immediately came to mind ".
His fascination with radio had started primarily. "One day Dad brought a walkie talkie from America, I turned it on, heard an uncle, I spoke to him and he answered … A window was opened to the world." At the age of 12, she had set up a station ("in the wild, with an antenna and a rotor motor") and she was the 300th member of the Spanish amateur radio club. "I went to bed very late talking in Q code with the night guards of all the garages in Madrid."
At 18 he went to live in Panama and began confiscating some family records. "I was in the car with the music blaring from the local radios and there I connected with the salsa of the seventies, but I still did not collect, I only bought the music that I liked, as I could buy Pink Floyd".
Alejandra moves between nostalgia for the Latin divas of the forties and fifties and the attraction that the kitsch and wild underworld of the cabarets exerts on her. "As a young man I was very from the street, in the eighties I caught the whole drug scene and I had a hard time. I spent five years in a detox clinic in a town in Barcelona. I went to therapy and then took care of disabled people. I am very grateful to have been able to get out of that.
To write the scripts for Radio Gladys Palmera, she began to study and buy music. "Before I was carried away by chance. It was how it was done, in situ. You would go into a store in New York and did not go out for a week, or you would go to a roast suckling pig dining room in Puerto Rico and on the top floor they had a space full of records where you had to enter with a flashlight and a dust mask . You were dying of heat. Today with the Internet you are going for a specific album ".
"I do not collect because I am obsessive, but to protect Latin culture", says Alejandra Fierro. And then, "Well, okay, I'm obsessive, but someone's going to have to pull all of this!" A trauma defined his mission as a patron: the disappearance in a flood of the archives of a famous Panamanian radio station.
His whole house is given over to his priesthood. The personal rooms on the first floor are used to store the collection of album art and the yellowed songbooks from the 1940s and 1950s; the garage, to the latest acquisitions and digitization; the hall, to the draped posters of old Mexican movies; the living room, to keep the crown jewels. Among them, the first album he bought in Panama at age 18, Reaching out, by Willie Colón and Rubén Blades, an album by James Dean a las tumbadoras and La Lupe's first album with the Tropicuba trio. He also keeps a Joséphine Baker shoe and outfits from Celia Cruz. The Cuban collection is relevant for being one of the few that does not make distinctions between the music created before and after 1959, inside or outside the island.
2020 is over and Alejandra is about to close what will be her great purchase of the year. "Do you know who Izzy Sanabria is?" He asks without waiting for an answer: "He's the designer of most of the Fania All-Stars covers, the illustrator who showed it to the world. We are going to buy all the originals of your covers for Fania. I cannot tell you the price range that I would be willing to pay because we are negotiating, but this closes the circle of my collection. To have this is to have it all ". He calculates that he may have paid up to 4,000 euros for a vinyl. Some records he has bought up to seven times.
"I am a romantic who goes with a parapet through life," she says with no small drama. She seems to have embodied the spirit of one of her admired Latin divas, but she returns to reality: "I am a very normal lady, very stubborn, who has now started with the electronic cigarette. I've given up drugs and alcohol, it's true, but music sets me up ".
– Why has there never been publicity on Radio Gladys Palmera?
"Because I don't want to mess up the web with the I don't know where bra or the I don't know who car."
– Is it true that in 2015 you predicted the death of reggaeton?
"I've never said that," he says, "but I'm 62 years old." You will understand that that does not suit me.

elpais.com
Eddie is an Australian news reporter with over 9 years in the industry and has published on Forbes and tech crunch.