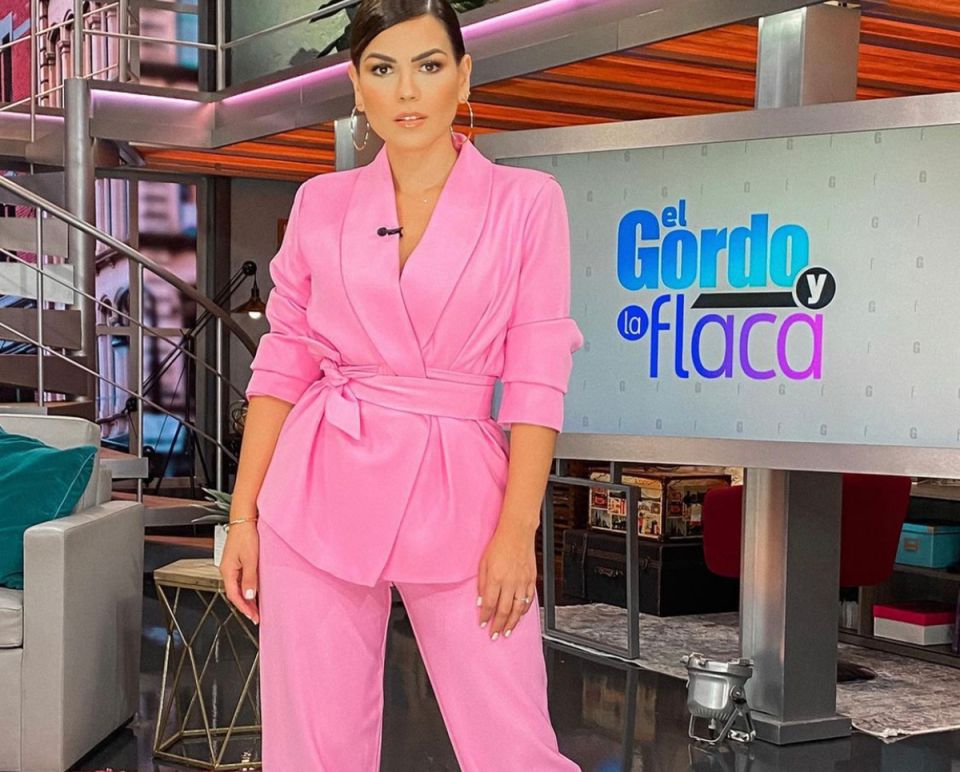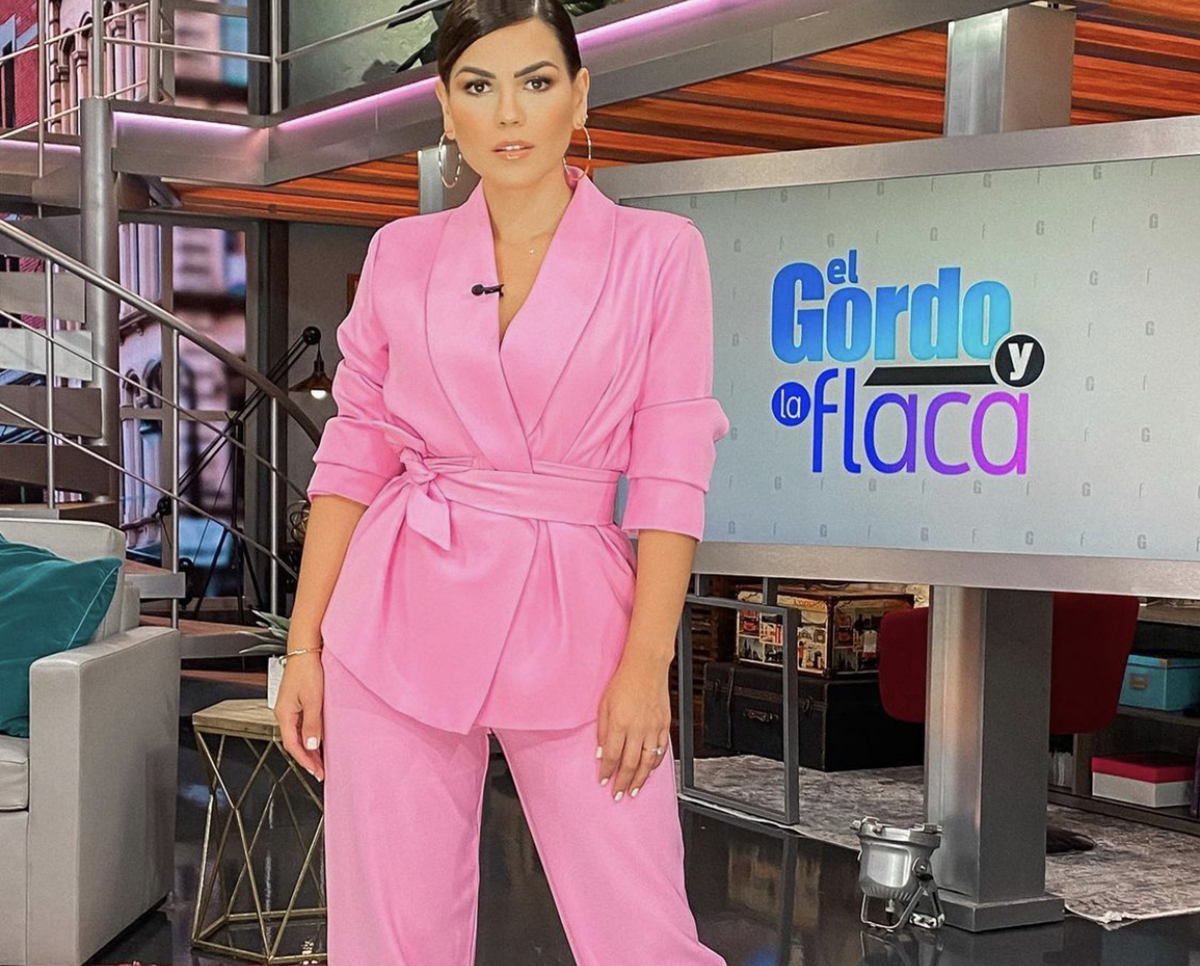 Photo: Karina Banda / Courtesy
Goodbye 'El Gordo y la Flaca' … That's how he said goodbye Karina Banda this Monday of the Univision afternoon show.
Although he has been announcing for days, weeks and months that he was leaving to conduct the new stage of 'Falling in love', it was yesterday when it became official.
"Now yes, I'm leaving for my new adventure," Karina Banda told Lili Estefan, the presenter whom she had been replacing on vacation, and on every day off she took over the years.
Raúl de Molina had already said goodbye on Friday, before the former paparazzi took a few days off. The Cuban presenter gave him goodbye and good wishes in his new job, with a huge bouquets of flowers and some beautiful words where he made a description of the great work of the Mexican journalist all these years of 'El Gordo y la Flaca'.
Let's remember that since next Monday, August 16, Karina Banda will host the new season of 'Enamorándonos', accompanying Rafael Araneda, in the space he left Ana Patricia Gámez, who decided to resign to dedicate herself to her family 24/7, and to her business as a businesswoman.
To be true, Karina Banda's farewell didn't start last Friday, in fact she has been saying goodbye since it wasofficially announced that it would be part of 'Enamorándonos'.
But, it escalated in the last month, where we saw Banda almost every day as the guest host of the Univision afternoon show. She started each day asking if they were going to miss her, assuring that she was leaving.
Without forgetting the messages that he wrote in his networks first to Raúl de Molina:
"This is Raúl de Molina… Yes, I know you already know who he is, but I don't mean that, I mean who he is as a person. I took the first photo on one occasion when he dropped me off at the airport.
It was a Friday and together we hosted the show, I told him I was going on a trip and the Karina asked me, who takes you to the airport? And I replied that I would take an Uber and he said "no, I'll take you". At the end of the show we almost ran because I remember that I had quite the time and he even made sure that I was not late.
Raúl is the one who brings empanadas to the whole team, the one who invites you to dinner, the one who brings you a gift on your birthday and Christmas, the one who makes you laugh and the one that is always there for when you need it or to help you. Thank you @rauldemolina for all the moments that I shared with you, for your teachings, for your scolding, for your advice and for ALL THE LAUGHS (although sometimes I wanted to hang you, you always ended up making me laugh).
Working with you is one of my greatest achievements and I will always treasure it with great love and pride. I love you Rauli! "
Then there were words for Lili Estefan:
"This is Lili Estefan … The most cheerful, fun, optimistic and strong woman. I could go on describing her but I'd better tell you an anecdote that taught me who she was from the first day I arrived at the studio of "El gordo y la Flaca" on August 4, 2017.
I remember perfectly that that day I left work happy and on my way home I called my mom very excited to tell her that Lili had started to follow me on social media… It may sound silly but believe me it wasn't. A few days later he uploaded a photo with me in which he welcomed me to the program and again they will think that it is something silly but it was not …
With the smallest details Lili showed me how professional, her big heart and the confident woman she is, in such a competitive industry (especially among women) Lili supported me from the beginning and I always felt like she was tucking me in and taking care of me. THANK YOU @liliestefan for being an example of how women should support each other and not destroy each other and for giving me a lecture on safety and professionalism.
Thank you for allowing me to learn SO MUCH from you, not even in my dreams did I imagine that I would be working with "La Flaca" and many that we would achieve such a beautiful friendship in which there is never a lack of laughter. I adore you with ALL my heart and I will always be grateful to you. I admire you as a partner but more as a woman ".
And finally… Yes, finally, on his last day and apparently his last farewell, yesterday he had words for the entire team of 'El Gordo y la Flaca':
"THANK YOU 🙏🏻 Today is one of those days to thank those who cross your life and leave a mark, they crossed mine the day that @marielatv gave me an opportunity to work at @elgordoylaflaca …
An opportunity that literally changed my life, I managed to grow professionally and even brought me my life partner… Trust is the greatest treasure that someone can give you and I will be immensely grateful to this team for having trusted me. Thanks! for all the support, love, the teachings and lessons that I take for my next projects and life ✨ It's just a see you later ❤️ ".



eldiariony.com
Eddie is an Australian news reporter with over 9 years in the industry and has published on Forbes and tech crunch.