LLittle around 2020 has been straightforward. So there's something wickedly logical about the perspective of Gorillaz, a half-real, half-virtual band that released their best music in years this year, playing a triumphant concert before Christmas with layers of reality frolicking around them.
When this livestream begins, it's not Damon Albarn, the musical half of Gorillaz's main association, but Robert Smith of The Cure. Backlight, sing straight for the camera chanting about "strange times" alongside a custom Gorillaz golf buggy. A live band plays in the distance; Murdoc Niccals, a member of the cartoon band, comes into view momentarily.
Soon, Albarn is on the scene, wearing glittery pineapple sunglasses that look like they were an early Christmas present from Elton John, singing into a palm-sized microphone, making Smith so amused that Smith rewarded with a kitty hiss, the kind not seen since The Cure's Lovecats video. On the next track, The Valley of the Pagans, a hologram of Beck dances.
Albarn plays keytar and the band, with two drummers, a percussionist and six backup singers, get stuck on the funk-prone Gorillaz set.
It's surprisingly easy to suspend disbelief, sit back, and enjoy this not-a-band, playing uncategorizable tunes from their not-an-album, in the company of encouraging avatars and crew members, unseen to the end. Key staff have been in a bubble for weeks preparing for this series of live shows broadcast in three time zones, of which the UK edition is the highlight.
The set focuses a lot on Song Machine, first season, the latest Gorillaz wheeze in which a static TV spits out a tune about once a month via YouTube (if Covid allows). The October Compilation of These Tracks & More – Subtitled Strange timez – was, wickedly, more lighthearted and sweet than previous Gorillaz records, in which Albarn's horror of Brexit and Trump's election (Humility, 2017) or environmental desecration (Plastic beach, 2010) became party music "for the end of the world."
Tonight some of Song Machine's the finest cuts remain vivid, even without your physical guests in the room, just like cute Pink ghost. But some songs have even more impact than before.
The Lost Chord of disco trend Gains in weight thanks to the mighty royal falsetto of Leee John, once from the 1980s Britfunk band Imagination. In theory, there are bigger names in this imaginary study basement tonight, but John steals the show, making his way through a song that sings freedom.
The success of this live stream will likely depend on the viewer's tolerance for projections (hologram fatigue sets in) and how much fans have invested in the world of Gorillaz. It's actually two worlds: the one in which Albarn attracts very disparate people to make an eye-catching genre soup, and the one in which Jamie Hewlett's cartoon characters explore their own tradition in the band's videos.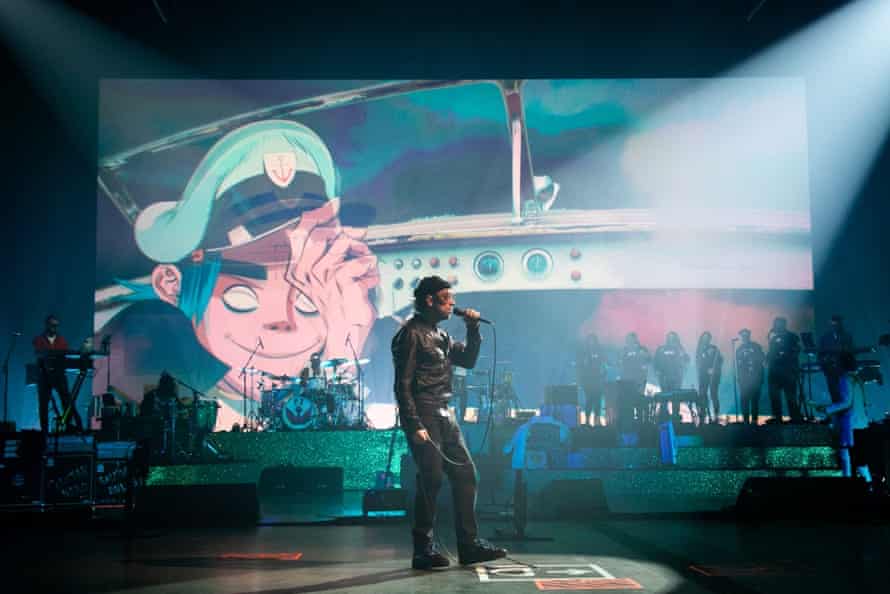 The set is faithful to the cheerful style of the cartoonist Hewlett. Boxes labeled INNATE RASHES litter the stage, and the floor space is filled with Gorillaz paraphernalia. A Christmas tree has a giant inverted electric cross on top. Periodically, the animations take over. The funniest thing of all is the ghost bubble from The Pink Phantom video, zigzagging across the screen like a demented squid.
But it's really Albarn's job. Over 20 years ago, roommates Albarn and Hewlett (creator of Tank girl and other comics) envisioned Gorillaz as a vehicle in which the former Blur singer didn't have to be a leader, a setup in which a white boy from outback London could collaborate with the American rappers and producers he loved. Years have passed since Gorillaz hid behind screens. Albarn has even made Gorillaz albums in which he took center stage. But tonight Albarn is in leader mode, dominating ceremonies, getting in the camera's face and honking horns.
Increasingly, too, Gorillaz has taken over the population density of Albarn's other massive project, Africa Express, one whose live improvisations have packed as many musicians onto one stage as possible. In addition to this 14-member "Gorilla Exprezz" band, there are 10 body guests, ranging from celebrated grime MC Kano (licensed in Dead butterflies) to the splendid camp actor Matt Berry who, dressed in a robe, reads aloud the apocalyptic parable from an older song, Fire Coming Out of the Monkey's Head.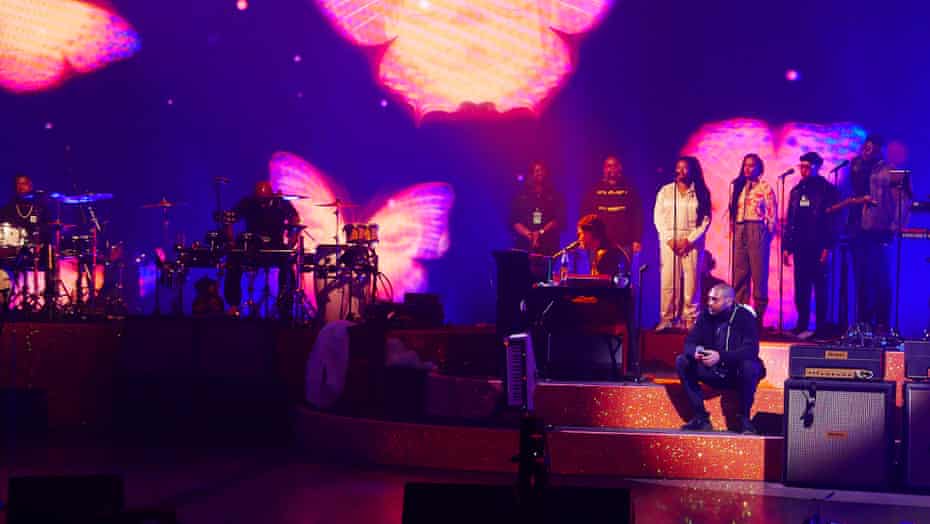 One of the best musical moments is found by drummer Georgia, a guest at Aries, one of the biggest tunes of the night: sweating in front of Gorillaz's live drummer Femi Koleoso, who often conducts the jazz group Ezra Collective. If Aries ends up with Peter Hook (New Order) holding his bass like a defeated foe, the collective vibes are more triumphant in the end.
Cross-pollination of genres is now so common that it is barely recorded as noteworthy, but in 2001, Clint Eastwood, Gorillaz's signature tune with ska and hip-hop overtones, benefited from an accelerated remix from garage producer Ed Case. That "refix" starred London-based dancehall MC Sweetie Irie, who directs this messy and hectic grand finale, in which the Slaves members and rapper Slowthai lose their shirts. Despite its many international inflections, Gorillaz still feels like a solidly British success story, one whose vision of reality is pretty clear. Collaboration is an exalted state and reality can be manipulated for good.

www.theguardian.com
Digsmak is a news publisher with over 12 years of reporting experiance; and have published in many industry leading publications and news sites.