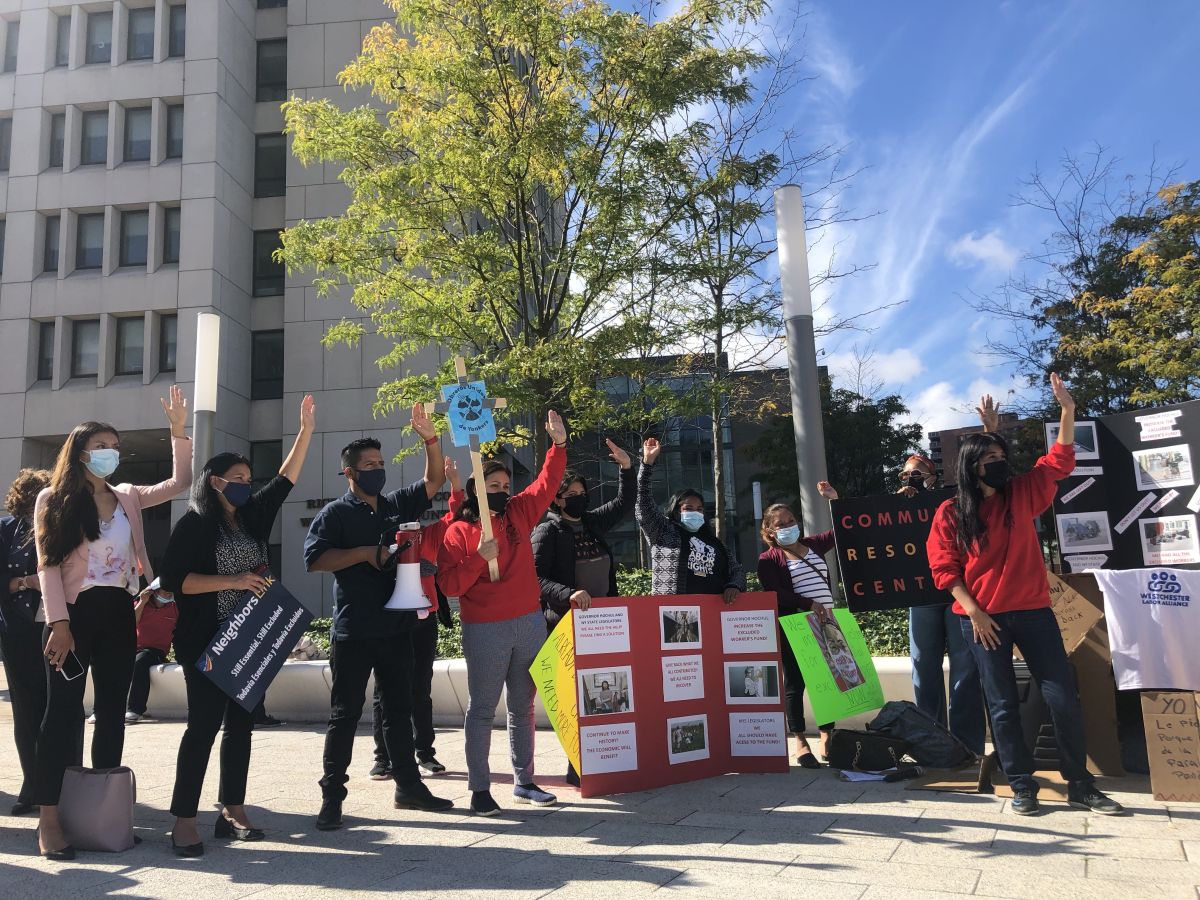 Dozens of activists and immigrant workers gathered Tuesday morning in front of the Martin Luther King Jr. statue in White Plains to implore Gov. Kathy Hochul to reopen the application process for the excluded worker relief fund and allocate more resources. .
The application process for the Excluded Worker Assistance Program expired last week but pro-immigrant coalitions allege that many of the essential workers have been left out, others still receive nothing because applications are still in process.
As indicated, more than 330,000 applications have been submitted, of which more than 100,000 have been approved.
Almost all applicants have received the highest level of benefits available to the program: a one-time payment of $ 15,600 before taxes. The state Department of Labor has already approved more than half of the $ 2.1 billion budgeted for distribution and the fund is nearing exhaustion.
"Many are still distressed because for one reason or another we have been left out of aid. Either due to the lack of a document, due to lack of time to present the requirements. So we ask the governor to do something. And if we have to take to the streets again so that they listen to us, we are going to do it. The funds have already run out but it is up to us to apply pressure ", said one of the participants in the demonstration in Westchester.
Instead, Carlos de la Gracia, one of the beneficiaries, said that thanks to that money he was able to pay his debts. "It was a great relief to receive these funds and to be able to get my workshop back on its feet, but we want the rest to recover as well. We need the governor and the Legislature to act, "he said.
For Ignacia González, essential worker and member of the Women in Action program of Catholic Charities, this help has been a "very useful blessing to face outstanding expenses such as rent, electricity, internet for my three children who are studying."
González made a call to renew the fund because he knows many families who need this relief, underlining "that they are also essential workers but they could not apply because they are illiterate or did not have all the documentation."
Activists reminded elected officials of the critical role of this labor sector during the pandemic.
Some legislators advocated that the process be reopened to benefit those who have not received relief so far.
"We have a moral imperative to replenish the Excluded Workers Fund," said Assemblyman Chris Burdick. "These are essential workers who would not otherwise be entitled to any pandemic relief. With the fund nearly depleted, we must act quickly to ensure that these workers get the relief they desperately need. "
Westchester County Legislator Terry Clements recalled that the COVID-19 pandemic exposed gaps in the social safety net, particularly with respect to people working temporary and self-employed jobs, as well as those employed in industries. crucial such as construction, cleaning work, agriculture, transportation, hospitality and more, that were left out of federal aid programs due to their immigration status
"The Excluded Workers Fund has been a crucial and much-needed tool in helping people survive and rebuild after COVID and minimize the full economic impact of the pandemic," Clements said. "I know our state legislators will see the good this program has done for more than 100,000 New Yorkers and will ensure that funding continues until our recovery from COVID is complete."

eldiariony.com
Eddie is an Australian news reporter with over 9 years in the industry and has published on Forbes and tech crunch.