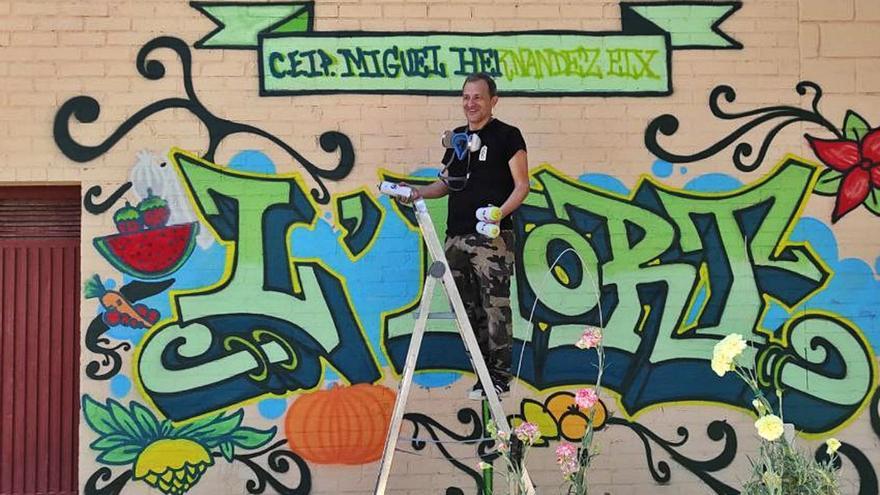 When one thinks of a talk against bullying in a school, the usual thing is to turn to a technician in the matter, an expert, perhaps a psychologist, or even carried out by the Police. At the Miguel Hernández de Elche school they have done this, but they have also wanted to go further. And it is that fourth and fifth grade primary students have recently received a visit from a graffiti artist who, in turn, is an evangelical pastor and rapper. Dolar One, also known as Seth Vañó, a native of Alicante and 45 years old, has been the one who has been in charge of explaining to the little ones what bullying is and why it cannot be allowed. And he tells it with knowledge of the facts: in the past he was a stalker.
The educational center ensures that they have been "lucky" to have Dolar One for this activity, especially because through their personal history, emphasizing all those mistakes made in the past and the great effort made to achieve their Its own change and improvement, has contributed to the little ones, between 10 and 11 years old, to better understand this serious problem inside and outside the classroom.
"They threw me out of school," starts Vañó, who has been giving talks around the province since 2015 about his experiences so that no one has to experience them. "It is like telling your shame and at first I did not want to, but it is super gratifying to know that my story can help them to verbalize theirs," he adds. In this sense, he assures that after his talk in different centers the kids open up, and even the bullies ask their victims for forgiveness.
And it is that with its slogans «Everything bad starts with a smile» and «Can it be changed!», It manages to reach the hearts of the little ones and that they understand all the mistakes that are made before, during and after abuse from a friend or colleague.
«He was a rebellious child and he was redirected. He was the one who harassed, "explains Míriam, Head of Studies at the aforementioned school, who affirms that the schoolchildren were" super motivated "by the talk.
To do this, Seth Vañó used in his story a simile with different animals, to easily explain the different roles that exist when "an abuse is carried out, received or witnessed to a partner". Gorilla, turtle and chicken were the animals chosen by the graffiti artist for his story; And with full security, to the question, what type of person does each animal correspond to? All the students, about 16 from fourth year and another 25 from fifth year of Primary, knew how to answer with certainty.
And it is that Dolar One is the promoter of the project «Graffiti & Valores». The initiative is focused on adolescents and young people in order to use this urban art to generate awareness spaces. The activities aim to change negative behaviors regarding school failure, alcohol and drug use, and the prevention of bullying, cyberbullying or sexting.
With this objective in mind, it has been sharing its history of improvement and change with young people through workshops and talks in schools, institutes, re-education centers and prisons. And, of course, the creation of live graffiti is not usually missing as a pedagogical and reinforcement activity.
Dolar One says that three weeks before turning 18, his life was transformed by having what he calls an encounter with Jesus, which completely changed his perspective on his life. His conflictive and rebellious youth that he captured through his graffiti put an end to it.
How would his change be that in 1999 he concluded his theology studies in Córdoba and, after marrying in 2000, he began a new journey, in this case as an evangelical pastor in the province of Alicante. Now he works in Alcoy, Elda and Novelda.
Thus, Seth decided to get involved in issues of senbilization and does not shy away from carrying out different activities such as in the Fontcalent penitentiary, as well as facing various missionary trips to Equatorial Guinea and Sierra Leone on the African continent. This change also meant a new message in the content of their graffiti, in which they have even included the theme of the covid.
The fact is that in addition to his contribution in the fight against bullying, both inside and outside the center, and through the internet, Dolar, who even dared to sing a rap in front of the Miguel Hernández school students, delighted everyone the center with one of its graffiti that, since its visit, looks and colors the school garden, one of the projects carried out by the school and also related to improving coexistence
"The children got a lot out of it, he told things in a very close way and it hooked them. We want him to come back next year », they add from the Head of Studies. «It is much easier to say supercalifragilisticoespialidoso than sorry. Asking for forgiveness is much more difficult ", concludes Dolar One, showing that repentance is a liberation and a way out for all bullies.

www.informacion.es
Eddie is an Australian news reporter with over 9 years in the industry and has published on Forbes and tech crunch.