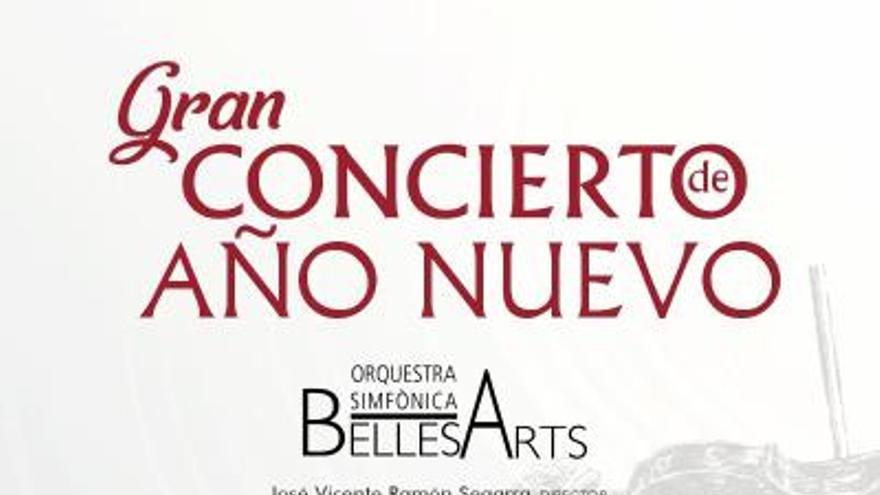 Great New Year's Concert.
The Orquestra Simfònica Belles Arts is made up of prestigious musicians from the Valencian Community with great professional experience, committed to offering quality music alongside the best conductors and soloists on the national and international scene.
This Orchestra was born with two fundamental objectives, the first is the promotion of musical culture in the Valencian Community and, the second, the illusion of offering music in all its styles, enjoying the interpretation, our greatest pride and bringing, delighting and making our viewers enjoy.
The versatility of its components and the flexibility of the staff make it possible to participate in projects that involve any instrumental training. In their latest project, they are introduced to the world of the family musical, putting the soundtrack to the story of Alice in Wonderland.
L'Orquestra Simfònica Belles Arts, have participated in the rock opera "Jesus Christ Superstar" (with Leo Jiménez as the protagonist), and in highly successful musicals such as "Aladín", "The Wizard of Oz", "Peter Pan, a musical adventure "," Hook, the return of Peter Pan "," Cinderella "," Snow White "," Puss in Boots "," The Little Prince ", and more recently" Alice in Wonderland "at the Palau de les Arts de Valencia, among many others, has also participated in plays such as "La Cotorra del Mercat".
Previously, and under the heading Orquesta Sinfónica del Mediterráneo, he has performed together with Miguel Bosé in his concerts on the "Por vos muero" Tour at the Eclèctic festival in Valencia and at l'Empuria Brava (Girona).
In 2002, together with Vicente Amigo and Miguel Bosé, he performed in the tribute to Rafael Alberti "Poeta" at the Pedraza Festival. This concert was later repeated in Valencia and at the Nits al Castell de Xàtiva festival.
Under the name of Orquesta Sinfónica del Mediterráneo, this same group has performed lyrical titles such as Las Bodas de Figaro, Don Pasquale, La Serva Padrona, Los Cuentos de Hoffmann, Madame Butterfy, Suor Angelica, Gianni Schicchi, La Sonámbula, Lucrezia Borgia, The Barber of Seville, Cenerentola, Luna, Don Giovanni, Don Pasquale, Cosí fan Tutte.
As for the zarzuelistic genre, La Dolorosa, La Reina Mora, La Tabernera del Puerto, La Revoltosa, El Amor en Solfa, La Verbena de la Paloma, The Song of Oblivion, The King that Rabió, The one with the bunch of roses stand out.
In the field of sacred music, his interpretations of titles such as Stabat Mater by Pergolesi, Stabat Mater by Rossini, El Mesias by Handel, Te Deum by Charpentier, Mass in C Major of the Coronation by Mozart, Missa Brevis by Haydn, are important in the field of sacred music. etc??
Regarding his pedagogical work, note, among many others, the opera Bastián y Bastiana, La Fluuta Mágica, Yo, Mozart, La Boutique Fantasque, This is how cinema sounds, Hansel and Gretel, El Barbero de Sevilla, Conèix mes a Bernstein That's how John Williams, Piccolo Saxo and Company sound like.
The orchestra has played under the baton of Enrique García Asensio, Walter Weller, Julian Reynolds, Joan Albert Amargos, Kamal Khan, Klaus Sallmann, José Fabra, Rubén Diez, José Vte. Ramón Segarra, Juan Antonio Ramírez, among others.
Among the artists he has accompanied, in addition to those already mentioned, the National Ballet of Cuba, the Orfeón Donostiarra, Aída Gómez, Montserrat Caballé, Plácido Domingo, Ainhoa ​​Arteta, Teresa Berganza, Ana María Sánchez and Agnés Baltza stand out.
The Christmas and New Year concerts, with Waltz and Polka programs, have been a classic of the Orchestra, making concerts by renowned Community Auditoriums.
l'Orquestra Simfònica Belles Arts has accompanied Raphael on his previous "Raphael Sinphónico" tour and now on his "Raphael Resimphónico" tour at the Palau de les Arts and the Plaza de Toros de Valencia, Plaza Toros Alicante and Pabellón Principe Felipe de Zaragoza

www.informacion.es
Digsmak is a news publisher with over 12 years of reporting experiance; and have published in many industry leading publications and news sites.