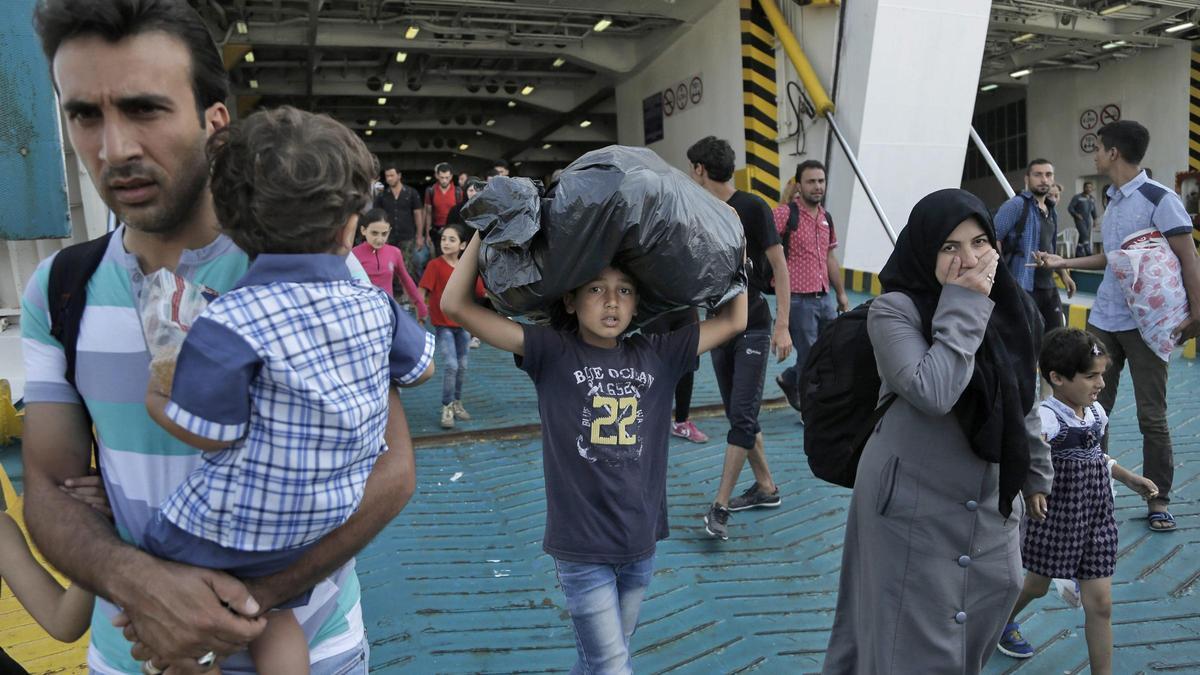 When in 2017 the Dutch Pieter Wittenberg traveled for the first time to the Greek island of Lesbos He never imagined that four years later he would be accused of espionage, human trafficking, money laundering and revealing of secrets of State.
This former banker and his wife – she is not accused – created a small organization that offered showers to refugees that reached the island and were stranded on the beaches. In addition, Wittenberg had a small boat with which, in coordination with the Greek coast guard, did some maritime rescue tasks. Now the man is in front of the judge.
"We were just doing voluntary work, giving shelter to people on the beach. People had cold, fear and his clothes were soaked after a difficult journey in a rubber boat. We gave them dry clothes, cookies and water. Nothing else, "explains Wittenberg through a statement to EL PERIÓDICO, a newspaper that belongs to this group, Prensa Ibérica.
Greece does not see it that way. Last week the trial against Wittenberg and 23 other activists – most of them foreigners – began in Mytilene, the capital of Lesbos. Defendants face penalties of up to 25 years in jail. They all collaborated with him International Emergency Response Center (ERCI), an international rescue organization.
The first hearing of the trial was held last Thursday, but did not last more than five minutes because one of the defendants is a lawyer, and the court of lesbos he has no power to judge him. There is no date for the next hearing, but the case continues.
"If they are found guilty, we could reach a situation in which search and rescue work at sea is criminalized," he stressed. Mary Lawlor, special rapporteur of United Nations on the situation of human rights defenders.
"A guilty verdict would set a very dangerous precedent in the criminalization of people who support the rights of migrants and refugees in Greece and the European Union. It would lead to more deaths at sea, "Lawlor explained.
From the sea to the bench
The two most prominent defendants are two young women, a Syrian and an Irishman. Sarah MardiniIn 2015, he was traveling with a menhaden to the Greek coasts with his sister and dozens of other refugees when the boat's engine left them stranded. Then the two Mardinis jumped into the sea and, swimming, got tow the boat to Lesbos. Both are professional swimmers.
Sarah went to Germany and in 2018 she returned to the Greek island to help the people who kept arriving from Turkey. There he met Sean Binder, an Irish diver with whom he worked on rescue tasks. In September of that year the police arrested them and they passed more than 100 days in prison preventive.
"I am angry because they are criminalizing the legal obligation to help people in distress at sea. I am angry because there is not a shred of tests Against us. I am angry because we have had to wait three years for the trial to start and now it cannot continue because the prosecution fails on all sides, "Binder told reporters last Thursday after leaving the Lesbos court.
"What I ask of Greece and the EU is to respect their own laws. The international maritime law requires the rescue of ships in distress, but now there is no more search and rescue operations precisely because of the criminalization we suffer, "the diver continued.
From Greece to Turkey
What is happening now at sea, according to countless testimonies, are hot returns by the Greek Coast Guard and Frontex, the European border control agency. As many refugees and migrants explain, when the Greeks catch a boat arriving on their islands, the guards they rob everyone, they beat them and they leave them in boats inflatables without motor in the middle of the sea.
These cases have become the norm since spring 2020, when Turkey began sending refugees to its border with Greece. Athens, however, denies that these hot returns are happening.
"I went to trial in Lesbos because I wanted to look the judge in the eye "explains Wittenberg: "We did nothing more than the duty of any human being: help people who needed it ".

www.informacion.es
Eddie is an Australian news reporter with over 9 years in the industry and has published on Forbes and tech crunch.