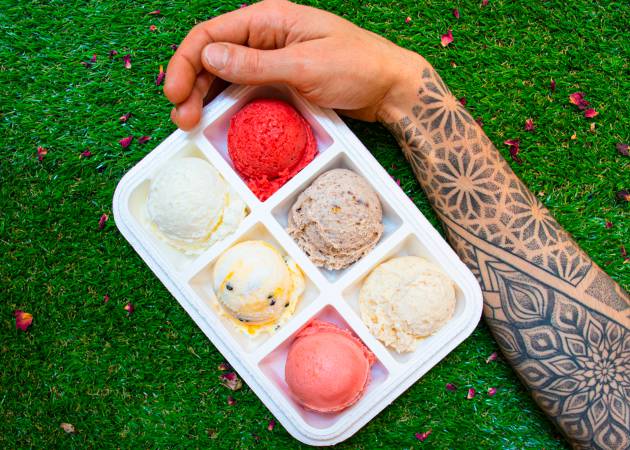 OMG, the sign: a giant Italian flag on which it says Artesanal Italian Don Pietro Giovanni ice cream. You have to take a look around you to make sure you are in Lavapiés and not in Bolonia. Eros Ramazzoti plays. Your retinas burn every time you take a look at 129 ice creams with impossible flavors; Phosphorescent yellows and greens explode in your field of vision, blinding you with the glow of a nuclear detonation. Meanwhile, your brain tries to assimilate why there are pieces of Oreo and Conguitos cookies in all the buckets.
You have fallen into the trap of gelato Iberian. There is no turning back: you will have to deal with an ice cream with artificial colors, semi-industrial, swollen with air, fat and sugar, a Spanish creature that pretends to be Italian and that within ten minutes of having entered your body you it will make you thirstier than a shot of soy in the desert …
Nothing happens, we have all bitten at times. It is not easy to distinguish a good ice cream parlor in the infinite ocean of assumptions ice creams and so-called artisanal fresh fruit ice creams made with rainwater and okapi milk. Silly cocks and boobies are easily camouflaged in an era where photo matters more than taste. I need to get a reliable ice cream shop detection manual. I need the advice of two Italian masters living in Spain who are doing magic and taking this dessert to another dimension, I say food.
Visual sweep
Matteo Reggio is the ice cream man of Parallel, one of the best ice cream parlors in Barcelona. Fresh and seasonal genre, local product, handcrafted elaborations, creativity and patience. The result of this combination of elements is an amazing catalog of ice creams with real flavors and colors, a spectrum of proposals that goes from classic to crazy like watermelon with fresh wasabi. Matteo is not into shortcuts: he takes 80-hour shifts a week in the bakery, where the cherries of his ice creams are pitted by hand. One by one
"I would start with the visual aspect. If you see a mountain of ice cream on the counter, watch out, because they are pouring unnecessary products into it so that that structure can hold up, to sell more. He likes very much bloggers, but I don't trust it ", says Matteo. Therefore, it is not advisable to be seduced by those buckets that look like psychedelic Everests, no matter how much your cell phone itches in your pocket.
In the Barley Market, Madrid, is the ice cream parlor Gelato Lab. Italian Christian Rosa understands ice cream as a food and reveres it. Buy the ripe fruit and other ingredients in the same market. Work with local businesses. It changes the flavors daily, and follows a rigorous artisan production process at heart, while not giving up challenging the customer with unusual combinations. He tells me about his fig ice cream and I lick it off.
Christian agrees with Matteo on the mountains of product above the bucket, because artisan ice cream melts fast. The more hidden and protected the material is, the better. And pay attention to these details: "The colors have to be natural. A banana ice cream cannot be yellow. The banana rusts, it is dark yellow to brown. The mint ice cream has to be white. Green is commercial, the brain associates it with something fresh, everything has been studied. Oh, and artisan blue ice cream doesn't exist. That the Smurf sells well, I understand it, but it is not handmade ", says Christian.
Matteo also sheds a light on chromaticism. "If you use dried fruit or fresh fruit, unless it is cherry or beet, it is difficult for the ice cream to have bright colors. By the way, there are ice cream parlors that claim to use real pistachio and claim that pistachio ice cream does not have to be green, but rather brown. I understand that they want to flee from the garish greens, but you have to be cautious, because if the pistachio ice cream leans towards brown it may be due to an excessive roasting, to cover the deficiencies of the dried fruit used ", he assures. I already said this was not going to be easy.
Approach to the counter
After a bird's-eye inspection, we squinted, held the tocha up to the counter, and looked at the most revealing details in the buckets. I've seen C-rays glow in the dark near the Tannhäuser Gate and I've seen M & M's and Kinder Eggs in ice cream. Wait, is that a Kit-Kat bar in there? "You have to look at the toppings ice cream, because almost all of them are industrial products, sugary … You have to be careful with ice creams that have things inside, because they can spoil a good product ", says Matteo.
"I do not use toppings. I don't have Oreo ice cream. If you have a quality staple product, the more you add to it, the more you screw it up. Toppings, fruits, sauces, when they put that it is because the base has no flavor. The flavor will be the crap you add to it. For me, they are a bad sign. If you have toppings, the product is of poor quality; and if it's quality, you're ruining it, "says Christian.
Fruit ice creams are also a great thermometer for taking ice cream temperatures. If there are seasonal fruits, fine; if there are fruits out of season, meh. If your inquiries are serious, you can even ask your attendant about the regularity with which the flavors change. If the flavors move, the vibes are good; if the flavors are fixed, it is best to buy a Colajet.
If the truth is in the details, maybe it is also in the textures of the ice cream. We all know that you have to flee from the ice crystals. But do not get carried away by uniform touches and impossible creaminess. "Be careful with the ice creams that all have the same texture. If the strawberry ice cream has the same texture as the chocolate or avocado ice cream, the first thing I would wonder is how they get it. The same fruit ice cream can change each time you use a different batch of the same fruit. Be careful with extremely creamy ice creams with the same texture ", warns Matteo.
We go together to Italy
I do not know how the covid protocols are in ice cream parlors throughout Spain, but in many establishments in my city they let you taste a flavor with one of those mini plastic spoons that have days numbered. If you can throw yourself into recognition licks, pay attention to the concoction in the mouth: the tasting can tell you a lot about the ice cream parlor.
"The way I see it, the flavor doesn't have to be an explosion and then disappear. In an ice cream made with crushed hazelnut, like ours, the flavor of the hazelnut will not fade right away. That flavor, that unctuousness will stay in your mouth, it will take time to disappear. If it goes away quickly, it's scents, "explains Christian. For Matteo, ice cream doesn't have to be too sweet, it doesn't have to be cloying, it can't tire you. And above all it has to refresh you. In fact, it is difficult for him to understand the fashion of serving warmer ice creams to the palate … Better not ask him about Jordi Roca's hot ice cream.
We go back to the beginning; to the sign of Don Pietro Giovanni. It is touching to see so many Spanish ice cream parlors trying to be Italian. The more an establishment insists on highlighting its Italianity, the more the customer should suspect. "The Italian ice cream parlor does not contribute anything. At Paral·lelo we are Italians, but we don't call ourselves Italian ice cream parlor. It doesn't make sense, because we like to work with local produce. In fact, I even use Japanese products, like wasabi (although grown here), "says Matteo.
For his part, Christian is also suspicious of etiquette. "I always say that I don't make Italian ice cream, I make Spanish ice cream. I do it here. Born here. Being Italian is not enough to make it a good product. In Spain there are Italian ice cream parlors that work poorly and there are non-Italian ice cream parlors that do it well ", assures Christian, who gives me the conclusion to this search. "In Italy, if the ice cream is not good, the ice cream parlor closes after a week." When will we Spaniards start taking it seriously?



elcomidista.elpais.com
Eddie is an Australian news reporter with over 9 years in the industry and has published on Forbes and tech crunch.