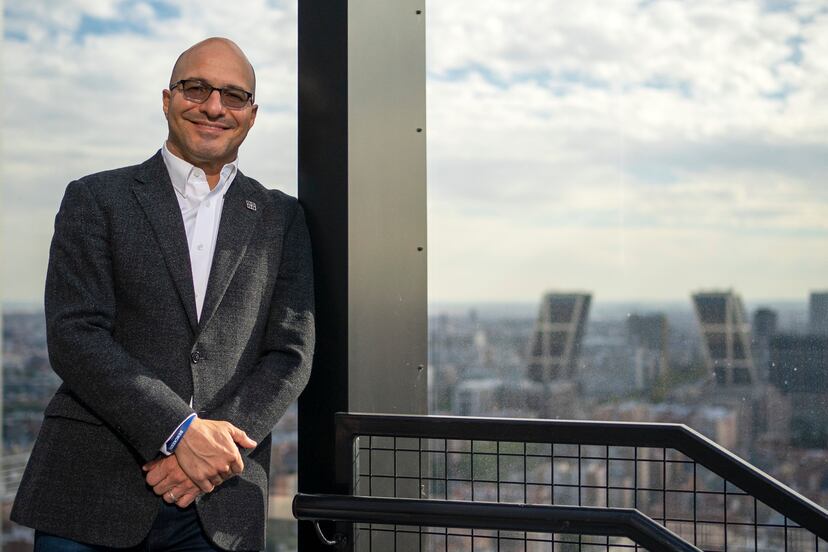 The life of Hadi Partovi (Iran, 1972) goes beyond the American dream. It is the story of a boy who has to flee from a burning country and ends up rubbing shoulders with the most brilliant men of his generation. Raised in the Iran of the revolution, he learned computer science with his twin brother Ali from the hand of his father and then self-taught with a Commodore 64 computer. When he was 11 years old, his family went to the United States and there he discovered how useful they can be. Some knowledge will result for those who leave with the double disadvantage of being poor and an immigrant. He began working for Microsoft and ended up creating with other partners Tellme Networks, which was sold in 2007 to Bill Gates' company for $ 800 million.
The day Steve Jobs died, October 5, 2011, Partovi had an inspiration: to spread among as many children as possible some of the skills that made the creator of Apple a genius. From that idea arose Code.org, an NGO that has taught computer programming to more than 60 million people in the world and that has just located a headquarters in Spain to expand throughout Europe, Africa and the Middle East. At the moment they have offered their help to the Ministry of Education – whose head, Pilar Alegría, participated last Friday in the presentation of the project in Madrid – and to the communities to train primary school teachers in computer science.
Code.org, financed among others by all the big technology companies, has an unusual institutional backing. In the United States, it has been supported by the Obama, Trump and Biden administrations. And in Spain the five living presidents of the Government – Felipe González, José María Azar, José Luis Rodríguez Zapatero, Mariano Rajoy and Pedro Sánchez – and other politicians, such as the president of Congress, Meritxell Batet, or the leader of the PP, Pablo Casado, They have recorded a video showing their adherence to the project. Partovi welcomes EL PAÍS at the recently inaugurated IE Tower in Madrid, where it has participated in EnlighTed, the world congress on technology and education promoted by Fundación Telefónia, IE University and South Summit.
Question. Why precisely have you chosen Spain to expand your model?
Answer. It is a matter of momentum. In this country the interest in computing is currently unique, there is a very significant consensus among political leaders and business leaders.
P. In your personal case, with a very early relationship with new technologies, how did computing change your life?
R. I started programming in the middle of a war [la que enfrentó a su país con Irak en los años 80]. Technology in my case was an escape, an alternative to a reality that I did not like. But, in addition, when we moved to the United States, I realized the incredible opportunities that computer knowledge gives you. My family was poor, I was an immigrant, but I started working in internet companies in the summer when I was 15 years old. In my case, it helped me develop creativity and opened incredible job opportunities for me.
P. But, if not all children are going to dedicate themselves to computers, why is it so important that they learn programming?
R. All the readers of this newspaper will have studied biology in school, but they were not taught it just to train biologists. Learning how our bodies or plant photosynthesis work is essential, but computing is also foundational knowledge in the 21st century. It can give us fantastic job opportunities in the technology sector, and also, whatever you work on, knowing how technology works, how it is created and how it impacts our lives has become crucial knowledge.
P. Should it then be a compulsory subject in schools?
R. I think that in the next ten years it will be for all students. Because more and more people are realizing its importance, and because it will open a gap between those who have these skills and those who do not.
P. However, in a changing world it is very difficult to predict what the professions of the future will be and what skills they will require.
R. It is difficult to know, but it is clear that knowing how to program will be more important in the future than it was in the past. Because it is a field that is impacting other sectors: drones, telephones, autonomous vehicles. My personal opinion is that computer science will have its greatest impact in the area of ​​medicine, where it is already used to cure or detect diseases, and that will fully affect the economic and personal spheres.
P. They always talk about teaching children how to program, do they already give up the older ones?
R. Our courses are designed for primary and secondary school students, but probably 20% of the people who use them are older than that age and some are much older. When we launched them we said they were for people from eight to 80 years old, and people would tell us what about my six year old son? What about my 84-year-old grandfather? We have now expanded the range from four to 104 and are no longer receiving complaints.
P. Another very striking issue is the huge gender gap that occurs in technology careers. Very few women dare to follow them.
R. Young girls are just as good at this as they are, but social stereotypes seem to indicate that technology careers are made for geniuses who characterize as white or Asian boys. There is no reason for this, and we must dispel those prejudices. In the videos we produce for our classes, we introduce as much diversity as possible, with men and women, and that helps to change those stereotypes.
P. One of the things that most attracts the attention of your organization is the broad support it has received from administrations of different kinds. How did you do it?
R. I think it is because the great moment for our idea has arrived. Much of the political divide has to do with the fact that opportunities do not work the same for everyone, that the way to live well is not open to everyone. And it is obvious that computing, the teaching of which we offer to schools, can pave that way. That is why it is a project that suits companies, children, and schools. It is a beneficial effort for the whole of society, and for that reason it finds no opposition, something very rare for any social movement.
P. In recent years the technology is under suspicion. It is frequently linked to grim news about loss of privacy, poisoning of public debate on social media, or threatening many jobs. How can we regain faith in the progress that innovation brings?
R. It is not something new. For thousands of years, people have felt that new technologies brought problems. When the tractor appeared, farm workers felt threatened. They are real concerns and we must address them. That's why at Code we not only teach people what computers can do, but what they should do. Because we have a great responsibility to fix global problems, such as climate change, poverty, disease, and not to create global problems. It is these issues that we must solve using robots or artificial intelligence and we will not succeed if we do not teach computing to the new generations.
P. In addition to leading Code.org you are an investor in new projects. How do you choose your investments?
R. For me it is very difficult to predict the future. What I do is invest in people who seem smarter than me.
You can follow EL PAÍS TECNOLOGÍA at Facebook and Twitter or sign up here to receive our newsletter semanal.
Sign in to continue reading
Just by having an account you can read this article, it's free
Thanks for reading EL PAÍS



elpais.com
Eddie is an Australian news reporter with over 9 years in the industry and has published on Forbes and tech crunch.