HBO Max has arrived this Tuesday in Spain and several European countries after its launch in the United States and in 39 countries in Latin America. It has done so by showing one of the key factors in the world war of streaming: bringing together as much content as possible under one umbrella. For Andy Forssell, executive vice president and general manager of HBO Max, the battle will have no middle ground: "To survive we will have to bet on being a niche platform or on being part of a global one," he told this newspaper on Tuesday, during his visit to Madrid.
In the case of the successor to HBO Spain, owned by Warner Media, its "all-in-one" means uniting the almost 100-year history of Warner Bros. cinema, DC superheroes (from Superman and Batman to Wonder Woman) and HBO's quality series. "As consumers, we always complain. Before, because there were hundreds of cable and satellite channels but nothing interesting to watch. Now, because there are so many interesting things to see. Of the two problems, I buy the second without any hesitation. The viewer will decide how many platforms they need to subscribe to, although the answer will never be just one ", says the executive. To retain its first registrants in Spain, the company offers a 50% lifetime offer for new subscribers who sign up before November 30, 2021, for which it will cost 4.49 euros per month.
This polarization has not yet reached its ceiling. In May, the merger of Warner Media with Discovery was announced, a matter that is pending approval by the government authorities of the United States and other countries and that, if materialized, would mean the creation of a giant of the streaming even more powerful, as HBO Max teamed up with Discovery +. Meanwhile, the offer of platforms will increase even more in Spain shortly, when the announced one arrives SkyShowtime. With it, the British chain Sky joins its contents with those of Paramount + and NBC – the equivalent of the American Peacock – after failing in 2020 in its attempt to be an independent platform.
For Forssell, another essential aspect to survive in this battle is to have sagas that move the masses, such as The Lord of the rings (Amazon Prime Video), Star Wars (Disney +), the heroes of DC Comics (HBO Max) or those of Marvel (Disney +). That's why HBO Max has high hopes for The house of the dragon, the prequel to Game of Thrones that will be released in 2022 and that will open the door to many more stories connected with the universe of George RR Martin.
"We do not yet know if we will maintain the 45-day window between movie theaters and streaming in 2023."

Andy Forssell, Executive Vice President and General Manager of HBO MAX.
Original content will be one of the main bets in its relaunch in the Spanish market, to compete not only with world brands such as Netflix, Amazon Prime Video and Disney +, but also with places with great popularity among viewers, such as Movistar + and Filmin. In recent days, HBO Max Spain has announced a new title of its own. This is the animated series for adults Poor devil, created and written by Joaquín Reyes, Ernesto Sevilla and Miguel Esteban, co-written by Helena Pozuelo and produced by Buendía Estudios. "It is a way of finding the differential factor with respect to the rest of the competition in Spain," said Miguel Salvat, head of original productions at HBO Max Spain, during the presentation of this new platform.
But this strategy of local launches does not mean that it does not benefit the global one: "Homeland and 30 coins they have worked reasonably well with American viewers and also in Latin America, "says Forssell. The correct translation for the subtitles and dubbing "is a huge effort" due to the number of titles that are produced around the world, but "necessary to survive in this global environment", he admits.
The pandemic paralyzed filming and slowed down the release schedule "until the end of 2022" and was a challenge for this industry. To compensate for the lack of series premieres, a celebrated decision to reduce the viewing window for Warner films was announced. They will appear in the HBO Max catalog only 45 days after they hit theaters. Although, Forssell points out, it is "an experiment" that will begin in January 2022, with titles such as The Batman and Fantastic Beasts: Dumbledore's Secrets, but it is not decided if it will remain in 2023. "The pandemic has forced us all to try new things and we have understood that we are not the ones who make the decisions, but the users. We go where they decide, "says the American. "Although cinemas are going to continue to exist, it is consumers who will have to decide in the coming months which will be their first choice when it comes to watching these films."
But this global competition will not focus only on movies and series. The format podcast It is already part of the catalogs of many of these platforms. HBO has already explored it in English in the case of Chernobyl and with the recently released third season of one of his current greatest hits, Succession —renewed for a fourth batch of episodes – which has a podcast brother led by American journalist Kara Swisher.
Without being on the immediate agenda of HBO Max Spain, Forssell considers that audio is a path to explore. In addition to making the viewer's experience more enriching, they often get them to watch the series a second time, returning to each chapter as they discover new data about the fiction or the subject matter in each sound broadcast, he explains. "It is a way of wearing HBO Max also in the car, even if it is listening from an audio-on-demand platform," he adds.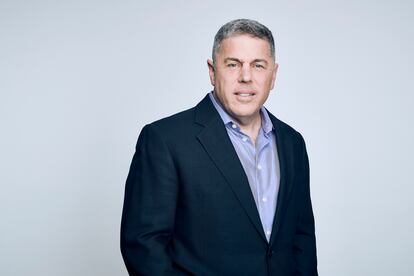 To attract the new generations, agreements like the one that HBO Max has in the United States will be inevitable with Snapchat and TikTok or Amazon's bet on Twitch. One of the possibilities that these new avenues open up, in addition to the creation of content in short format, is that of live broadcasts, which Amazon already tests at sporting events. In Spain he does it with Ibai Llanos on Twitch. "I don't think it is the way, except in sporting events or something that involves the surprise factor, since the strong point of the platforms is the 'à la carte", says Forssell. Although HBO Max has already successfully experienced live sports broadcasting in Latin America and has bought the broadcasting rights of the Football Champions League until 2024, to take to different markets of the continent, there are no plans for it to happen in Europe at the moment.
Nor does it augur greater transparency when it comes to making audience data public on these global platforms. Netflix you just changed your audience measurement method, although his new statistic does not shed much light on it either. "It is a type of information that is published in traditional chains, as a guide for advertisers. As long as payment platforms don't need advertisers, it's not going to happen. Not sharing this data is also a way of giving time to our contents and they do not become a success or failure on the first day of release, as is the case with the movie box office ", he argues.
You can follow EL PAÍS TELEVISIÓN on Twitter or sign up here to receive our weekly newsletter.



elpais.com
Eddie is an Australian news reporter with over 9 years in the industry and has published on Forbes and tech crunch.