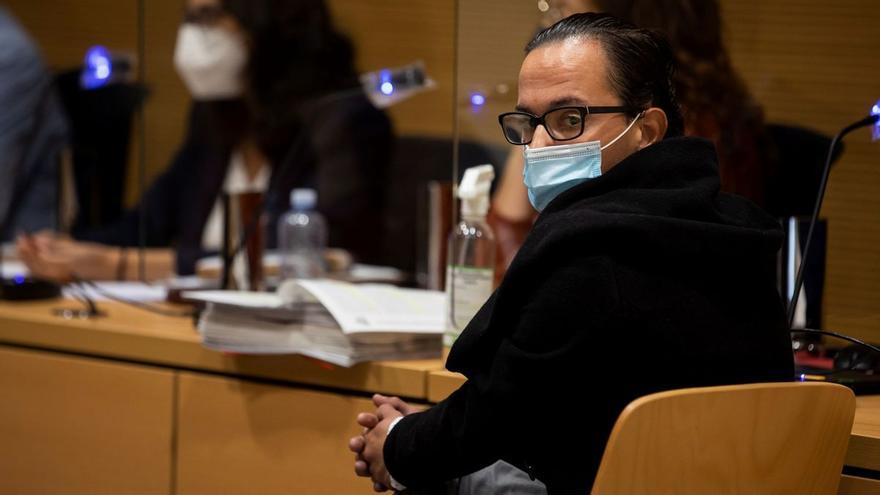 A man accused of murdering a 21-year-old cousin in Fuerteventura in 2018, which he admits to having killed at least thirty hammer blows assaulting her at dawn when she slept and was alone at home, has blamed a "fit" for mental problems what happened at the beginning of the trial against him, in which, surprisingly, he has declared himself a woman, asking to be called Lorena.
One circumstance is that this Monday, the first day of the oral hearing in the City of Justice of Las Palmas de Gran Canaria, The defendant, Jonathan SR, has used to refuse to subject the corpse of his cousin, once he consummated her death, to sexual acts for which they ask him for 15 years in prison, arguing: "I am a woman, and I do not want to be with a girl, but with a man."
His approach has been questioned, in any case, by the popular accusations, assumed by the Canary Institute of Equality, and in particular, exercised by the family of the victim, who by referring to him has done it as "the accused", in masculine .
The lawyer for the parents and the brother of the deceased have contested the defense thesis that the gender change of their client is official because, according to what they have reported, in jail she has been treated differently since she declared herself a woman, allowing him to wear feminine clothes in private and shower apart from the other inmates, arguing that the recognition of something like this "is not the responsibility of Penitentiary Institutions, but of the Civil Registry".
Nor have these accusations been in agreement with the defender's refusal to recognize the death as a murder, aggravated by the treachery and cruelty with which they maintain that he acted, despite the fact that he has also been qualified as such by the Public Prosecutor's Office, which asks for 25 years in prison for it.
Penalty that would have to be substantially reduced if the affirmations of the defendant's lawyer that it was only a homicide, the punishment of which is less, triumph.
From the defense, in any case, it has even been requested, in front of a jury court that will be in charge of deciding to what extent or not it was responsible for what happened and to what extent, the acquittal of its client, ensuring that I was able to gauge what I was doing because suffers from "personality disorders" and that what proceeds is to intern him in a center to receive care.
Neither the prosecutor nor the other accusations have shared, however, that opinion, assuring the former that he only suffers from "mild mental retardation, without affecting his ability" to discern between good and bad, and that forensic evidence is they have practiced it, they have confirmed it.
And as proof of this he has pointed, among other things, to how he carried out the attack on his cousin, wearing gloves to avoid fingerprints, wearing a long-sleeved jacket with a hood that would make identification difficult, carrying a hammer, two knives and a rope, using a key to the victim's house that he had stolen some time ago and waiting for her to be alone and asleep, in a situation of "absolute impossibility of defense."
Other factors that, according to the prosecutor, rule out that he was unable to know what he was doing are that later "turned the mattress over to hide the blood stains", fled to his house, adjacent to the deceased's, jumping through an area of ​​terraces to avoid the public road and meet someone, took a shower and, after putting his clothes and utensils in a bag, threw them inside another nearby house uninhabited for years.
Elements all of them that show that his disability was not such or, at least, not so significant, since, however, "it allowed him to plan the crime in advance," he said.
The prosecutor also stressed that the defendant proceeded "using extreme violence" and targeting "vital areas" in his blows, especially the victim's head, at which he He did not stop hitting even when he fell to the ground, mortally wounded, and finally, excited by what happened, "he ejaculated on top of him."
In the first session of a hearing that will last several days due to the statements of witnesses and experts, the defense has repeatedly insisted on maintaining that the suffering of its client "totally annulled his cognitive and volitional abilities" when he killed the young woman and in denying that he acted in a premeditated manner.
Along these lines, he has asked the accused, who has availed himself of the right not to answer the questions of the accusations or members of the jury and has answered only his lawyer, to define what his relationship with his victim was like, and has answered: " pretty good, no problem. "
And, about why he beat the girl to the end, he has stated that he "gave her an outburst" and that "I was like a machine without control".

www.informacion.es
Eddie is an Australian news reporter with over 9 years in the industry and has published on Forbes and tech crunch.