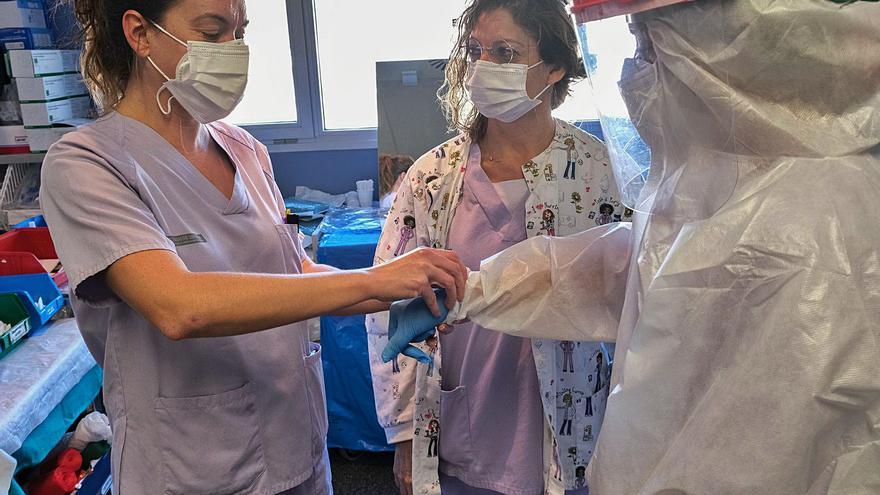 With more than two decades of experience, this doctor reached the position of section chief of Intensive Medicine of the General Hospital of Elda in full pandemic only a few months ago. Before, he was an adjunct physician. From this diary he gets For example, this promotion to show that achievements are being made in terms of Equality. She also highlights that the majority of new residents are girls.
It could be said that Health is one of the most feminized areas because three out of four health professionals are women. However, only 25% reach positions of responsibility as section heads, categories where the phenomenon of the glass ceiling can occur, according to the latest Equality plan (2016-2019) prepared by the Ministry of Health.
Nuria Gregori-Flor, head of Equality at the General University Hospital of Elche, states that there are cultural patterns by which some of the women are not eligible for certain positions because, for example, the system is still not quite ready for reconciliation. "There is abandonment of promising careers when they have the first child or, for example, in calls to lead a research team, criteria that measure merit are applied and many times they do not have a gender perspective."
It also points out that there is a greater temporality in women compared to men, which also makes their promotion difficult. In the same way, he points out that in some cases they resign from a higher position because they put care before family members and minors. From the Department of Health of Elche they point out that the Women ask for a reduction in working hours 2.2 times more than men for these cares. However, Gregori-Flor explains that the involvement curve for men increases and there are influencing factors such as 16-week leave.
Although this decompensation by sex is registered in section heads, a parity has been reached in the management and direction of public hospitals in the province. Of the 12 health departments, half are led by women.
One of them is Eva Baró Salvador, director and manager of the Torrevieja University Hospital since 2019. Previously, she served as healthcare director and Head of Nephrology. Ensures that the most difficult challenge of his professional career has been managing the storm that came with coronavirus pandemic. "Years ago we would think it was a sci-fi script." Even so, she is proud that society and the entire human team have known how to adapt. Looking back at its beginnings, it stops that she never had "limitations because she was a woman." He explains that he developed his professional career being mother of three children and had support from her environment. He believes that over the years there is more parity in management positions than in other categories because direct management is about political positions that change periodically.
It also recognizes that women are already more visible at the head of management and Progress has been made in professionalism because the positions are occupied by health workers, when it has not always been like that. She is convinced that the generational change will come in the heads when the current heads retire. He predicts that in this decade there will be more women in certain positions.
During the health crisis caused by covid-19, hospitals had to reinventing itself to face the pressure of care with field hospitals and multiple new protocols.
Virginia Alemañ has been an essential part in the provision of resources for the different units, and it is here that it is clear that experience is a value. In 1979, she began her career as a nurse and has passed through the ICU, serving as supervisor of Internal Medicine, Traumatology and general supervisor. At the moment, she is an assistant to the Nursing of material resources at the General Hospital of Alicante, and in the last year she and her team have progressively opened units, according to demand, which they were transformed into hospitalization areas for those infected with covid and "suspects" or operating rooms for critics.
"The pandemic has been very hard, and I did not think that we were going to set up a medicalized hotel or a field hospital," he says. On the level of Equality, he says that "you have to earn respect as a professional, just by saying good morning to an admitted gentleman they realize that you care and make the profession respect, that work has to continue."
Her husband was also a nurse and relates that he never had to give up his career to care for their children.
We cross a few more corridors towards the room where the hospital's "numbers come from" and we meet Lourdes Navarro, who in life has managed to put everything together very well. Since 1980 she has been an administrative officer and is dedicated to Statistics, Documentation and Admission in the General of Alicante, a minority group of men.
His work is meticulous, and more so with the coronavirus, since the management of his department depended, for example, the control of beds in the face of an avalanche of infections that forced to adapt spaces. When her day is over, she goes to the UA where she works as an associate professor of History. He is also finishing his second career in Humanities and that is why he asks that "possibilities like the ones I had to develop myself work and culturally be claimed."
Paqui Molina Sánchez has been accompanying patients to the room for 26 years and carrying beds and wheelchairs. When she was called to work as a caretaker, she felt that she had won the lottery, as she remembers those hard times when she raised her two children working as a dresser. She will always be grateful to her mother who also pulled the car. Now she plays the same role with her three grandchildren.
At the beginning of the hospital, there were hardly any women, they could represent 10% of the staff of orderlies, she explains, and at some point she felt discriminated against and had a boss "who gave us tasks that were not adequate, such as carrying a lot of weight." At the regional level, more than 56% are wardens, although they do not remember any direct boss.
Be grateful that her neighbors saw her as a "heroine" and not as a possible source of contagion. "They would stop for two hours with me when I was going to buy bread," he adds with a smile to the thread that vindicates his role in the hospital: "The doctor is the one who cures, but 70% of the contact with the patient we have."
Lola Cases Fernández had a bitter episode with the health crisis. Her husband had to be operated on for a hernia but the intervention was suspended due to the health emergency. For months she was distanced from him by a room for fear of infecting him by having close contact with patients.
The positive part: easing their stay. "When they were alone and you dialed the phone for them to talk to their families, it was a whole world." She is a nursing assistant at General de Elche. This is the branch with the most women, more than 95%. She has never felt a "bad look" from colleagues or patients for being a woman, although she recognizes that depending on the origin, or men of advanced ages may have a certain modesty or suspicion of being cared for by women.
This last year has also been difficult to serve the little ones. Susana Raggio Pérez has been a pediatrician since 1997 and currently works in the auxiliary office of the Sant Joan Health Center. He acknowledges that it was complex to follow up with children under two years of age, and the telephone line was strengthened. Even so, he believes that the pandemic has improved work-life balance with the introduction of teleworking.
Remember that the first time she "hid" that she was pregnant for fear of not opting for a substitution. They took her because the fear was only theirs. Proudly remembers that she has attended all the Pediatric conferences to continue growing.

www.informacion.es
Eddie is an Australian news reporter with over 9 years in the industry and has published on Forbes and tech crunch.