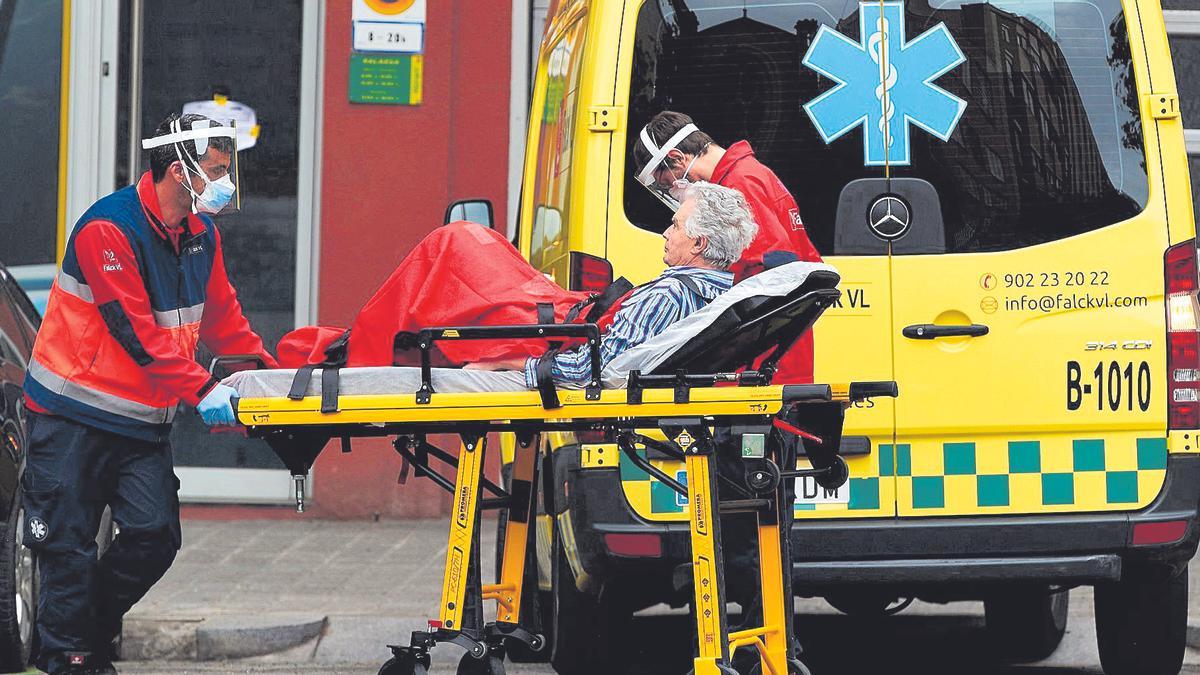 The autonomous communities have notified the Ministry of Health this Friday 9,489 new cases of COVID-19, 4,612 of them diagnosed in the last 24 hourss. These figures are lower than those of the same day last week, when 12,450 positives were reported, indicating a downward trend in the evolution of the pandemic.
The total number of infections in Spain has already risen to 4,831,809 since the start of the pandemic, according to official statistics. The cumulative incidence in the last 14 days per 100,000 inhabitants stands at 264.13, up from 276.43 this Thursday. In the past two weeks, a total of 125,330 positives have been registered.
In this Friday's report they have been added 139 new deaths, compared to 132 last Friday. Up to 84,000 people with a positive diagnostic test have died since the virus arrived in Spain, according to data collected by the Ministry. In the last week, 357 people with a confirmed positive COVID-19 diagnosis have died in Spain.
Currently, there are 7,206 patients admitted for COVID-19 throughout Spain (7,368 this Thursday) and 1,685 in the UCI (1,701 this Thursday). In the last 24 hours, there have been 711 admissions (771 this Thursday) and 867 discharges (950 this Thursday). The occupancy rate of beds occupied by coronavirus stands at 6.15 percent (6.29% this Thursday) and in ICUs at 18.37 percent (18.54% this Thursday).
Between August 17 and 23, the autonomous communities have carried out 782,402 diagnostic tests, of which 502,264 have been PCR and 280,138 antigen tests, with an overall rate per 100,000 inhabitants of 1,663.76. The total positivity rate stands at 10.26 percent, up from 10.37 percent this Thursday.
Vaccination
On the other hand, the autonomous communities have administered a total of 65,035,990 doses of the COVID-19 vaccines from Pfizer-BioNTech, Moderna, AstraZeneca and Janssen, 321,489 of them in the last 24 hours. This represents 90.6 percent of those distributed, which amount to 71,807,342 units.
What's more, a total of 32,459,380 people have already received the complete guideline, 219,598 more than this Thursday. This represents 68.4 percent of the Spanish population. A total of 36,237,517 people have received at least one dose, 76.4 percent of the Spanish.
The data indicate that in that period 49,767,927 doses of Pfizer have been delivered in Spain, with 45,576,188 administered; 9,516,480 corresponding to Moderna, with 7,807,171 already inoculated; 9,874,600 from AstraZeneca, with 9,723,594 injected; and 2,648,335 from Janssen, with which 1,929,037 people have been vaccinated.
The Ministry of Health has provided this information in the activity report of the vaccination process against COVID-19 based on data collected between December 27, 2020, the day the vaccinations began, and August 26.

www.informacion.es
Eddie is an Australian news reporter with over 9 years in the industry and has published on Forbes and tech crunch.