Maria Townsend and her husband have been staying for three days in a hotel in downtown Calgary, in the Canadian province of Alberta, although they live about a 30-minute walk from this place. "We are self-employed. We do not have air conditioning at home. In fact, it is not so common to have it in Calgary, since the temperatures in summer are normally pleasant. We were working at home at first, but two fans were not enough and my husband began to feel sick from so much heat, so we decided to take a short vacation in an air-conditioned hotel with a swimming pool ", says Townsend, Irish by birth and Canadian living since 1996. The Association of hotels in this city announced that the demand has skyrocketed since last weekend. Not by tourists, but mainly by neighbors like the Townsends.
The unprecedented heat wave hitting Canada has been moving eastward, reaching into the provinces of Saskatchewan and Manitoba. On its way, it has also been primed in Alberta. A province that, above its livestock production, its extensive repertoire of country music and its colorful rodeo festivals, is the main oil province of Canada (fourth producer in the world). And the most important companies in the country in this field are headquartered in Calgary, a city that is now boiling – for a long time and like never before – by the heat wave. Here policies to combat climate change tend to be seen, more than anything else, as a threat to the economy.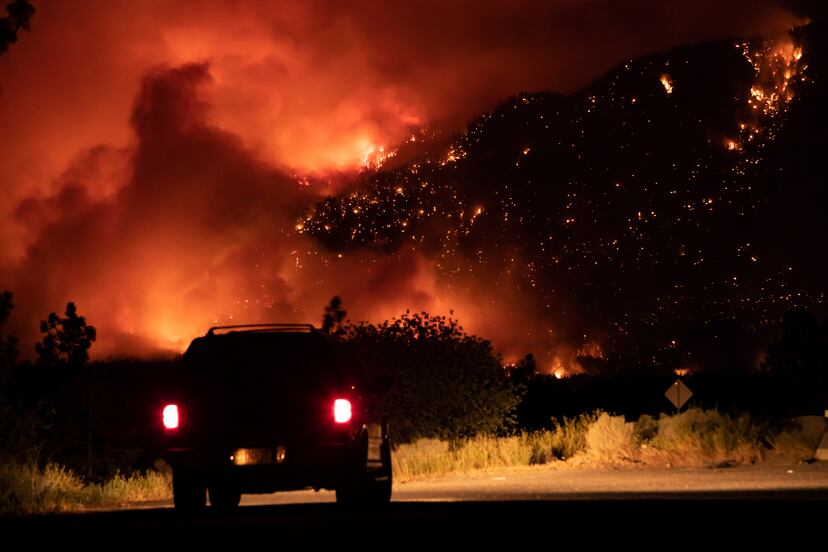 The impact in British Columbia and the northwestern United States has been dire. Records for high temperatures have fallen like dominoes. On Tuesday, the town of Lytton, British Columbia, registered 49.6 degrees, breaking the national record for the third day in a row. A day later, the residents were evacuated by a fire that consumed 90% of the town. The authorities alerted of 64 fires in that province. According to the Forensic Service, between June 25 and July 2, 719 people lost their lives suddenly; an average three times higher than on other dates. On the other side of the border, the heatwave has caused at least 99 deaths.
In Alberta, temperatures have also skyrocketed. Some 50 towns have broken their historic records. Thermometers in the cities of Edmonton and Calgary read 37 and 36.3 degrees, respectively, this Wednesday. As in British Columbia, Canada's Environment Ministry issued an alert for most regions of Alberta for "prolonged, dangerous and historic" heat waves. The consumption of electrical energy in this province has reached levels never seen in summer and the authorities ask people not to waste water. Edmonton Emergency Services reported 125 calls related to the heat wave between Tuesday and Friday; 96 were in Calgary in the same period. The south of the province has been affected by numerous fires.
Temperatures between 34.5 degrees and 36.3 degrees, between which Calgary has moved in the last week, would not be disturbing in Seville or Mexicali. However, the average of the highest temperatures each July in this Alberta city is 23 degrees. Sue Henry, head of the Calgary Emergency Agency, stated that the records of these days confirm that it is the longest extreme heat event that this city has experienced. Some religious temples (Catholic, Protestant, Muslim, Sikh) have set up areas so that people can cool off and avoid the sun's rays.
Experts explain that the rise in thermometers is due to high static pressure, which has led to a phenomenon known as "heat dome." Nikos Christidis of the UK Weather Service pointed out that it would have been nearly impossible to achieve such high average June temperatures in the western US without human-induced climate change, as "the chances of natural occurrence are once in tens of thousands of years ". Canada's Environment Ministry has indicated the need to better prepare Canadians to adapt to the effects of climate change. Fossil fuels, according to scientific consensus, appear as the main factor.
Alberta has had a strained relationship with the federal government for decades. A widespread sentiment is that Ottawa pays more attention to the elites in the center and east of the country than to the "oil cow." Some groups have even promoted their independence from Canada. In Alberta, the Trudeau name does not elicit applause. Former president Pierre Elliott Trudeau had a run-in with the province in the 1980s over the National Energy Plan, an initiative considered a federal interference. In 2014, crude prices plummeted. A year later, Justin Trudeau, son of Pierre Elliott, became Prime Minister. One of its promises was to carry out more regulations in the environmental field.
"In 2018, Trudeau presented his carbon tax plan," explains Frédéric Boily, professor of political science at the University of Alberta. "The conservatives of Jason Kenney took back the provincial government in 2019, in large part, because they wanted to abolish this form of pricing in Alberta. Later, the Supreme Court of Canada ruled that Trudeau's plan was constitutional. Many people saw this plan as a new intrusion from Ottawa and a direct attack on the provincial economy. "
Trudeau is criticized by sectors of the left because they believe that his environmental goals should be more ambitious. They also reproach him for the Ottawa loans to the hydrocarbon companies and the nationalization and the announcement of the expansion of the TransMountain pipeline. Yet many Albertans consider Trudeau a person not grateful for the opposite reasons. The argument, constantly heard, is that it has turned its back on the oil industry.
Alexander, a 40-year-old who works in a parcel company, drinks beer on one of the terraces of Eighth Avenue, Calgary's famous artery for its bars and restaurants. "It's hot, but I prefer to be here enjoying myself. We have spent too much time locked up by covid-19, "he says. "The media say that this heat is related to climate change. However, the economy is also important. We cannot leave all those people in the oil sphere down, "he adds.
Young people more involved
Maria Townsend agrees on the huge space oil occupies in Alberta's economy. "It is a fact, but we have to do something and quickly. I think a lot about what my daughter's life will be like in a few decades. Will these heats become frequent? At least she, who is a teenager, is better informed and seeks to get involved. The new generations take it more seriously ".
Frédéric Boily agrees that young people in the province show greater interest in climate change, but also points out that there are significant differences between the cities and regions where oil is extracted, more inclined to defend the economic variable tooth and nail and bastions of conservative votes. Boily points out that while deniers in Alberta make noise, they are actually few in number. "There are two large groups of people on the issue of climate change. Both point out that it exists. Some are motivated to change the landscape, either in an accelerated or gradual way, and others simply stay on the sidelines, "he says.
The truth, Boily warns, is that there is a growing difficulty in investments for Alberta's oil infrastructure. On January 20, President Joe Biden signed the rescission of the construction and exploitation permits for Keystone XL, a pipeline that would send crude from this province to US refineries (a project supported by Trudeau), and which sparked protests from environmentalists and indigenous communities. . Alberta's oil wealth is concentrated primarily in the tar sands. Royal Dutch Shell and Statoil, among other companies, withdrew from Sands-related projects in this Canadian province due to high production costs, high emissions and public reputation.
Regional President Jason Kenney called Biden's decision "a blow to the Alberta and Canadian economies." His government had invested C $ 1 billion in the pipeline. Regarding oil sands, Kenney insists that they offer great economic benefits and that different processes are reducing their environmental impact. Meanwhile, the "heat dome" scorches the province of Manitoba.
You can follow CLIMA AND ENVIRONMENT at Facebook Y Twitter, or sign up here to receive our weekly newsletter



elpais.com
Eddie is an Australian news reporter with over 9 years in the industry and has published on Forbes and tech crunch.