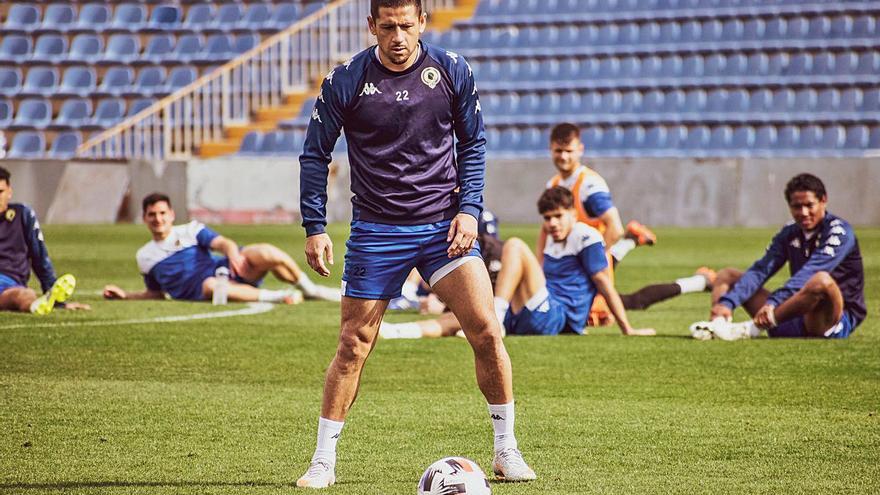 This was confirmed yesterday by two of the blue and white players, David Sánchez and Sergio Buenacasa, who repeated the mantra that the team does not sign the tie, which was already announced days ago by their teammates Benja Martínez and Armando Ortiz. The work of mental reinforcement and self-confidence of the squad that coach Manolo Díaz carries out in the three weeks he has been in charge of the bench has permeated the locker room, which flatly refuses to fall into the temptation of conformity.
"We are not contemplating the draw, but the victory because we are prepared for it and we are training it that way," midfielder David Sánchez acknowledged yesterday after the penultimate work session of the week. "In this type of game, due to its importance, there are players who sin from overexcitement and that is where we have to have the maturity as a team to follow our game plan, trust each other and, if we give the level we have, little by little. little will be all rolled out, "added the Madrilenian, 22, who has started in the two games with the new coach in Orihuela and against Ibiza.
«I am not a coach, but the priority for me is to win. If I arrive at minute 85 with 1-1, I prefer to risk and leave the back a little unprotected to try to get the three points and go for all, "he added. "You can hit it or have a 1-0 score against you and then ask yourself if you should have been more conservative. But I would go for the game without a doubt.
Striker Sergio Buenacasa spoke along the same lines, a supporter at all costs of going out to win tomorrow's game and virtually ensuring a pass to the next round. "We will have to assess whether the tie is good or bad after the game," he told this newspaper. "Right now the only thing going through my head is going to win, although later there are many circumstances. If it happens to us as in Orihuela, a tie with one less, well the point can still be good. But those are situations that you see as you go. Nobody has it in mind to assess a tie now because what we want is to win. We are capable of going to win at Villarreal and that would pave the way a lot in the competition ».
The handy forward, who has lost ownership since the reincorporation of Benja Martínez, maintains that Hercules must be ambitious and fight both for the new Pro or First RFEF League and for the possibility of promotion to professional football. «In football you don't have to settle. We must be clear that the first objective is to beat Villarreal this weekend; then, add as many points as possible to get among the top three and, from there, dream », he stressed. «It is very complicated, but we are going to try it. Match by match is the key and we must not look further. In this League, moreover, you win one day and lose another; you go down two places and go up one. Everything is so tight that winning a game gives you one perspective or another. Winning this Saturday is the most important thing, but I would never give up fighting for promotion, "added the 22-year-old.

www.informacion.es
Eddie is an Australian news reporter with over 9 years in the industry and has published on Forbes and tech crunch.