Boris Miranda (@ivanbor)
BBC World News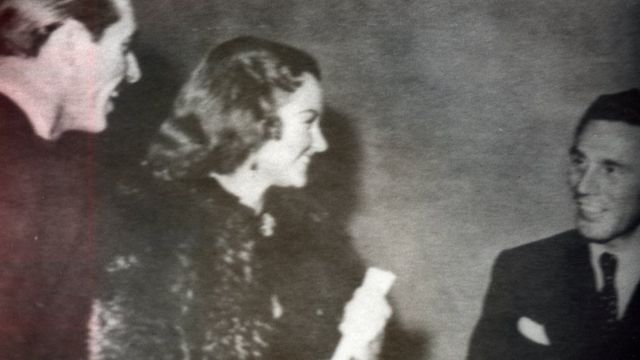 He tried without much success to be a Hollywood star, but at the same time he managed to dazzle high-ranking Mexican politicians.
Hilda Krüger was not only an actress, she was also a spy who collaborated with the Nazis in Mexico, supported by none other than Joseph Goebbels, Adolf Hitler's minister for Public Illustration and Propaganda.
His goal was no less: to help Germany have access to abundant Mexican oil and other resources for its plan to invade the Soviet Union.
"She was mediocre in acting, but she was very skilled at conquering the upper class of that time," says Juan Alberto Cedillo, historian and author of the book "Life and work of a Nazi spy in Mexico."
But that story is not limited to the beauty of a blonde woman skilled in seduction, who died 30 years ago.
It is also linked to the nationalism of a country whose hydrocarbon wealth was boycotted by the United Kingdom and the United States.
And to the historical resentment towards Washington for the invasion against Mexico in the mid-nineteenth century.
Actress
She was born in 1912 in Cologne, a city in the west of the country, and with just over 20 years she managed to open up space as an actress.
Krüger participated in minor or intermediate roles in Germany, but did not get to stand out too much in the reviews of the time.
In the 1930s he tried, unsuccessfully, to establish himself in the mecca of American commercial cinema.
He got to marry influential US businessmen, but did not achieve the result he hoped for in Hollywood.
In addition, he always kept in mind his desire to support the Third Reich.
"She was a bad actress and had mediocre roles. Goebbels promoted her at that time. She went to USA with his permission to play minor roles, but it was later decided that his role was more important in Mexico"says Cedillo.
And he adds that the actress was assigned the role of "patriot" in her mission in Mexican territory, taking advantage of her beauty.
In Mexico
Several secretaries of state (ministers) maintained friendship with Krüger.
Also, according to his biographers, he met entrepreneurs and a long list of influential people.
"He obtained favors for access to strategic resources such as mercury. This helped to generate contraband in favor of Germany. It also passed military information on the movements of the United States, "says Cedillo.
The historian explains that among the multiple plans of Nazism was the possibility of entering Soviet soil, but that this required fuel and weapons. And it was because of this, because of his relationship with the powerful Mexicans, that Krüger acquired a significant role.
The investigation mentions links of different kinds of the German with high authorities and business people in that country.
"She arrives in Mexico sent to secure the oil. Hilda was an expert in public relations and Mexicans love blondes. She plays dumb, but she's very smart", says the researcher.
Krüger, with Goebbels' guidance, gradually won favors for the Third Reich. "He got involved with high-ranking Mexican officials because the United States facilitated contacts. He reached the highest level."
Cedillo explains that from these contacts, especially with the Institutional Revolutionary Party (PRI), prevailing at that time, he obtained information that helped Germany to access energy and mineral resources in Mexico.
Meanwhile, other mineral-producing countries in South America closed trade connections with the Nazis. In fact, countries like Bolivia established "special" prices for their raw materials such as tin to support the alliance of countries facing Germany.
Why Mexico?
Despite its geographical proximity, Nazi Germany remained at the ideological antipodes of the USSR.
And Hitler's expansion project included take strategic positions on russian territory.
The Soviet Union was just establishing itself as a world power, while the Nazis were evaluating different ways to expand their geopolitical power throughout Europe.
All of this sounds very far from Mexico, which was living in the late years of its revolution (1910), the first of the 20th century in Latin America, and which led to the state expropriation of that country's natural resources.
It was also coming from the US intervention between 1846 and 1848, in which Mexico lost a significant part of its territory and hitherto marked Mexican politics.
Goebbels thought differently.
In 1938, Mexico nationalized its oil (another milestone in Latin American history).
However, the immediate problem was the American and British boycott of their industry.
The famous "expropriation" of the president Lazaro Cardenas it put Mexico in the geopolitical contest and, in the early years of World War II, that was useful to the Nazis.
"Mexican nationalism was a whole flag that lasted until the 1980s," says Cedillo.
After the German invasion of Poland (1939), Mexican energy smuggling became "strategic" for Nazi Germany.
"It is vital for Hitler. It was essential for them to strengthen their armed forces. The subsequent invasions required a war industry and this was partly fed from Mexico," says the writer.
In addition to oil, mercury and aluminum were not only used in power generation, they were also used for the production of airplanes.
Later, in 1940, the American nation joined the alliance to defeat Hitler in rejection of the attack by the Imperial Japanese Navy a Pearl Harbor.
Sunset
Goebbels committed suicide in 1945, hiding in a bunker after poisoning all of his children.
Krüger went no further in her career and is remembered more as a political agent than as an actress.
"She began to suffer in the 50s because the atrocities of the Nazis were known. After the trials (of Nuremberg) she suffered for being part of that. She felt part, although she did not know everything that happened, of those crimes" , says Cedillo.
Far away from the screens, he passed away in a small town in northern Germany in 1991.
And his passage through Mexican soil, Cedillo points out, is still remembered among Mexican elites.
Remembera what you can receive notifications from BBC Mundo. Downloada our app and activate them so you don't miss our best content.

www.bbc.com
Eddie is an Australian news reporter with over 9 years in the industry and has published on Forbes and tech crunch.