It was one of Donald Trump's most controversial early moves as president: slashing two national monuments in the American West.
Now indigenous peoples are hopeful that Joe Biden will overturn that decision and, more generally, bring about a sea change in the way the United States treats the interests of tribal nations.
In the election campaign, the president-elect pledged to reverse Trump's reduction of two monuments in Utah, the Grand Staircase-Escalante National Monument and the Bear's Ears National Monument.
Added to the hopes of conservationists and indigenous tribes is Biden's recent nomination of New Mexico Congresswoman Deb Haaland to head the US Department of the Interior, which oversees many public lands and the Bureau of Indian Affairs. Biden is committed to making his administration the most diverse in the country's history, and Haaland's nomination to head the interior department is part of that promise.
Haaland, a member of Laguna Pueblo, would be the first indigenous person appointed to a cabinet position and is expected to work closely with tribes, including those in the coalition that helped establish Bear's Ears in the first place.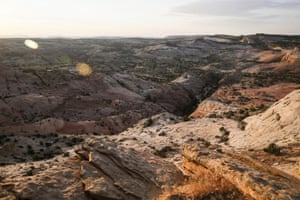 Bear's Ears, designated by Barack Obama and Escalante, Designated by Bill Clinton, they were cut in 2017 by Trump by 2 million acres combined. Bear's Ears was only down by 85%.
While many locals who viewed the monument designations as a federal intrusion applauded Trump's move to lower the boundaries, environmentalists, archaeologists, and tribal citizens with ties to the land were outraged at the loss of federal resources to protect the lands. The conflict led to a federal lawsuit challenging the presidential power to reduce national monuments.
"The decision to ax the protections for Bear's Ears was a direct affront to the tribal nations," said former Senator Tom Udall, whose term ended this week and was vice chairman of the Senate Committee on Indian Affairs. "We must use science to guide us in preserving high-value places that protect the critical biodiversity on which we all depend."
Many tribal administrators and conservationists are hopeful that if Haaland is confirmed as head of the department of the interior, it would mean greater tribal involvement in decisions related to the management of public lands across the country, including the possibility of more designations of National monuments. Biden has pledged to conserve 30% of America's land and water by 2030 through the power of an executive order.
The story of who has access to the lands in the southwestern US, and how they are treated, means that any path Biden takes will be complicated. Many arguments in this part of the country regarding national monuments are based on the story of how Mormon settlers forcibly seized land, as well as government policies, boarding schools, and foster care systems that dispossessed families. indigenous to their traditions and languages.
The distrust of federal control held by Mormon settlers and their descendants, as well as the complaints of indigenous peoples subjected to genocide, are at the center of all discussion.
"I am concerned that a presidential movement will exacerbate those sentiments, just as they have in previous times with both sides, President Trump and President Obama," said John Curtis, the Republican congressman whose district encompasses Bear's Ears. Curtis, as well as his Republican colleague Chris Stewart, whose district contains Escalante, have advocated keeping the limits of the monuments low.
Trump evoked the Antiquities Act, a 1906 law authorizing presidents to designate national monuments, to reduce Bear's Ears and Escalante. Legal challenge to the president's power to use the law to lower limits is also making its way through the courts. However, future presidents could use the same act to re-expand them.
Curtis said he is concerned that the power of a presidential decree to change the boundaries will create more conflict and uncertainty for locals concerned that federal protections mean less access to hunting and fishing. "We are in this cycle of presidential decisions that are changed or reversed, and that is a really unhealthy way to deal with problems."
Many native peoples, such as the Navajo, Zuni, Hopi, Ute, Uintah, and Ouray Ute, reply that their hunting and fishing rights were not in dispute when the lands were originally taken from them. Now, as those lands face further degradation due to decreased protections and increased public access, tribal leaders and citizens are again calling for more native consultations on their management.
National monument status comes with federal resources for park staff to manage and care for lands that contain artifacts and sites of cultural and historical significance. The lands now outside the reduced monuments have lost those safeguards.
"It has been kind of a head scratching as to why some of these sites were protected and why some were left out. From an archaeological perspective, it doesn't make any sense, "said Lyle Balenquah, an archaeologist and member of the Hopi tribe. "How are we going to manage them in the long term if only part of them is protected while others are left out to fend for themselves?"

www.theguardian.com
George is Digismak's reported cum editor with 13 years of experience in Journalism