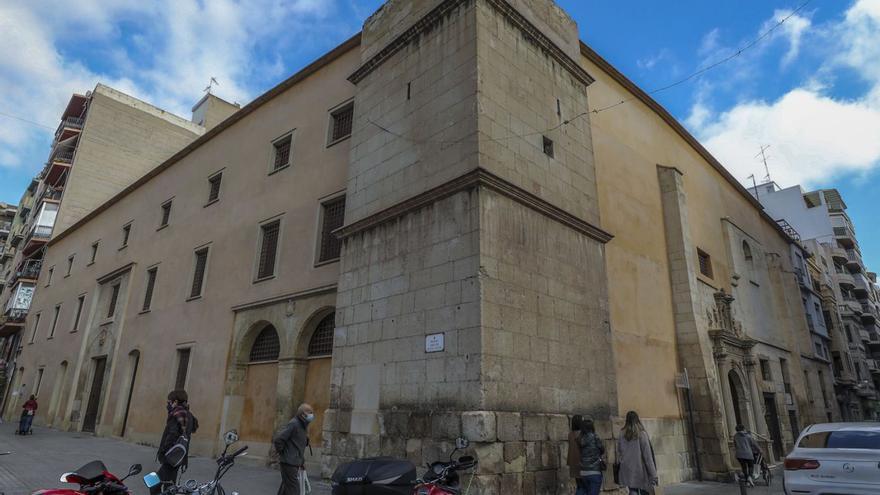 Would you like to see the Clarisas convent converted into an elegant four-star hotel in the historic heart of Elche? The answer seems easy given what it is today. Well, at least it has been for the government team because it has started the procedures for the urban change of the land a few weeks after some investment companies appeared in a public appearance to announce the opportunity of a project that they already knew in petit committee each municipal group. Some of those meetings came out convinced and others not. Never the privatization for half a century (nothing more and nothing less) of a public good, which cost a socialist city council 14 years ago around two million euros (which is the value of the exchange for a new building that had to be building the Sisters of Santa Clara and that of that land next to the Vinalopó riverbed, where they are now forgotten) has been so applauded by the progressive forces (and I include Compromís here because he is putting himself in profile and allowing himself to be loved so that they convince them of a project that, in the end, I think they will say yes, but setting their conditions); nor so reviled by the liberal-conservatives of the PP who are accused so much of putting the private before the public many times.
There are several certainties in this matter, but perhaps the most curious is that four mayors have passed since the convent was acquired: Diego Maciá, Alejandro Soler, Mercedes Alonso and Carlos González and no one resolved what to do with this precious asset beyond the usual promises. In fact, a few weeks ago González intoned the mea culpa for the inability that everyone had had to take advantage of it (he more than anyone because he has been in office for six and a half years) and he did it the same day that he announced that the private project was still going ahead because they saw it well. But who are they?
The first, Maciá, who was the one who carried out the operation, could be removed from the list because it was in his last term, but the rest promised in their electoral programs to carry out major projects with what, they said, is a jewel of heritage that they have actually allowed it to become sluggish to this day. The reality is that not much more has been done than what Pablo Ruz promoted, being responsible for Culture with the popular government, which was left very half. Perhaps that is why they are determined not to privatize it.
Can you imagine that the PSOE would have asked for a vote in the last municipal elections, promising that they would deliver the Poor Clares for half a century to a company so that it could become a tourist attraction? Citizens, who have spoken in favor (such as the Association of Tourism Companies of Elche), could not be hit with passing on to another the hot potato that is currently seeing in the ruin a property that was easy to buy (with the money of all) how difficult it has been to use it (with everyone's money); Meanwhile, Vox does see other utilities other than cultural ones – with which the City Council was committed in its day (the nuns say) – but always with the premise that it remains public.
But there is another unquestionable reality. If four mayors have not known what to do with the convent, why not let someone do business with it? And yes, I say business and that no one is scared, I do not say remove it from oblivion or put it in value or save the people of Elche from politicians who have been unable to manage it. I'm talking about doing business because I don't know anyone who is going to lose or even feeling like a savior of the local heritage. Suddenly, as out of nowhere, some companies have appeared that are willing to invest 7.2 million euros (which they say is what the transformation into a boutique hotel would cost, a figure that I question from here), plus what comes out to them. paying the canon, in exchange for seeing them come … and to everyone it seems fantastic, a success and a great operation to put a price on Elche's heritage.
And what price is this going to be? Well, we are going to see it in the short term. And yes, I say in the short term in a City Council where, if something has characterized the management during these two and a half years, it has been the lack of haste, at times desperate, with issues that have been at the expense of a solution for years. And now, curiously, they find it with something that no one would have ever imagined, not even the PSOE and if González, as it seems, is going to move forward, it will not be because they ask for a million of canon because he would be involved in another Municipal Park restaurant case from which we have not yet left or re-ga-lán-do-lo.
And there is a question of the image of this matter that the socialists do not question because they are the ones who are going to pilot the operation. And it is the fact that everything is resolved by public tender (it will not be given to the first company that presents itself, although I already told you that whoever has presented has a lot of advance, simply, by the fact of having had the opportunity to know the property and its viability) and that a renowned architect brother of a Socialist councilor is part of the team that has presented the private project. In this regard, the mayor said about this fact that the people of Elche could be calm because the mayor will withdraw from any vote (there would be more), in addition to praising the always profitable public-private collaboration, which is when they are the one who makes the decision, but not when they are other formations from whom the proposal is based.
I do not doubt the transparency that the professional has shown by appearing from the first moment and I welcome that, but I have not liked the ways in which this matter is handled and the speed with which it is marching. Perhaps because, let's not forget, everything has to arrive very smoothly and before the elections, in this case I think that much earlier it would allow me to ensure. González, as happened with the international ideas competition for the Central Market that, now, he has had to suspend cannot stumble again, if it is considered that it is not a stumbling block to place the Las Clarisas Hotel poster in the convent.

www.informacion.es
Eddie is an Australian news reporter with over 9 years in the industry and has published on Forbes and tech crunch.