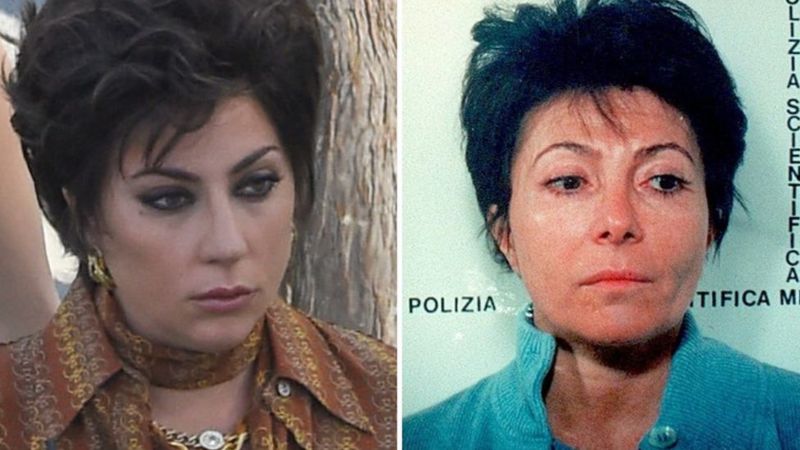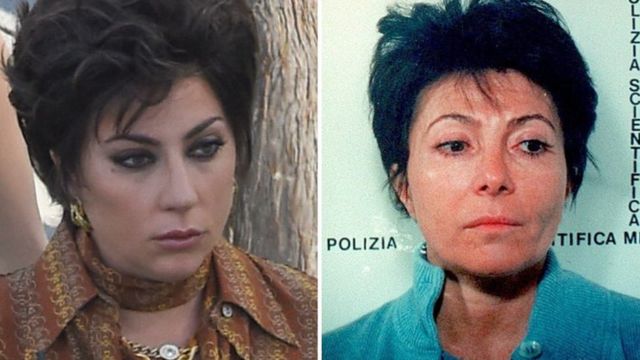 "It is better to cry in a Rolls-Royce than to be happy on a bicycle."
Patrizia Reggiani he uttered his most famous phrase in a television interview when he was part of the highest of the Italian elite. It is perhaps the one that best defines the obsession with luxury and glamour that has accompanied her for most of her life.
Years later, what is known as the "black widow of fashion" would become one of the most hated women in Italy, after a media trial in which she was sentenced to almost 30 years in prison for orchestrate the murder of her ex-husband at the hands of a hit man in 1995.
Her ex-husband was none other than Maurizio Gucci, heir to the Gucci fashion empire, founded by his grandfather, the prestigious designer Guccio Gucci, in 1906.
The case, which shocked Italy and the fashion industry in the 1990s, is now back in the media's eye thanks to a film directed by Ridley Scott and starring Lady Gaga.
The singer and actress plays Patrizia Reggiani in the second main role of her career in "House of Gucci" ("La casa Gucci", in Latin America), along with an outstanding cast that includes Adam Driver, Al Pacino, Jared Leto, Salma Hayek and Jeremy Irons.
The film, based on the eponymous book by Sara Gay Forden, celebrated its awardsAndre in London and will hit theaters around the world from 25 November.
But what is the true story of the woman brought to life by Lady Gaga and how did she earn the nickname "black widow of fashion"?
The beginnings
Patrizia Reggiani was born in a small Italian town outside Milan, in northern Italy, on December 2, 1948. She did not know her biological father and her mother worked as a waitress.
His humble situation changed when he was 12 years old and his mother married Ferdinando Reggiani, a wealthy businessman in the transportation industry.
Reggiani began to treat his adopted daughter with lavish gifts, such as fur coats or sports cars.
Little by little, the young woman began to move up the social ladder and interact with the most influential people in Milan … including the Gucci.
At a party in November 1970, he met Maurizio Gucci, with whom he would marry two years later and with whom he had two daughters: Alessandra (in 1977) and Allegra (in 1981).
Ostentation surrounded the life of the married couple: a huge penthouse on Fifth Avenue in New York, a luxurious villa in Mexico, a winter chalet in the Alps or the largest wooden yacht in the world (the Creole) were some of his properties.
Patrizia wore Valentino and Chanel outfits at social events. The society pages of the Italian press dubbed her the "Joan Collins de Monte Napoleone" (an elegant street in Milan famous for its fashion and jewelery shops).
Maurizio's father, Rodolfo Gucci, never approved of that relationship; he considered Patrizia to be a "gold digger", explains Sara Gay Forde in her novel.
The marriage began to deteriorate when, following the sudden death of Maurizio's father, he took control of the company, and apparent pressure from Patrizia on how to manage the brand created tensions.
"When he was younger, Maurizio looked to Patrizia for support and to give him the strength to face his father. But as he gained power, he felt oppressed by their criticism"writes Forden.
Eventually, the relationship came to an end.
From love to hate
In 1985, Maurizio left Patrizia. He left home and never came back.
Forden says that for years she hoped to get back to him. But when Maurizio started dating other women, his hopes turned to bitterness.
"He saw that everything he had tried to achieve in life through Maurizio, all the fame, status and wealthIt was getting out of hand, "Forden described.
In 1992, Patrizia was diagnosed with a brain tumor, which was removed without great consequence. She asked her ex-husband to take care of the girls, but he refused, saying that work kept him very busy.
For the next three years, Maurizio gave Patrizia a monthly allowance of US $ 100,000, but prohibited her from using some of his luxurious homes, in favor of his new partner, Paola Franchi.
Forden says that Patrizia swore to destroy her ex-husband and that she told several people, including her housekeeper, that she wanted to "see him dead".
Patrizia herself has recognized those statements.
the murder
At 8:20 a.m. on March 27, 1995, Maurizio Gucci, 46, left his home to go to work.
About 15 minutes later, he was shot four times outside his office, located in one of the most elegant neighborhoods in Milan.
He was killed by an assailant, a man with wavy hair, according to reports. Later the police would establish that it was a hitman.
Patrizia soon moved into Maurizio Gucci's home on the luxurious Corso Venezia street in Milan with her two daughters – then teenagers – expelling Franchi.
Almost two years later, on January 31, 1997, two police cars they arrested her at the door of home.
Calm and collected, she walked out of the house wearing gleaming gold and diamond jewelry, a mink coat that brushed the floor, and a Gucci leather handbag.
"I thought I could evade (the prosecution for) the murder, that I would be back home in a few hours," Forden explained.
The Milanese police had proof that Patrizia had ordered the killing of her ex-husband and had paid a hit man US$375.000 to commit the crime.
In June 1998 she was tried by a court in Milan. His short dark hair was disheveled. He was wearing simple blue cotton pants and a cotton sweater draped over his shoulders. Little was left of that ostentatious woman.
In November of that same year, Patrizia, along with four accomplices, was found guilty of the murder of Maurizio Gucci and sentenced to 29 years in prison.
The trial had a huge media coverage. It was then that she became known as the "black widow of fashion."
Patrizia's daughters —the true victims of the tragedy, according to Forden— they asked that the sentence be annulled, claiming that her mother had been disrupted by the brain tumor she had suffered, which could have affected her personality.
The sentence was not annulled, but it was reduced to 26 years. Faced with the prospect of spending so many years in prison, she tried to commit suicide, but prison guards found her in time, according to local press reports in 2000.
Finally, Patrizia ended up fulfilling 18 year sentence, and even turned down the third degree they offered him in 2011. "I've never worked in my life and I'm certainly not going to start now," he told his lawyer, according to The Guardian.
In 2016, he was released from jail with a shortened sentence for "good behavior."
According to the newspaper The Telegraph, Due to an agreement signed in 1993, Patrizia charges more than $ 1 million a year from Gucci inheritance. He also receives a back payment of more than US $ 22 million, which he accumulated during his time in prison.
Since her release from prison, Patrizia has lived in Milan, where she has been seen (and photographed) on several occasions with her pet parrot on her shoulder.
Last March the woman, who is now 72 years old, told the Italian press: "I am quite upset by the fact that Lady Gaga plays me in the new Ridley Scott film without having had the consideration and sensitivity to come to meet me. ".
She also expressed her displeasure at not having been involved in the project and clarified that will not receive "not a solo penny from the movie. "
"It is not an economic question, but a question of common sense and respect," he added.
She has always denied being the author of the murder.
Now you can receive notifications from BBC Mundo. Download the new version of our app and activate them so you don't miss out on our best content.

www.bbc.com
Eddie is an Australian news reporter with over 9 years in the industry and has published on Forbes and tech crunch.