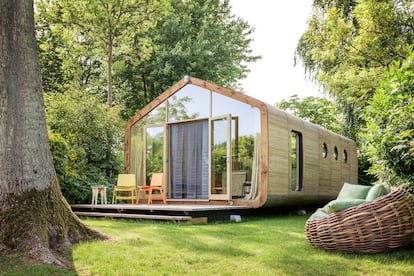 Forget the conventional. Forget about the various forms of housing that everyone knows and identifies. Some companies have been searching for and devising systems that are increasingly sustainable, ecological, recyclable, innovative and technological for years. A search that has paid off. Today you can buy houses made of cardboard, futuristic houses that design your diets and training or houses that rotate in search of the sun.
The market is full of different houses. This week, a housing prototype called CyberHut, created by the start-up Cantabrian Astroland. Its inventors define it as "the home of the new era for young people, for millennials and generation Z," says David Ceballos, its CEO. It is autonomous, sustainable and flexible thanks to the application of technology developed to live on Mars. Not in vain is it the result of research on extreme habitats carried out by Astroland at Ares Station – a station located inside a cave in Cantabria that reproduces the living conditions that would occur on the red planet.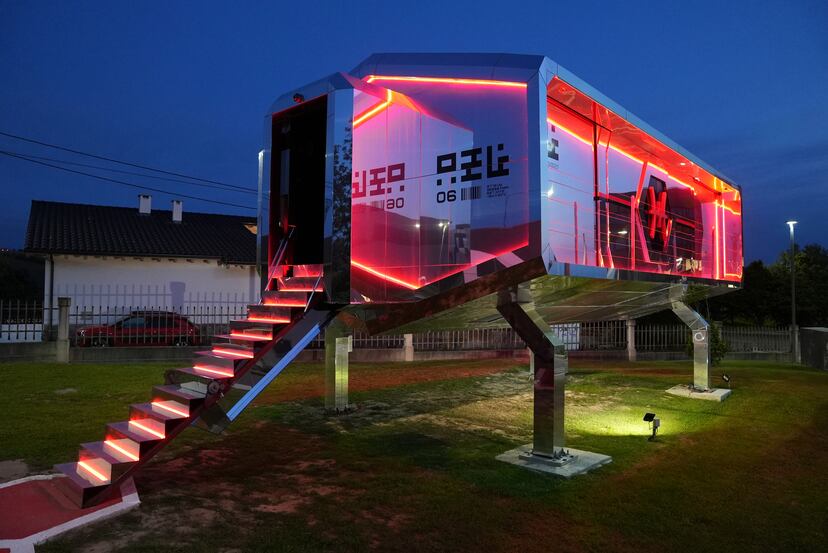 The galactic dwelling learns from its user and anticipates their needs. Its artificial intelligence systems and more than 250 sensors big data They allow the house (through a virtual assistant) to organize and order orders received abroad, schedule tasks for automatic execution or design a personalized diet and buy the appropriate food. "It is a mobile on a large scale, it is a technological product," explains Ceballos.
It also takes care of the health of its occupants, since it corrects the quality of the environment, integrates HEPA filters, ozone shock treatment and deionization systems. In addition, it has a telemedicine and preventive medicine service through an agreement with Blue Healthcare and applications for monitoring the user's vital signs and a medical alarm button. Autonomy is added to the list of properties that its designers have: it generates its own energy and stores it, produces food and recycles and stores water.
David Ceballos says that this prototype, which can be customized, will go on sale immediately "because we have manufacturing capacity." They will be available both for sale and for rent or pay-per-use, "facilitating young people's access to housing and the possibility of changing location at any time." The surface starts at 50 square meters, but when it is transformed – if you cook, the kitchen unfolds and if you play sports, the rest is hidden so that the gymnasium appears – it can solve the needs of a 250-square-meter home. The finish of the prototype presented is now made of steel (in addition, with bulletproof armor), but the customer can choose a more traditional and discreet one, such as wood, for example. They can be anchored to the ground (in this case you could ask for a mortgage), supported or grow in height.
From steel to cardboard. From Mars to Earth. Fiction Factory is an Amsterdam-based company that builds and markets a modular house made of cardboard called the Wikkelhouse. The idea was born 10 years ago when its creators used multiple layers of cardboard to wrap a box of tomatoes. The company explains this way of building: "Several layers of cardboard are joined (24 in total) and covered with a waterproof and breathable sheet. The result is a robust structure with optimal insulation qualities and structural resistance ".
Cardboard is not very friendly to rain and humidity. What happens then? "The waterproof sheet prevents the cardboard from getting soggy during the rain and, furthermore, any moisture on the cardboard can escape." The sheet is covered with pine wood for the exterior cladding and the interior is decorated with plywood. The type of cardboard used is recycled and is combined with another virgin to increase resistance. "Wikkelhouse is made with materials that have a minimal impact on the environment and is three times more ecological than traditional housing," according to its creators.
The house, which is assembled in one or two days, is not fixed to the ground, but is supported by two concrete slabs and three wooden beams, which serve as foundations. Being module-based, it can be as large as the owner wants. You can buy one from 30,000 euros (does not include transport or placement). However, most of the houses that are sold are between 50,000 and 85,000 euros. The Dutch company has already built more than 100 units in Holland, Germany, France, Chile, the United Kingdom … At the moment, there are none in Spain, although they would not rule out ordering in the north of the country. "Most of the houses are sold as a second home for vacations, office or house in a garden or on a roof," they point out.
And from the Earth (almost) to the Sun. This is what the smart revolving houses that landed on the Spanish market in 2015 tirelessly seek. These properties rotate 360 ​​degrees on themselves to look for the rays or turn their backs on them and choose the best views according to the hour of the day. The Andalusian company Sunhouse builds and markets the houses called Sunhouse360 °, which achieve energy savings of up to 70% compared to a conventional one. It is equipped with a system that allows it to rotate on its own axis in any direction and with no limit of turns. The price of one of its models (SH Urban), already built, is around 1.3 million euros for 300 meters built.
The company has projects in the Czech Republic, Turkey (Bodrum) and northern Spain, and in December it will begin to market smaller and cheaper models, from 30 to 128 square meters for a price ranging from 2,500 to 3,000 euros per meter. square and with assembly times of one week.
"These new models are going to be sold to individuals, hotels and the leisure sector. A rotating module can be used independently or incorporated into a fixed structure, for example, a master suite on the roof of a hotel, a revolving room above a fixed part of the house ", indicates Bertrand Coué, one of the founders of Sunhouse.

elpais.com
Eddie is an Australian news reporter with over 9 years in the industry and has published on Forbes and tech crunch.