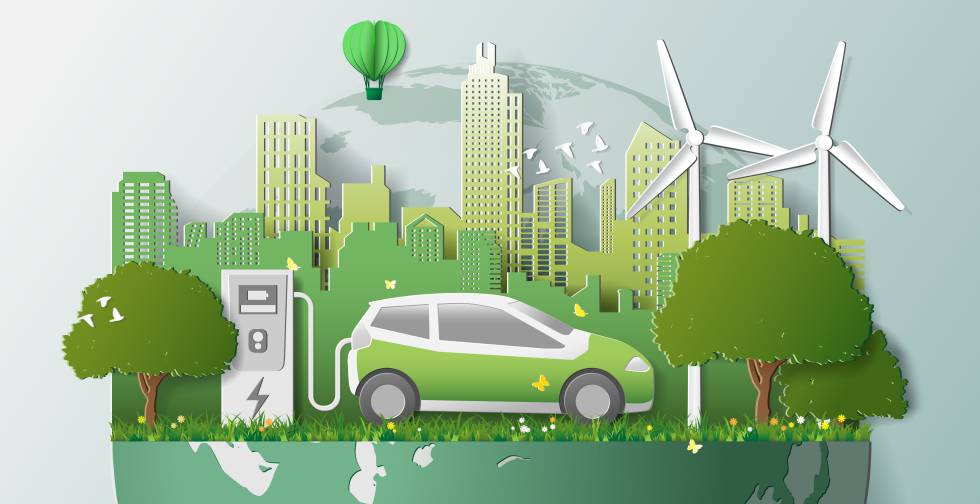 This Sunday the 26th Climate Summit will begin in the Scottish city of Glasgow, the new opportunity for the planet to reach a firm commitment against the devastating effects of climate change. The road to achieving the goals set at the 2015 Paris Summit – to limit global warming preferably to 1.5 degrees compared to pre-industrial levels – is very long and the reality today is far from that goal. The world rolls at a much higher temperature, which points to an increase of 2.7 degrees at the end of the century according to the current plans of the countries to reduce polluting gases, as the UN has warned.
Climate change caused by human activity is already obvious scientific evidence. The higher frequency of floods or uncontrolled fires is directly related to global warming and has an undeniable economic impact that, although it seems manageable in the short term, will be a stone in the long term. More than enough reason to consider climate change as a clear financial risk and therefore a key variable in the construction of a long-term investment portfolio.
The reinsurer Munich Re estimates that 250,000 million euros the global cost per year related to natural disasters. The fires that California suffered in 2017 cost more than 10 billion euros and in 2018 the losses associated with the fires reached 24,000 million globally, compared to just 1 billion in 1980.
For Pascal Dudle, Vontobel's chief sustainability officer and portfolio manager, the importance of climate risk in finance is clear. "The human and economic costs are enormous and far greater than the investments required to achieve the ambitious emission cuts. Climate change has a direct impact on the main livelihoods, agriculture, water systems and ecosystems, and is also expected to affect infrastructure, transport and energy production, "he explains.
Ultimately, its effects will be noticed in the bank credit risk –Creditors of individuals and companies affected by natural disasters–, in the raw materials, in hedging risk – making premiums less due to possible losses – and in the operational risk of companies, in the event of eventualities such as the closure of facilities or the interruption of supply chains.
As Teresa Royo, director of sustainability and good governance of KPMG in Spain, recalls, the Financial Stability Board already warned in 2015 that the stability of the financial system was in danger due to the risks of climate change. "Companies that are not prepared may see their assets depreciate, they will have to invest in adapting their production processes or experience additional production costs if they are dependent on carbon-intensive technologies. In order for investors to obtain a better risk-adjusted return, they should take this into account", Explain.
The great challenge that climate change poses for financial stability is already one of the main concerns of regulators. The ECB will carry out the first stress test on European banks for climate risk in 2022 and has already detected that banks in southern Europe are much more exposed, with a higher percentage of companies with risks linked to fires or floods. And facing those risks is inevitably going to mean higher capital demands at some point. "In the short term, entities will have high costs to be able to adapt and set their policies in this green transition process", Warns Pablo Vaño, partner of FS Consulting of KPMG in Spain.
Investment opportunities
Sustainability and reducing the carbon footprint has already become a priority for many companies, not only because of a mere commitment to protecting the environment but also because of a strategy to create value for their shareholders. "There are attractive investment opportunities for companies that are proactively tackling climate change", they add from Vontovel. They give an example of construction companies capable of offering non-fossil, energy-efficient heating and cooling solutions for buildings. Or transport, focused on the electric car as the combustion engine is abandoned.
The search for sustainability, as a formula with which to reduce climate risk, is transversal to the productive fabric. It is not limited to companies focused on the most obvious sustainable activity, such as renewable energy production, but rather addresses aspects such as efficient use of energy or resources such as water or paper. The adoption of ESG management criteria – respect for the environment, society and good corporate governance – is an increasingly widespread practice and demanded by investors.
Jean-Philippe Desmartin, responsible investment manager at Edmond de Rothschild AM points out that the manager is reducing its investments in high-risk sectors (exclusion of thermal coal, for example) and increasing them in companies that offer solutions (energy efficiency, renewable energy) . A common practice in the sector.
At Pictet they foresee that although ESG investing remains a minor piece in investors' portfolios, in three or four years 90% of European equities will be sustainable, a boom that will be supported by the growing decision-making of the new generations, much more sensitive to environmental problems.
But that long-term perspective also coexists with much more pressing concerns among investors. Climate risk opens up clear investment opportunities, in sectors in which very strong investments will be made in the coming years, such as renewables, but there are also much more pressing market risks with a much greater immediate impact on valuations, such as the current ones. inflationary pressures or the fear of an accelerated withdrawal of monetary and fiscal stimuli after the crisis.
Xavier Chollet, manager of the Pictet Clean Energy fund, one of the benchmark investment vehicles in sustainable energy, acknowledges that "the physical impact of climate change may have relatively limited repercussions for the returns of most asset classes. In fact, the catastrophic impacts of climate change will not be felt for decades. " However, and that is where investment opportunities are already emerging, the impact of the transition to a world of net carbon emissions to zero must be kept in mind. "In other words, the impact of changes in the economies, technological and regulatory, aimed precisely at avoiding the physical impact in the future, especially for 2050, the target date for net zero emissions. The transition from an economy powered by fossil fuels to one powered by renewable energies is one of the most heartbreaking socio-economic changes that humans will experience, "he adds.
In fact, the derivatives of this energy transition are already being appreciated in these months in a worrying way in the pockets of citizens. The unstoppable rise in fossil fuels such as gas and oil, and also coal, is triggering inflation and making the entire shopping basket more expensive. And also leaving juicy gains in the Stock Market for oil, gas and mining companies. Compliance with the objectives of the Paris Agreement has forced them to make heavy investments to direct their activity to non-polluting energy sources and to reduce their carbon footprint but, along the way, it is clear that dependence on the economy is still very high world of fossil fuels.
From Nordea AM, one of the first managers to focus on sustainable investment, they recognize that the elimination of polluting energy sources will take more than a decade in most countries. And while the vast majority of the energy sector is in the process of reducing the use of fossil fuels, many other companies do not have clear plans to transition to clean energy. The manager assures that more than 60% of its assets under management are aligned with the Paris objectives, so that the firm invests in companies that are still intensive in the use of coal but with plans to accelerate their conversion.
Transparency and 'greenwashing'
The interest of the managers in sustainability is practically unanimous. However, there is no homogeneous frame of reference that makes it possible to compare the degree of sustainability of some portfolios with others. Thus, each entity applies its own criteria, so that a nuclear energy company can be classified by one manager as sustainable and not by another. Or an oil company, by presenting a plan to reduce its carbon footprint, is also included under ESG assets.
The classification of a company as sustainable therefore depends on the own analysis made by each manager, based on the information provided by the company. And it is in this process that the risk of sustainability whitening or greenwashing arises, of putting the green label on an asset that in reality is not. Regulators are moving forward to solve the problem, although the process has only just begun.
Coline Pavot, responsible for Responsible Investment Analysis at La Financière de l'Echiquier (LFDE), explains that "although control over greenwashing is currently insufficient, the European taxonomy aims to put everyone in agreement on what a green asset or what is not and will not leave room for deceptive green marketing, which is positive.
From Jupiter AM, its responsible for sustainable investment Abbie Llewellyn-Waters, warns that for a true commitment to the Paris Agreement, it is still necessary "to see a greater number of companies that present detailed, credible and irreversible plans on how they will achieve a sustainable decarbonisation. ". Expectations for the Glasgow summit are modest and there is still a lack of political commitment to stop global warming in time. From the investment field, it is possible to contribute to this in defense of the planet and also of the pocket.

cincodias.elpais.com
Eddie is an Australian news reporter with over 9 years in the industry and has published on Forbes and tech crunch.