Justin Rowlatt & Laurence Knight *
BBC News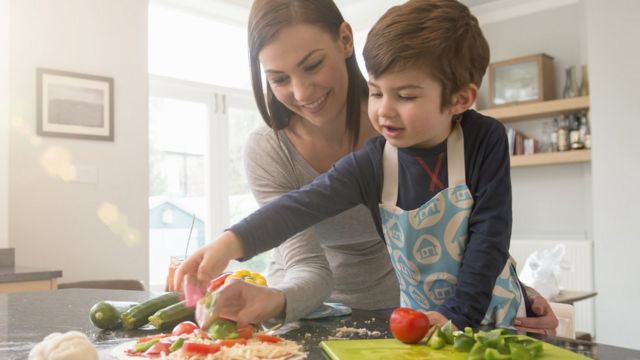 "All action, all movement is driven by energy. Nothing can happen without energy."
"Even dreaming at night requires energy," says Jeffrey West, who is a physicist at the Santa Fe Institute in the United States.
And what makes humans special is how we have managed to harness increasingly powerful sources of energy.
The story begins at the dawn of our species.
"What is stored in wood is the energy from the Sun that makes trees grow by photosynthesis, and when they die, we can release that energy. The discovery of fire by prehistoric man was crucial."
For several anthropologists, fire did much more than keep us warm, protect us from predators, and give us a new tool to hunt.
The flames reshaped our biology.
"Anything that allows an organism to obtain energy more efficiently is going to have huge effects on the evolutionary trajectory of that organism," says Rachel Carmody, a professor of human evolutionary biology at Harvard University.
"Cooking played an essential role in shaping humans because it transforms the availability of energy."
Unique
We are the only animal that cooksAnd, according to Carmody, by doing so, we accomplish much more than just make food taste better.
"If you break down the main sources of energy in the human diet, they come from carbohydrates, proteins and lipids, and heat and cooking transform them and make them more available to humans."
Heat exposes those nutrients allowing our digestive enzymes to do their jobs more effectively.
Cooking makes it easy to eat, and according to Carmody, we have evolved accordingly.
"For our body size, we have relatively small guts and they are not just general."
"Compared to chimpanzees and bonobos, we have relatively long small intestines – which do most of the absorption – and colons – which do much of the fermentation of nutrients that we cannot easily absorb – relatively short."
When humans cook, we use heat to pre-digest our foodwhile our cousins ​​continue to depend on the bacteria in their colon to do that extra digestion for them.
And that dependency has a price.
"For example, a carbohydrate that is absorbed in the small intestine is worth about four kilocalories per gram. But if it enters the colon and the bacteria do their job, it will only be worth about two, because the bacteria have to feed."
"Two million years ago, an australopithecine ape became human and entered a totally different world, with a society increasingly rich in intelligence," Richard Wrangham, professor of anthropology at Harvard University, tells the BBC. long time Carmody contributor.
"All of that, I think, goes back to the fact that we are fundamentally a kitchen ape."
Wrangham came up with the kitchen theory of human evolution and is convinced that by releasing more energy from our food, we transform our biology, especially by feeding a larger, energy-hungry brain.
For him, it all started with the evolution of Homo erectus.
"The evidence for that is that the ribs, instead of projecting outward like they do in apes to accommodate large guts, are relatively flat and go straight down, and the teeth have already started to get smaller.
"The brain doesn't really start growing for another half a million years later."
The upright man was the first human to leave the trees behind and travel long distances on foot into the African savannah to search for food and to be able to cook it would have been doubly useful in those circumstances.
"It also helped make food safer – by cooking it, you control bacteria in meat and get rid of toxins from some vegetables."
Not only would that broaden the range of the hominin diet, it would make it physically easier to eat.
"We spend less than an hour a day chewing, compared to 6 hours or more a day if we were an ape of our body size. That's how great the effect cooking has on softening food. "
That left more time to hunt and forage.
And as confidence grew that they could find something to cook with, they risked going out on longer expeditions to hunt even bigger animals.
Wrangham's argument that it was Homo erectus 2,000,000 years ago that began using fire is persuasive.
How?!
The theory is based on conjecture and circumstantial evidence.
"Archeology is always a preservation slave. It is very rare that you find something well preserved if it is very old," says Carolina Mallol, geoarchaeologist at the University of Laguna in Tenerife and a former student of Wrangham.
Assures that the evidence for his theory is scant.
"All the evidence that we have been finding in Africa dating back around a million years is questionable."
"When you find reddish chunks of burned clay, it is very difficult to prove that it was burned by humans. There is no solid archaeological record in context of the fire."
"In my opinion, the oldest site that meets these conditions is the Qesem cave in Israel, which dates back to about 380,000 years ago. There you have a lot of evidence that they used fire regularly."
If they didn't use fire, how were they able to spread out of Africa and survive in such inhospitable places as Ice Age Europe?
"I have excavated with my hands in places like Atapuerca, where there is a lot of evidence of human occupation, 600, 500, 400,000 years old. There is no fire, not even a microscopic bit of coal, and it was cold."
Nevertheless…
But they had to venture into these inhospitable environments because they provided something more, such as abundant supplies of energy-rich meat.
"Right, and it could have been raw or dried. You don't need to grill it. It could also be rotten meat. There is a fermentation process that allows it to be consumed."
If eating rotten meat sounds gross to you, how about this?
"I turn brains into soup".
"I literally dissolve brains in a salty detergent solution."
Suzana Herculano-Houzel sounds like the craziest of mad scientists.
"I know. I love to tell people that I make brain soup for a living and see the face it makes … They ask, 'Really? Are you taking it?'
"No, sólo la I paint blue, red and green and then count the neurons under the microscope".
Herculano-Houzel is a neuroscientist at Vanderbilt University in the USA.
His experiments help him compare the brains of different species and better understand how ours evolved.
Their work indicates that the energy demands of our brains must have increased dramatically as we evolved.
And it is not just a matter of growing in size, but in the number of neurons.
"That's a really important distinction because you can have a much bigger brain than another, and still have fewer neurons. That's the case with the elephant. The elephant's cortex is twice the size of ours, but it's only half the size. of neurons ".
"LWhat distinguishes humans is that we are the species that has the most neurons in the cerebral cortexSo we are not the species with the largest brain. "
Why are there so many neurons in our relatively small brains?
"We are just primates. The high density of neurons is largely that found in other primates. We are not special in that regard."
"Birds have even higher densities of neurons in their tiny brains – a crow has as many neurons in its cortex as a monkey."
Smarter?
How much more energy does it take to keep a human brain going?
"As far as we know, the amount of energy a brain uses is proportional to the number of neurons it has. So if you have twice as many neurons, as is the case between humans and gorillas, your brain costs twice the amount of energy ".
Your point of view is that the energy released when cooking it was essential for the evolution of human brains.
But cooking understood in its broad sense: not only with fire, but also by processing food with tools, or by drying or fermenting it.
So if the human brain has twice as many neurons as a gorilla's brain, does that make us twice as intelligent?
"It depends on how intelligence is measured.
"But regardless of how you do it, it would increase much more than double because neurons operate in a network, so capacities increase in a combinatorial way, which means that you have the potential for an exponential increase in information processing capacity as you gain more neurons. "
In other words, each additional neuron increased our brain's demand for energy one by one, but our intelligence sped up and that created a positive feedback loop.
With smarter brains, we get better at hunting and foraging.
And we discovered more ways to access the calories in our food, hitting it with a stone, crushing it to powder or even simply letting it rot, or of course roasting it over a fire.
By doing so, we further increase the energy supply to our bodies.
That allowed us to develop even smarter brains, and that virtuous cycle propelled our brains to the top.
"We are in a very distant first place compared to all other species, since we are 16.000 million neurons on average. Next in line is the gorilla and the orangutans with 8 a 9.000 millions of neurons. Then you have chimps with 6 a 7.000".
That sounds like an exceptional brain. If it has more than twice the number of neurons as the closest animal, it is a miracle brain.
"I accept you remarkable, even unique, because there is no other like ours, but exceptional means that it is an exception to some kind of rule, and we are not an exception to anything we have found in the laboratory."
Remember that you can receive notifications from BBC Mundo. Download the new version of our app and activate them so you don't miss out on our best content.

www.bbc.com
Eddie is an Australian news reporter with over 9 years in the industry and has published on Forbes and tech crunch.