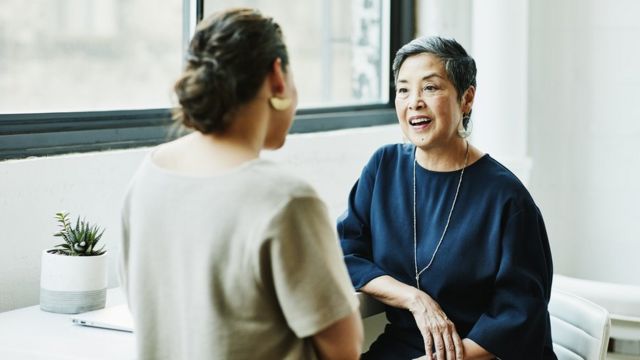 We all know that winning someone's favor is harder than it sounds. Getting someone to take your side, whether it's during a presentation or proposal, or simply if you want to make an impression, is a stressful process.
They like me? Do you agree with me? Does what I say even make sense?
But figuring out the secret to connecting with someone may be easier than it sounds: just imitate them.
We already know that copying body language, expressions, and gestures can help people build relationships, but results from a new study on organizational behavior indicate that mimicking someone's communication style can also make you more persuasive.
The technique is called "linguistic imitation" and the data shows that applying this strategy can boost the effectiveness of your message.
For example, the next time you're in a Zoom video conference with all of your colleagues, pay close attention to how they talk and present their ideas. Some may only care about the quick facts and conclusions and act abrupt and even a little aloof. Others may be much less linear and entangled in scattered stories.
Research shows that you must adjust your speech to imitate them, even if their communication style is very different from yours.
Developing this chameleon talent can be a very useful addition to your tools to win people over and progress.
A comprehensive analysis
"How do you make your voice stand out from the tide of suggestions, proposals and more? This is what linguistic imitation can facilitate," says Maxim Sytch, associate professor of Management and Organizations at the University of Michigan, United States.
He and Yong H Kim, Assistant Professor of Management at Hong Kong University of Science and Technology, are the two researchers responsible for this new study.
In developing it, Sytch and Kim focused on the world of law and how linguistic imitation can help lawyers win over judges and win cases.
The duo analyzed more than 25 million words in more than 1,800 legal documents of public access to patent infringement lawsuits in the United States.
They used a computer-based linguistic analysis tool to track the writing style of the judges and lawyers involved.
They measured four styles of writing, each on a sliding scale:
analytical thinking (where higher scores suggest that the author favors logic and lower scores suggest that the author favors personal values)
influence (where higher scores mean confidence and lower scores mean humility)
authenticity (where higher scores indicate a style tending towards honesty and being sincere and lower scores indicate a more reserved style)
emotional tone (authors with higher scores tend to be more upbeat and positive and those with lower scores have a sadder or more anxious tone)
From there, they analyzed which attorneys in all of these lawsuits won their cases and which did not.
To their surprise, the researchers found that if legal teams more closely mimicked the judge's preferred writing style in past court ruling documents, their chances more than doubled.
On average, the attorneys in Sytch and Kim's sample had an 11.5% chance of winning. But the lawyers who did the most language imitation saw that rate rise to as high as 25%.
Reaping the benefits
Winning someone's liking through communication may mean that you'll fall better in the (now virtual) break room, but the payoff for keen observation goes beyond that.
Consider striking a deal with a client, impressing the right executive, or building relationships with people in your organization who will be more likely to do what you want them to do.
To effectively apply linguistic imitation, Sytch suggests paying attention to the way people ask questions and noting which pieces of the presentation seem more or less convincing.
This would be "a window not only on how to communicate with them, but also on how they process information."
In writing, pay attention to how your colleagues compose their emails, messages or chats and echo the form and sentiment.
You can find many clues on how they like to communicate.
For example, says Sytch: "I have some colleagues who love long emails with lots of enumerations and spreadsheets attached. The way to answer them is probably to write an equally long email answering each of the points."
In other situations, you may know someone who adds color to their message with personal anecdotes and feelings. You can send a similar response, perhaps including a short story of yours to emphasize what you want to say. Or if you are talking to someone who is more conservative and direct, perhaps a superior or an executive, go straight to the answer. Leave the humor out, if that's what they do.
In summary, Sytch states: "If you present something to me in a way that I am used to hearing, similar to the way I articulate my thoughts, it will be easier for me to process the essence of that argument and this, as a result, will make you feel more persuasive. "
Of course that is easier said than done. But you can use your contacts to get an idea of ​​what a person is like, especially if you have never met them. Ask someone who has linked to "your goal," recommends Sytch.
Something like, "Hey, I'm going to introduce Brian, what is he like? What kind of questions is he asking? What do I have to do to convince him?"
"Being sensitive to this process of giving information, to how other people process the information, can give us greater possibilities of being heard", concludes Sytch.
You can read the original in English here.
Remember that you can receive notifications from BBC News Mundo. Download our app and activate them so you don't miss our best content.

www.bbc.com
Eddie is an Australian news reporter with over 9 years in the industry and has published on Forbes and tech crunch.