Lucia Blasco
BBC News World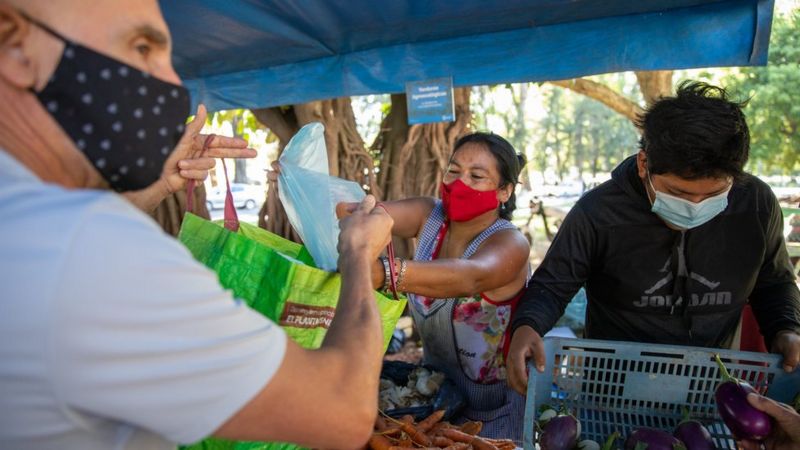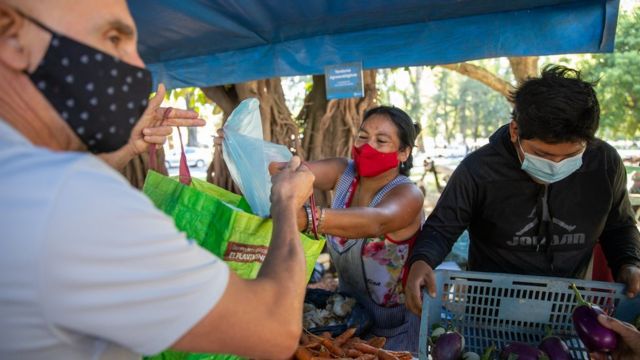 An exciting story of food and climate resilience.
This is how the prestigious Ross Center for Sustainable Cities of the World Resources Institute (WRI), based in Washington, USA, summarizes for BBC Mundo the agricultural model established in Rosario, Argentina, to combat the climate and economic crisis.
The municipal initiative "Sustainable Food Production for a Resilient Rosary" received this Tuesday the highest award of the Cities Award 2020-2021del WRI, the leading global recognition for creators of transformative urban change.
The Rosario project became "a cornerstone of climate adaptation and social inclusion ", They say from the US organization, which has an international team of more than 450 scientists, economists and sustainability experts.
"For us it is great news that the Urban Agriculture Program, which was born in the profound crisis of 2001 in Argentina, has been recognized precisely now, at another time of crisis in which it is vital to promote social and ecological impact policies", Nicolás Gianelloni, Rosario's Secretary for Human Development and Habitat, tells BBC Mundo.
Gianelloni emphasizes that the program, in which he has been working for six years, "was not just a laboratory project, but has truly transformed the city."
From scarcity to sustainability
The Urban Agriculture Program (PAU) was launched almost two decades ago to create a sustainable food production system amid the appalling economic crisis, which left a quarter of Rosario's population unemployed and more than half of its residents below the poverty line.
It started with the basics: providing local communities with materials, tools, seeds and training in agro-ecological production, that is, the cultivation of products without chemicals.
Later, "a city-wide movement was unleashed to convert vacant lots into production sites of sustainable and healthy food", explains the WRI.
The program converted underutilized land throughout the city into agricultural parcels and orchards, creating permanent markets to establish urban agriculture as a new source of income.
In addition, an attempt was made to implement a deeper culture around food production and carry out social education and development programs.
Over time, the established initiative increased the area's resistance to potential floods and fires, as well as reducing carbon emissions through shorter and more localized supply chains.
"Over the years, it has gone from being a food-to-table approach to a tool for job creation and, more recently, a strategy to face climate change"says Anne Maassen, global leader of the WRI Ross Center for Sustainable Cities.
Expanded to cover 75 hectares of the city and 800 hectares of the peri-urban area, including several plots that were underused or abandoned – turned into garbage dumps or usurped land – and that are now dedicated to agro-ecological production.
And 40 hectares that are public parks for agro-ecological production, adds Gianelloni.
More than 2,400 families they started their own gardens and seven new permanent market spaces have been created.
50% of the huerteras, explains Gianelloni, are women who find in these agricultural products the main source of income for their family.
"The idea was to create jobs for people who work producing healthy food, giving them access to sustainable food with organic products that were previously out of their reach," Gianelloni tells BBC Mundo.
The most difficult, he assures, was "the production of agroecological seeds -which we resolved by creating a center where we produce our own seeds- and the need to have a planning that leaves room for agroecological production as something essential."
The WRI says the program had a broad impact on the city of Rosario and on the lives of its residents.
"Their focus on urban agriculture has improved food security and social inclusion, created jobs, increased climate resilience and reduced carbon emissions," says Ani Dasgupta, global director of the Ross Center for Sustainable Cities in the United States. WRI.
"Smart solutions"
In its commitment as a sustainable city, Rosario was selected from among 262 applications of 54 countries and ended up competing with four finalist cities – Ahmedabad (India), Nairobi (Kenya), Monterrey (Mexico) and London (United Kingdom) – for the first place, which has a prize of US$250.000.
"The award honors innovative programs that address complex problems facing our cities and serves as a model for sharing smart solutions among communities around the world," says Stephen Ross, member of the WRI Global Board of Directors.
"We commend each of the finalists for their exemplary projects that demonstrate how existing policies and practices can evolve to be more sustainable and inclusive, while responding to new global realities, "adds Ross.
The 4 finalists
DistritoTec, Monterrey, Mexico. Born after a period of violence and social conflict, DistritoTec is helping to rebuild Monterrey through a new approach to urban design and governance that fosters compact and livable growth for a low-emission future.
Kibera Public Space Project, Nairobi, Kenya. In one of the largest slums in the world, you are creating, together with residents, innovative, multipurpose public spaces that not only reduce the risk of flooding, but also provide essential services.
Ultra-Low Emission Zone, London, UK. It's helping residents move on low-emission travel and addressing historic inequalities in exposure to toxic air pollution.
Women's Action towards Climate Resilience of the Urban Poor, Ahmedabad, India. Empowering women with tools and training to become climate leaders and not only address the climate risks of their communities, but build a more resilient city.
Now you can receive notifications from BBC Mundo. Download our app and activate them so you don't miss our best content.

www.bbc.com
Eddie is an Australian news reporter with over 9 years in the industry and has published on Forbes and tech crunch.