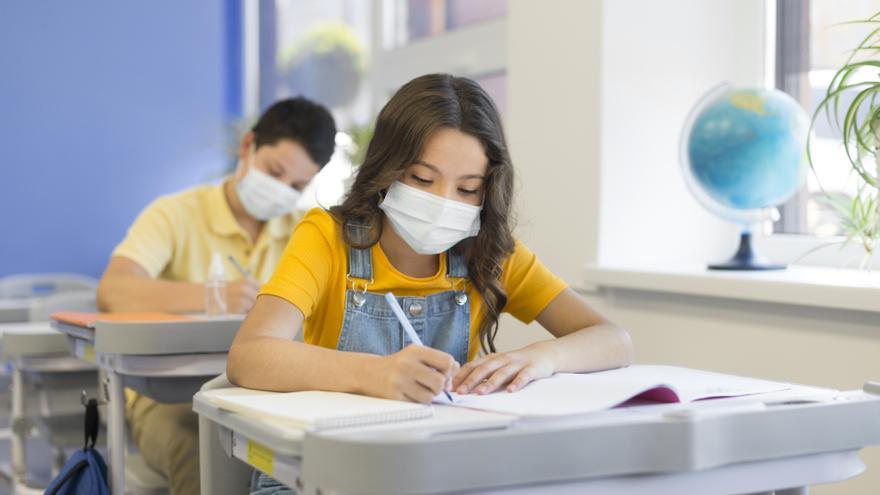 The infectious diseases they are very common during childhood. Children usually have 6 to 8 episodes per year, increasing to 10 -12 in those who are in school.
Why do children have so many infections?
There are different reasons that justify it such as:
Immaturity of the immune system: The human immune response develops mainly during the first 3 years of life. In this period, children are more vulnerable to infection.
Schooling: It implies a greater contact of the student with his companions and therefore, more possibility of contagion.
The weather: Going back to school coincides with the drop in temperature and the increase in humidity due to the rains. This causes the proliferation of viruses and bacteria responsible for most childhood infections.
The incubation period: There are infections that are spread before they show symptoms, making it difficult to prevent their transmission.
Most of these infections are caused by viruses. Treatment is aimed at improving symptoms until the resolution of the process. Infections caused by viruses are not cured with antibiotics and in many cases its use is counterproductive. Occasionally they can be produced by bacteria, being the pediatrician who will prescribe the necessary antibiotic.
Importance of childhood vaccination
Vaccines are one of the health measures with the greatest benefit to humanity. Prevent infections that previously produced large epidemics, deaths and consequences. To facilitate the correct application of vaccines, most countries have the "Child Vaccination Schedule" where the vaccines to be administered are indicated, at what age, how many dose and time interval between them.
This calendar is designed to get the most benefit with them, therefore, it is so important for a child to give a vaccine, as to do it at correct age and with the number of adequate doses. Delaying vaccines is putting the health benefit achieved at risk and increasing the incidence of these infections.
Can Covid-19 be differentiated from other childhood infections?
Unfortunately Covid-19 (disease caused by the SARS-CoV-2 virus) will not produce any symptoms or specific sign that makes us differentiate it from other diseases that our children will present.
Most of them will be able to behave like asymptomatic. Others may have a low-grade fever or fever (more or less elevated, that responds better or worse to antipyretics), cough, sore throat, headache, abdominal pain, diarrhea … in the same way that the common colds, gastroenteritis, or the flu.
Some of them may have shortness of breath in the context of bronchiolitis or a barking cough as a finding of laryngitis. Our older patients can describe Muscle pain, anosmia y ageusia (loss of smell and taste)These are more associated with adults, but not specific to the coronavirus.
What does seem clear is that Covid-19 in childhood will present in a milder form than in adults.
What to do when a child is sick?
If the child presents symptoms at home or they notify from the school of any of them, since it is impossible to discern about other viral processes, it is vitally important to maintain isolation at home and discard, if possible in the first 24 hours, that it is the SARS-CoV-2 virus.
In the HLA Vistahermosa Clinic is offered urgent care by a Pediatrician 24 hours of the day 365 days a year, both in person and by phone. It is advisable to carry out a face-to-face assessment at Pediatric emergency and carry out a complete medical history and tests necessary to obtain the diagnosis.
If the family has doubts or do not know the circuit to follow, there is also the possibility of carrying out a telephone consultation with the Pediatrician, both on call and external consultations, who will try to resolve doubts and will advise on the different measures to be carried out.
Different diagnostic tests against coronavirus
– PCR SARS-CoV-2: The Polymerase Chain Reaction (PCR) test for the detection of SARS-CoV-2 viral RNA is considered the most reliable diagnostic to detect acute illness.
– Antigen test: Antigen tests allow the possibility of detection of recent illness, Thus, its use should be early from the onset of symptoms (ideally in the first days of illness).
– Serological test: Serological tests for the detection of antibodies allow the possibility of detecting both active disease as disease pass already resolved and possible immunity. There are two types of serological tests, those that detect total antibodies (they do not differentiate type of antibodies) and those of IgM / IgG that differentiate between the two.
Importance of preventive measures
The main route of transmission of the SARS-CoV-2 virus is directly by contact with another person (through aerosol sprays y/o droplets), or indirectly by contact with contaminated surfaces.
That is why the measures of prevention should be aimed at avoiding these transmissions:
1) Aerosol sprays (droplet nuclei emitted talking, screaming, coughing... that have a diameter of less than 5 µm, being able to remain in the air for extended periods of time and reach people who are more than one meter away):
Avoid the three Cs: confined, crowded, and close-knit spaces.

Meet in open spaces.

Natural ventilation of closed spaces.

Wear masks.
2) Droplets (they have a diameter of 5 to 10 µm, and by their weight they fall quickly to the ground normally within 1 m of the subject):
Maintain a minimum interpersonal distance of 1 meter.

Wear masks, face shield, eye protection.
3) Contact with contaminated surfaces:
Wash your hands regularly and carefully with a hydroalcoholic gel or soap and water.
Avoid touching your eyes, nose, and mouth.
Clean and disinfect surfaces frequently, particularly those that are touched regularly.
Let's not forget that, in addition to protecting ourselves, we must protect others. Therefore, if we start with any symptoms (discomfort, headache, smell / taste alteration, respiratory or digestive symptoms …) we must isolate ourselves at home and contact our health center to start a study and follow-up.
Location of V76 Medical Center
Avd. Denia, 76
Telephone: 965 26 80 00
WhatsApp quotes: 696 35 42 90

www.informacion.es
Digsmak is a news publisher with over 12 years of reporting experiance; and have published in many industry leading publications and news sites.