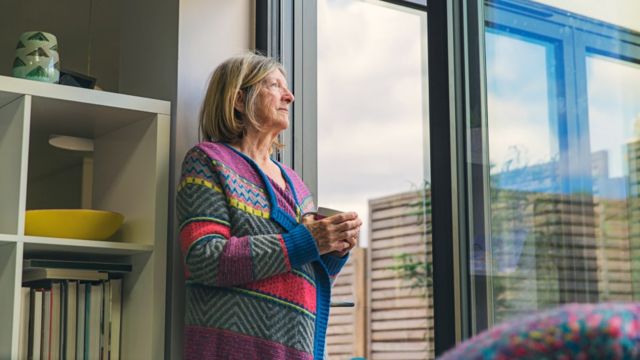 "It is obvious that we expected drops in life expectancy, what we did not know is that we were going to find that magnitude," demographer José Manuel Aburto tells BBC Mundo.
The researcher is one of the authors of the Oxford University study "Quantifying the impacts of the covid-19 pandemic through loss of life expectancy: a study at the population level of 29 countries."
"The covid-19 pandemic caused a significant increase in mortality in 2020 of a magnitude that had not been seen since the World War II in Western Europe or the disintegration of the Soviet Union in Eastern Europe ", indicates the investigation.
"Women in 15 countries and men in 10 countries ended up with a lower life expectancy at birth in 2020 than in 2015."
In 27 of the 29 countries analyzed, life expectancy for both sexes decreased from 2019 to 2020, the exceptions being women in Finland and men and women in Denmark and Norway.
"Men in the United States and Lithuania experienced the greatest loss of life expectancy at birth during 2020 (2.2 and 1.7 years, respectively)."
Devastating
"The fact that our results highlight such a large impact directly attributable to the pandemic shows how devastating COVID has been for many countries," study co-author Ridhi Kashyap told Reuters.
The research published on Sunday, in the specialized journal International Journal of Epidemiology, analyzed information from the following countries: Spain, Switzerland, France, Italy, Finland, Sweden, Portugal, Norway, Iceland, Austria, Slovenia, Belgium, Chile, Greece, Germany, the Netherlands, England and Wales, Denmark, Estonia, Ireland North, Czech Republic, Croatia, Poland, United States, Lithuania, Scotland, Slovakia, Hungary and Bulgaria.
Reductions in the life expectancy of more than a year in 11 countries for men and 8 for women.
These reductions, the researchers explain, were mainly attributed to increased mortality in people over 60 years of age and official deaths from COVID-19.
Aburto clarifies: "For example, if a country lost 2 years of life expectancy, of these 2 years, most were due to official deaths from covid-19, but this does not mean that covid-19 was the main cause of death in a population ".
The need to compare
According to Aburto, the research was born out of the need to have a measure that allows comparisons to be made.
"Several studies have come out that, for example, calculate excess mortality in different countries, a measure defined as the difference between the deaths that were observed in 2020 and those deaths that would have occurred if the pandemic had not happened."
However, although he acknowledges that it is a "very important and very informative" parameter, he explains that it has several limitations: one of them is that it is very difficult to make comparisons between countries and between sexes and, therefore, it is very difficult to put it in "a context that is more tangible."
"Life expectancy as a measure of mortality, as a 2020 photograph, allows us to make this type of comparisons between countries and also helps us to put it in a more international context, but also in time, to know how much these mortality shocks have affected populations ".
Developed countries
The researcher notes that there were several study results that surprised him.
One of them is highlighted by the research itself "The magnitude of the losses (in life expectancy) observed in 2020 have not been seen since the Second World War in many Western European countries such as Spain, England and Wales, Italy, Belgium, France, the Netherlands, Sweden, Switzerland and Portugal ".
Another "alarming result", explains the expert, is the variation that exists between countries, that is, the pandemic affected developed countries differently, as are several of those included in the research.
"We have regions like Scandinavia, where life expectancy in countries like Denmark, Norway, Finland, did not change its trend and at the other extreme we have the United States, Lithuania and other countries, including Spain in the top five, where the falls were substantial, of more than a year, which is kind of dramatic. "
"The United States is a country that considers itself developed, but it is also a country with a lot of inequality and I think this is what is reflected. "
Although, explains Aburto, the study allowed them to observe that "most of the losses in life expectancy were due to mortality that occurred above 60 years," there were some countries, such as the United States, where "mortality of young adults also contributed a lot to this decline in life expectancy. "
But even in the Scandinavian region you can see differences: "In Denmark you don't see a drop, but we have a country as developed as that, which is Sweden, which still suffers a decrease in life expectancy."
For the expert, there are multiple reasons that can explain the differences.
"Each country acted differently around the pandemic. For example, there were countries that followed non-pharmaceutical interventions faster and more effectively, such as lockdowns, and so on."
Another key factor is how much the quality of health services of each country.
"I think that is also reflected in the case of the United States."
Affected men
"In most countries, men tend to have greater losses than women suffered," says the researcher.
Although it is known that, in general, women live longer than men, "it is interesting to see that even in the context of a pandemic, of such a strong shock, men also tend to lose more in relation to life expectancy than women, "says the researcher.
According to the study, with the exception of Spain, Slovenia, Estonia and Northern Ireland, life expectancy losses were higher for men in 2020.
Why only 29?
Aburto explains that the study focused on 29 countries because data was available for them, disaggregated by age, and that allowed them to do an analysis of life expectancy.
"That is one of the limitations that we now see in some regions, such as Latin American countries, where the data is not coming out on time and it is not disaggregated by age."
"It is one of the few countries in Latin America that has been providing data by age and sex in a more timely manner than the rest of the countries, but also, historically, it has had good mortality and population records."
"In a Latin American context, even if a country provides information on time, mortality data tend to have deficiencies that must be corrected before making a calculation such as life expectancy."
Although the study focused on 29 countries, the authors note that "emerging evidence from low- and middle-income countries (such as Brazil and Mexico), which have been devastated by the pandemic, indicates that losses in life expectancy may be even higher in those populations".
Remember that you can receive notifications from BBC News Mundo. Download the new version of our app and activate them so you don't miss out on our best content.

www.bbc.com
Eddie is an Australian news reporter with over 9 years in the industry and has published on Forbes and tech crunch.