As the production of Spanish series grows, new elements are incorporated into it in the industry. One of them is the figure of the showrunner, so rare until now in Spain that it does not even have an official term to replace Anglicism. In France he has been translated as the author-producer of a series. Like Michelle and Robert King are from The Good Fight (in Movistar +) and Phoebe Waller-Bridge is from the first season of Killing Eve (HBO), looking for new talents to follow in the wake of some pioneering names, such as Álex Pina and Esther Martínez Lobato (The Money Heist) and Marta Sánchez and Olatz Arroyo (Supernormal).
This Tuesday and Wednesday, the palatial halls of Casa de América in Madrid have brought together a group of applicants to be most responsible for their own scripts with some of the great professionals of the audiovisual sector, within the festival program Iberseries Platinum Industry. It seems like a professional conference like so many others, but the central issue has rarely been discussed in Spain. In addition to offering group talks and personally advising 14 emerging projects, this workshop seeks to promote in the Spanish and Ibero-American market a figure who can change the rules of the game, giving greater creative power to those who devise and write the series before whom finance and those who issue them.
Curro Royo, one of the tutors of the workshop, explains to this newspaper shortly before they begin their activities that "there is a new position of the content creator in which it is demanded that they have a more specific and broader training than they have had. up to now". The objective is something similar to train the creator 360. But the key always lies in the script.
The screenwriters union of Spain ALMA defines this new figure in the local market as that person who "mainly holds the highest authority in the script team and, in addition, the maximum responsibility for the content." The new professional profile that this workshop is looking for is therefore that of the main scriptwriter of a series who, in addition, controls other creative aspects, such as production or direction, to give coherence and identity to the story.
"A 'showrunner' has to be aware that he has to control everything that happens in a series and at the same time know that absolute control does not exist"

Alba Lucío, one of the tutors of the workshop held at the Iberseries Platino festival
Royo began in the 1990s as a screenwriter for VIP Night and then made the leap to fiction with the Globomedia production company, in Family doctor and Journalists. After decades working in the sector, the first series in which it has been considered showrunner has been in the recent Hernán, a historical production focused on the figure of the Spanish conqueror Hernán Cortés that can be seen through Amazon Prime Video and in which he has shared work with the Mexican Julián de Tavira.
Exponential growth
This new figure is increasingly necessary, as Spanish production continues to grow. According to internal calculations provided by ALMA, the increase in the production of local series has been exponential in recent years. In the 2015/2016 season it accounted for a score of titles, while in 2018/2019, which is as far as it has records, that figure was already double. In 2020, despite the pandemic, there have been more than fifty Spanish series released on television networks and platforms.
"We also want to create our own profile of what a showrunner Ibero-American, which adapts to the circumstances of its industry, so different from those of the United States ", points out the cultural manager Joan Álvarez, director of this workshop. "In the United States, for example, it is a role that has existed for a long time and those who occupy it even have a say in the decision regarding the cast and the directors. It is an aspect that in Spain is still to be negotiated with the chains, platforms and producers ".
Álvarez explains that this training activity organized at Casa de América during these two days focuses on working in private tutorials on the selected projects, which are still in the process of construction. And in giving time for its creators to assimilate the recommendations of the tutors. After a few weeks, there will be a second meeting with them to close the work "that places these projects on a launching pad" and that they can become a series in the future.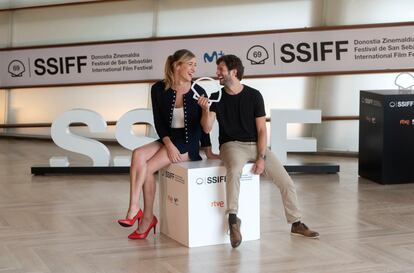 Alba Lucío, script coordinator in the daily series of lives from TVE and what has gone through The other look and Olmos and Robles, also from the public entity, is another of the tutors of this training workshop. His advice to those aspiring to occupy this figure of author-producer-director is to try to ensure that their vision is always kept in the final result and to be aware that they have to be controlling production and at the same time knowing that absolute control does not exist. "You have to maneuver very often. That middle ground is very abstract and, to find it, you have to be very clear about what you want for your series, "he says.
Both Lucío and Royo agree that, like a film director, what the person in charge of a series must do is know how to delegate. "It is smart to listen to the proposals of the experts in clothing, lighting and other technical departments," says Royo.
To be showrunner It is very beautiful on paper, but very complicated, having to combine so many roles at the same time, she defends. The unforeseen events that any scriptwriter faces when adapting in a recording what they have captured on paper are multiplied in this case. "You have to be completely alert, because a production is something alive and changing and, on many occasions, a source of disasters. Sometimes the changes that arise can favor production. You just have to realize that you are facing an opportunity ", advises the screenwriter.
For a woman, there is also the challenge of "making herself respected" to bring her proposal to fruition, says Lucío. Although there are already female examples in the Spanish scene. The workshop tutor quotes Abril Zamora, who will shortly release Everything else, one of HBO Max's original series, and also to Estíbaliz Burgaleta, who created and are developing the series You are not special for Netflix. "Actually, the scenario is not the most favorable for women to appear showrunners, even though it's probably the most favorable we've had so far. It is neither in Spain nor in any part of the world ", he defends. The struggle, he believes, is not found in the audiovisual industry, but is something social that transcends the profession. "Until society advances in terms of equality, women are not going to be listened to in the same way as a man on television networks or in script rooms."
You can follow EL PAÍS TELEVISIÓN on Twitter or sign up here to receive our weekly newsletter.



elpais.com
Eddie is an Australian news reporter with over 9 years in the industry and has published on Forbes and tech crunch.