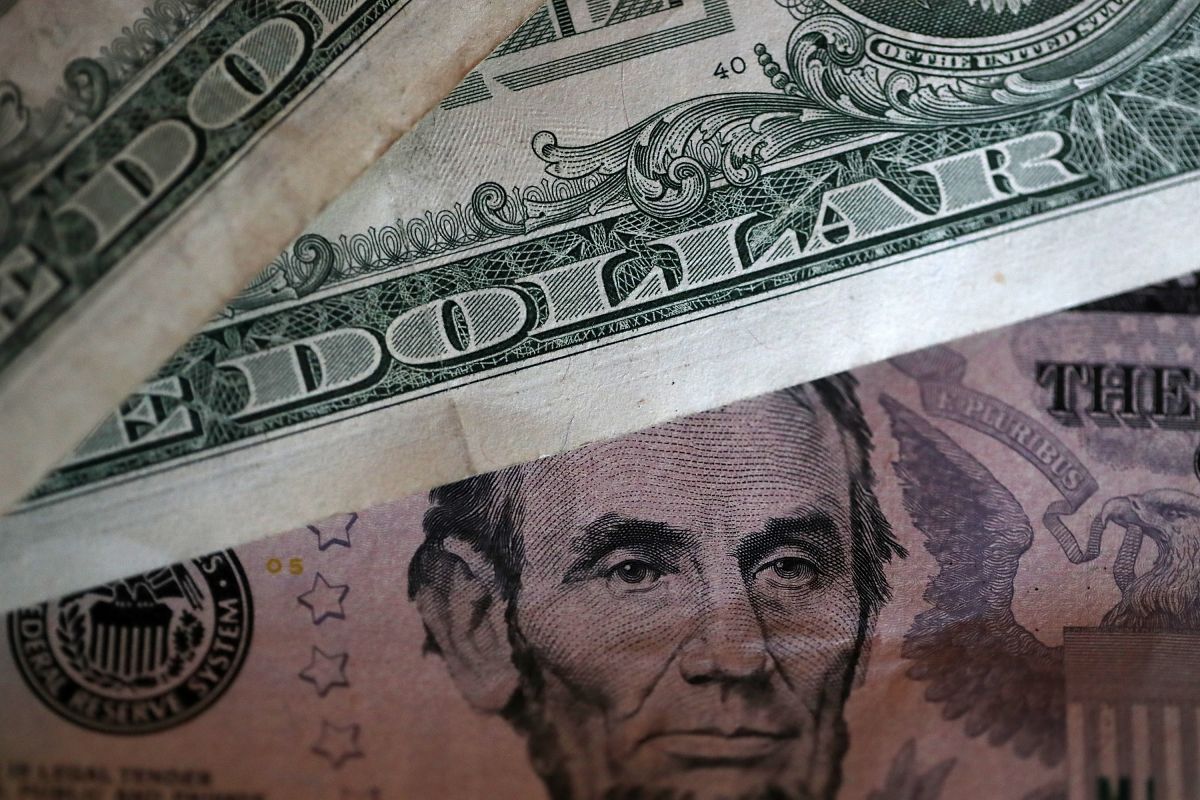 You can go to any bank branch to withdraw cash but some may charge you a commission.
Foto:
Justin Sullivan / Getty Images
Now that President Joe Biden has signed the American Rescue Plan the third round of Economic Impact Payments (EIP) the Internal Revenue Service (IRS) you can start paying stimulus checks of $ 1,400 Americans.
It is estimated that about 85% of households in the country will receive direct stimulus checks through three different ways: direct deposit, paper check, or EIP prepaid debit card.
The United States Department of the Treasury will send payments based on the information that the Internal Revenue Service (IRS) has on file when it is time to send you your payment. If you are one of the taxpayers who receive the tax refund through direct deposit, then you should receive the stimulus payment directly to your bank account. However, if there is a problem with your account or you do not have a direct deposit registered with the IRS, your payment will arrive via paper check or EIP prepaid debit card.
What is an EIP debit card?
The Economic Impact Payment Card, (also known as the EIP Card), is a prepaid debit card that the United States Treasury used as an alternative to direct deposits and paper checks to distribute some stimulus payments in the previous two rounds under the CARES Act and the December 19 COVID-19 relief bill.
MetaBank, the Treasury's financial agent, will mail the EIP cards to eligible beneficiaries. Each shipment will include instructions on how to activate and use the card. You can also visit the EIP card website to activate it and learn more about how to use it if you receive one.
The EIP card works like any other Visa debit card you will have to activate it when you receive it. You can use it to make purchases in places where debit cards are accepted, obtain cash at network ATMs and transfer funds to your personal bank account without any commission.
How to withdraw money from your EIP debit card:
There are several ways to access cash using your EIP card, but remember that there may be limits on the amount you can withdraw at any given time. The MetaBank ATM Network offers these instructions for getting cash from your EIP card along with other frequently asked questions.
Cash from an ATM:
Does not exist no commission for withdrawing cash in the ATMs of the network that carry the brands AllPoint The MoneyPass, but Fees may apply if you use an out-of-network ATM.
To get cash, you simply have to enter your 4-digit PIN and select "withdraw money" in the "checking account" option.
To locate ATMs that are free of charge within the network, use the ATM locator at Money Network EIP Card found on the EIPCard.com site or on the Money Network mobile app that is available for systems iOS Y Android.
ATMs have a daily withdrawal limit of $ 1,000 per transaction, although sometimes the bank limits may be lower.
Related: What to do if you mistakenly lose or destroy your EIP debit card with the stimulus check
Refund of money at participating businesses:
The easiest way to get cash back with your card is in places where you already make your purchases, such as grocery and convenience stores.
To get cash:
You must select "debit" on the keyboard.
Enter your 4-digit PIN.
Select the "Yes" option for the money back
And enter the amount and press "accept".
At some points of sale, transaction limits of $ 2,500 per day apply but the return limit per merchant may be lower.
For more information you should consult the agreement with the online card on the site EIPCard.com.
Related: Everything you need to know if you received a debit card to use the economic stimulus check
Cash in a bank teller:
You can go to any bank branch to withdraw cash, but keep in mind that Some commissions may apply to you in the following cases when withdrawing cash:
To know your balance: the cashier cannot know how much money you have on your card.
When askingThe cashier the amount you want to withdraw.
You will need to your 4-digit PIN and you may be asked for an additional identity document.
Banks may apply a limit on withdrawing your money per day of up to $ 2,500 per transaction.
Check your mail, an EIP card could arrive at your door
Nowadays it seems that the only thing that comes through the mail are bills and announcements, but in the next few weeks there could be a very important letter for you. EIP cards will arrive in white envelopes with the return address "Money Network Cardholder Services" of MetaBank based in Omaha, Nebraska. The envelopes will also have the IRS stamp in the upper left corner.
The IRS and VISA have provided an example how is the envelope in which your EIP debit card could arrive:
A 2nd round of Economic Impact Payments (EIP) has been approved. Americans can use their EIP Visa prepaid debit cards to make purchases, transfer funds, pay bills and more. For more info about EIP, visit the IRS website or https://t.co/Wixey0vL0Q to learn more. pic.twitter.com/AFqvYDBoeW

— Visa Security (@VisaSecurity) January 15, 2021
Related: Alert: scams could return with the arrival of the third stimulus check
Beware of scammers
Where there is money involved, there are usually scammers who will try to take it from you. To avoid losing your stimulus payment, remember the following:
The EIP card has instructions on how to activate it. You can also visit the EIP card website for more information.
Be very careful to call the correct number on the card. Don't look up the number on the internet. Sometimes scammers create fake customer service numbers to trick you into stealing your personal information.
Never give your personal identification number (PIN), EIP debit card number, or Social Security number to anyone who calls or texts you.
Check your email carefully to avoid throwing away your EIP card when mistaking it for advertising or junk mail.

In case of accidentally destroying or throwing away your EIP card, it is important that call toll free customer service 800-240-8100 (if you are hearing impaired the number is 800-241-9100) to request a replacement. You will have to select the option of loss or theft.

Do not forget to consult more information in the website of the EIP card.

You may be interested:



eldiariony.com
Eddie is an Australian news reporter with over 9 years in the industry and has published on Forbes and tech crunch.