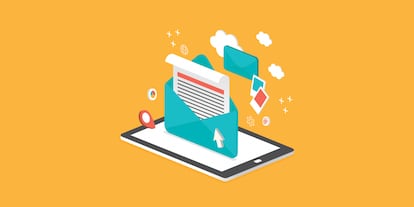 Gmail burst onto the market in 2009. The new service came with the full force of Google and not even Microsoft – with Hotmail since 1996, now transformed into Outlook – the absolute leader in the email market, could stand up to it. Four years later, Gmail was already the leader in the number of users: today there are more than 1.8 billion active accounts around the world. But the leadership of Google has not prevented the emergence of new options such as Zoho or Proton to satisfy other millions of users who prefer alternative emails.
But regardless of which platform has the most users, the conclusion is clear: email continues to occupy a respected and privileged space in the Olympus of platforms despite the success of instant messaging platforms such as WhatsApp, WeChat or Telegram. In 2020, the number of global users amounted to 3.9 billion and is expected to increase to 4.48 billion in 2024, according to data and predictions from the specialized agency Branch. "Email is the preferred means of digital communication in professional environments, so constant availability through this channel constitutes a significant part of professional self-esteem, which can be experienced as a positive attribute", explains Jorge Franganillo, researcher , professor and author of the book Management of personal information (2018) that dedicates some chapters to the use, advantages, disadvantages and value of email.
Four tricks to optimize Gmail
All platforms have some functions that we do not know about and that if we had learned them before, they would have saved us headaches, time and frustration. Gmail has its own too. Here are some that maybe you did not know:
Send emails without being connected to the Internet. If it's posible. You can use Gmail offline to read, reply to, and search for Gmail messages when you don't have an Internet connection. All emails that you write, archive, tag or delete while offline will be sent or moved when you connect to the Internet. "When you enable Gmail offline on a device, your messages are synchronized with the browser storage of the computer you use," they explain from Google. To activate it, follow these instructions:
At the top right, click the icon Setting.
Go to the tab Without connection and check the box Enable offline mail.
Advice: Next to Synchronization settings, specify the emails of how many days you want to store offline.
Go to Security and indicate whether you want to keep the data offline on your device or delete it.
Click on Save Changes.
Automatic and fast responses. If you are one of those who receives a lot of emails, this is the option. You can enable automatic replies, which will let your recipients know that you have already received the mail and that you will be responding soon. It is also a very effective strategy for when you want to communicate professionalism and immediacy or when you are on vacation and do not want other people to think that you simply did not respond to them. To activate them, follow these instructions:
Click on Setting and then in See all settings.
Scroll down to Automatic reply, and select Auto answer on O Auto answer off (if you want to disable this function)

When activating it, you must indicate what dates you will be out and add a message. Then select who should receive the response

At the bottom, click Save Changes.
Labels to organize and structure your tray. We have all been victims – or guilty – of a messy inbox. Thousands of unopened emails, the Spam folder to burst, unnecessary notifications, information that is lost among other information that is of little interest, more spam. But avoiding all of this is relatively easy. Gmail has introduced a feature called Labels which is used to classify your emails by categories. "The labels are an advanced version of the old folders: you can apply several labels to an email and search for it later by clicking on any of them in the left panel," they explain from Google. To activate them, follow these instructions:
First, you must create a Label. Click on Setting.
Click on the tab Labels.
Click on New label.
Give the label a name and click To create.

Once the label is created, you can apply it to an email. Go to the Inbox.

In it, check the boxes next to the emails to which you want to apply a label.

Click on Labels.
Check the boxes next to the tags you want to add and click Apply.
Advice: Labels can be colored. Do it, it will help you organize yourself better. In the left panel, hover over a label and click More. Then hover over Label color and choose one. The color change is applied instantly to all emails with that label.
Postpone emails, or play with the future. You may have received an email now, but don't have time to look at it or pay attention to it. However, if you let it slide, you will forget that you received it and may be hiding in your inbox, crushed by other emails to come. Gmail has a solution for this. You can postpone an automatically received email and it will disappear from the inbox. Once the time is right – the time you choose – you will receive a reminder about the mail. To snooze emails, follow these instructions:
Hover over an email.

On the right, click Postpone.
In Postpone until, indicate until when you want to postpone it. In this way, the email is automatically snoozed and disappears from the inbox. Once the time is right, you will receive a reminder about the mail.
Advice: To see all the emails that have been postponed, click Postponed, in the left sidebar.
Mail beyond Gmail
But not everything is for everyone. Gmail is not liked by all email users and that is fine because there are modern, useful and accessible alternatives for the "anti-Google". Here are some of them:
Outlook
It is the main competitor of Gmail. Microsoft's platform offers services very similar to those of its competition. Its flagship product is Outlook, the free email account that includes a security and antivirus add-on, 15 gigs (GB) of storage, versions for use on the web and in the application for Android and iOS and allows 5 GB of free storage in OneDrive —Microsoft's cloud— as well as the use of all its Office services in web versions.
Its other two products are Microsoft 365 Personal, with a cost of 69 euros per year, and Microsoft 365 Family, with a cost of 99 euros per year. Both include 1 terabyte (or TB, that is, 1,000 GB) of storage, message encryption, are ad-free, give the option to have custom domain names and the family plan allows up to 6 registered accounts.
Yahoo
Yahoo Mail is another old acquaintance. Their service is free and offers a much larger storage space than its competition: 1TB. In addition, it gives the option of being able to send up to 2GB of files by mail. Of course, you will always see advertising.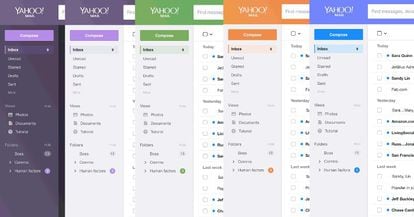 Zoho
An alternative a little less known than the previous ones but with many functions. Zoho Mail is geared towards business, and has two versions. Of course, none is free. The option Mail Lite offers a storage of 5GB per user at a cost of 0.9 euros per month or 10 GB per user at a cost of 1.13 euros per month. The platform allows the transfer of files of up to 250 MB, has mobile applications for both Android and iOS and access to a calendar. Mail Premium is the other version. Offers all of Mail Lite and a little more. The premium version has 50GB of storage capacity, sending files of up to 1GB and a backup system, at a cost of 3.6 euros per month per user.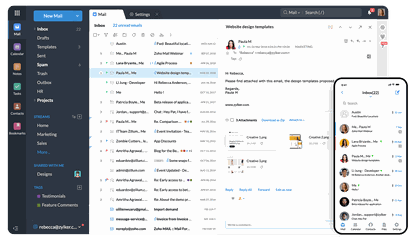 Proton
This email alternative has sold itself as the most secure option on the market. The secret is in its message encryption and encryption process. Although it has very limited storage options, the ability to manage, structure and organize the platform rivals the innovative features of Gmail.
In addition to the free account, Proton offers three more. The Plus account that costs five euros a month and includes 5 GB of storage, five email addresses, the option to create up to 200 folders, a custom domain and all the security functions of the platform. The next option, Professional, it costs eight euros per month and its package includes up to 5,000 users in addition to multiple custom domains. Finally, the third option is Visionary with a cost of 30 euros per month, 20Gb of storage, 50 personalized addresses and all services included.
You can follow EL PAÍS TECNOLOGÍA at Facebook Y Twitter or sign up here to receive our newsletter semanal.



elpais.com
Eddie is an Australian news reporter with over 9 years in the industry and has published on Forbes and tech crunch.