During much of the modern era, and practically until the end of the nineties, the North American success model permeated practically all the productive models and social status of life in Latin America, even within the educational sphere, where the The relationship of success and academic preparation was strongly linked to a common place of possessions, material luxuries, and an accumulation of capital with no apparent direction other than accumulating wealth itself.
Within the sociotechnological dynamism of recent years, where the rupture of the prevailing education models has opened new veins and much more comprehensive paradigms, in line with the productive world that follows the university, the pandemic became a kind of accelerator that took the world by surprise, forcing an adaptation and reconfiguration of educational models. Models who have embarked on a challenging path, with a development objective at the center, as obvious as it is new: the student.
For Magister María Belén Mendé, specialist in educational management and innovation and rector of the Siglo 21 University, the largest private university in all Argentina With an enrollment of more than 70,000 students, the turning point touches all areas of modern human life and these, in turn, pertain to a new threshold for education.
This was evident during the Fourth Innova Educa 21 Congress, held last Friday, October 15 and Saturday, October 16, where leaders and specialists from different educational and productive areas of the region and the world met to discuss and propose new paths in around education under the slogan 'Building educational ecosystems'.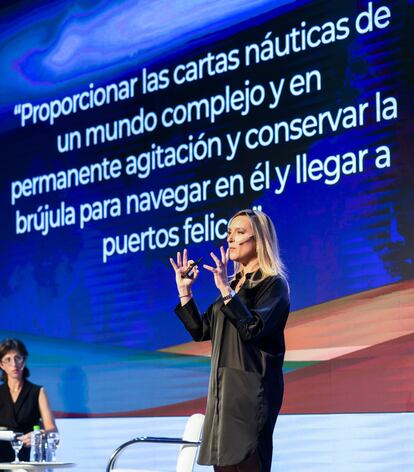 "Almost all sectors of the economy are in a stage of transition, what happens is that until recently education did not take charge, or did not realize, that the technological revolution was treading on us. Somehow the pandemic accelerated it and, suddenly, many institutions were forced to adapt for which they were not prepared. The photo of education in the region is one where the rhythm has changed, there was a kind of awakening to the previous slowdown, but it found us with many inequalities, because there is a very large gap between those who can access an education of quality and those that are not ", says Magister Mendé, who is also a permanent member and vice president of the Córdoba Mejora Foundation.
This gap to which the rector of the Siglo 21 University points out finds this institution with a clear differentiator compared to other quality educational entities of a public or private nature, which is supported by a high sense of academic innovation and especially in the school of positive thinking articulated by Martin Seligman, professor at the University of Pennsylvania and former director of the American Psychological Association.
It is María Belén Mendé who explains more about it: "It is a university that understands the needs of the moment, is flexible, has a lot of technological mediation. And on the other hand, it has an educational program adapted to the needs of the productive and social world (…). For us, the positive education proposal is so clear that it has a model called PERMA (for its acronym in English), which activates five things: a student will become a better leader if they have positive relationships, if they live and He inhabits positive emotions, if he works on personal physical well-being, if he is engaged and if he knows his life purpose. All this is learned and we work on these objectives throughout the race ".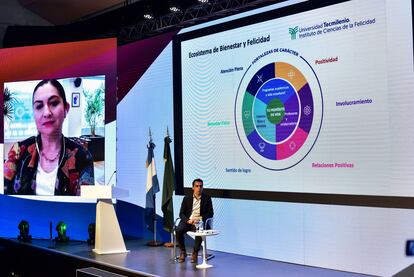 Forming positive leaders in a broken world
During the two days of conferences, meetings and tables for dialogue and debate of the fourth congress Innova Educate 21, the 21st Century University brought together different ministers of education, business leaders, politicians and various members of the educational community, some with antagonistic visions, to understand the new challenges and paths to face on the threshold of a broken world, in the words of the rector of this university, for whom it is important to create an ecosystem where there is complementarity and non-competition or cancellation.
"If we cannot get businessmen, politicians, NGOs and parents to attend this congress, there is no point. Because education is not an issue of the educational sector exclusively, it is shared and what we sought was to bring voices from very antagonistic places, which was difficult but valuable to understand. We all have a daughter, a nephew or we will have, who is studying. And we are all interested in the future, it is almost like transcendence is part of human education, a topic that touches us all. And training leaders in a broken world is a contribution of great value, "says the rector.
Faced with an encounter with itself, the Latin American educational system finds in forums such as Innova Educa 21, a vital space to also specify the criticisms and vices that have slowed down education in the region, where the existence of a latent educational crisis, in correspondence with its country models, a problem that is not exclusive to the ministers of education, but to all social, political and productive actors.
In this context, the proposal of the Siglo 21 University, according to the rector María Belén Mendé, is that of an arduous interregional work where alliances, rapprochement and dialogue bridges are vital: "Our purpose is to enhance leadership of people to transform the world, through education. We believe that institutions train decision-makers: entrepreneurs, people who have a leading role, with many social origins. However, when they go through their formative stage they have a spirit of leadership, a really relevant vision and they show it in their development ", he says.

elpais.com
Eddie is an Australian news reporter with over 9 years in the industry and has published on Forbes and tech crunch.