Names: Suzanne Harris and Tom McAtee
Years together: 3. 4
Activities: social worker and human resources consultant
When the going gets tough, Suzanne and Tom walk into the garden. "Back in the days when we didn't have a lot of money, or we had a hard time with work or job change, we took to gardening," Suzanne says. "It is a good way to release tension, to work together, to plan and to be creative." Tom agrees: "Gardening allowed us to be together, to be able to share that tense period together in a joint physical activity."
It was a joint physical activity that initially brought them together. The Brisbane couple met at a Townsville tennis club in October 1986. Suzanne wasn't quite sure what to think of Tom in his turquoise blue tennis shorts and white, turquoise and purple striped tennis shirt, but Tom was "impressed" by her.
A friend had invited him to the tennis club and planned to put him with someone else. He had come out of an unhappy first marriage and was determined to take a more considerate approach to finding a new partner. At the top of his list of criteria was someone smarter than him.
Suzanne enters. "You don't need to listen to someone for long to … make a diagnosis of their level of verbal intellect," he says. With Suzanne it was "that initial impression of 'Wow, this is a smart woman' and 'she meets my first criteria.' This "very quickly … blossomed" into "wounded" Tom.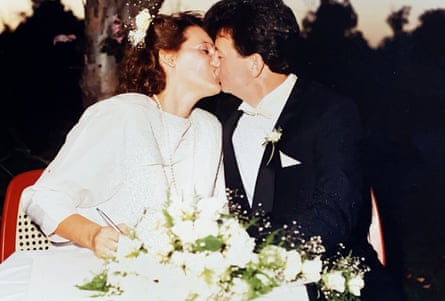 Suzanne Harris and Tom McAtee on their wedding day 'We wouldn't have waited, it didn't make sense' Tom syas.

Photography: Suzanne Harris and Tom McAtee
They played a few more rounds of tennis over the next fortnight, and Tom invited her to see the movie Room with a View. Things quickly escalated from there. They spent the following week having "pretty intense conversations and very late nights." They were both ready to settle down and knew what they wanted from a partnership. Suzanne says, "On Friday night, we continued this conversation, and Tom started talking about getting married and I said, 'What are you trying to say?' And he said, 'Do you want to marry me?' The following Monday, Tom gave her an engagement ring when they went out to dinner.
This fast-paced romance had only one delay: Tom had to finish his divorce paperwork. Once the order came in, the couple married, just over four months since they met. It would have been quicker if they hadn't had to finalize Tom's divorce, they say. "We wouldn't have waited, it didn't make sense," says Tom.
Their bond was based on their ability to communicate well, something that has served them well over the years. Suzanne recalls wondering, "Could I contact this person? Were you able to discuss difficult topics? Were you prepared to overcome those difficult problems? And how did they make decisions? … What happens between people was really important to me. "Tom felt the same, he wanted someone" with whom you could solve the problem together. "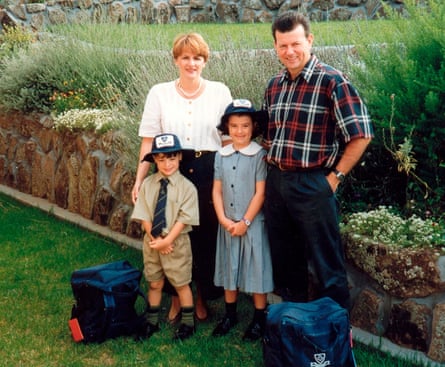 "I tend to want to jump around a bit and Tom will take a more considerate approach," Suzanne says. "But that works well, because it makes me wait and look at the rational part of putting things together and making a decision."

Photography: Suzanne Harris and Tom McAtee
They are quite different in some of their points of view; for example, they never talk about politics and religion, although they respect each other's right to have their own opinions. And they do not always agree on how to spend the money, although their bases are the same. "We both come from working class families where they were going to have a hard time putting food on the table each week. So we are both very aware of the value of money, "says Tom.
However, they congratulate each other on the way they make decisions: "I tend to want to go a step further and Tom will take a more considerate approach," Suzanne says. "But that works well, because it makes me wait and look at the rational part of putting things together."
The couple keep a narrow boat at home. "We often say that we are glad we met, because no one else could live with each other," Tom laughs. Both are very organized and orderly: "We are not OCD. We're not that far off the spectrum, but we're both very focused on things having a place and things [should be] instead ".
The couple have two children, both now in their twenties. However, the pregnancies affected Suzanne, who had problems with her back. "Many of those early years focused on pain when the children were born," he says.
It meant that Tom had to step forward, happily. Suzanne knew she could trust him: "Tom was a very practical father. If I had to get up in the middle of the night to breastfeed, well, Tom would wake up too. Just because he was going to work doesn't mean … he wasn't going to wake up. Then he would get up and help and be there. "
Throughout their marriage, they have always shared the household burden. Often times, it comes down to who had the most demanding job: "Sometimes our roles focus on who earns the most," Suzanne says. "If you earn a lot and work long hours, well [we'd ask], 'What can we do to support each other?' "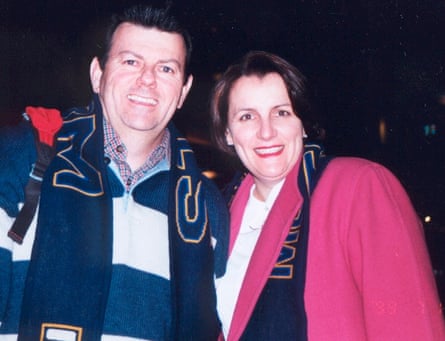 "If I was going to hitch my wagon, then I wanted someone with me in the future, not just who I can love and appreciate, but you could solve problems together with them," says Tom.

Photography: Suzanne Harris and Tom McAtee
Five years after the birth of her second child, Suzanne had to undergo major spinal surgery. Tom became her caregiver during her rehabilitation. "I had to take care of her and help her shower, go to the bathroom, bathe and things like that. So your sexual partner left. And just accept, during that period, whatever the period of time, that your role is now not that of lover, but that of caregiver. And when you're in that role, you live the role with integrity. "
Years later, Tom also needed back surgery, so the roles were reversed. "Suzanne was able to take the lead in that story, while I'm a shaky fucking mess in the corner. Y [she went], 'It's all done. You are reserved. You are organized. We're making it '".
There have been many ups and downs during their marriage, but they have also had to deal with some difficult health issues. Suzanne suffered from severe depression when the couple moved to London for a period. "I never, ever want to go back there again, it was a really difficult time, [but] we had support, we had people around us and we had good medical care there. "
It was during this time that Tom received valuable advice. One day Suzanne's therapist took him aside: "He said, 'It's amazing how often, in these situations, the caregiver also ends up getting sick. In my experience, what keeps the caregiver from getting sick is your willingness to buy help. " Then he said, 'You're in a high paying job. Go and buy house help, gardening help. It is the impact of the activities of daily living. Go buy support. ' It is advice that he would give and added: "[If you can't afford it] find it somehow. Beg, borrow it from your friends. Get help. "
When they returned to Queensland, Suzanne contracted breast cancer, underwent a double mastectomy, but during the reconstruction process, she contracted a serious infection. It meant that the family had to move from rural Queensland to Brisbane. Tom had to change jobs and his son, who was in year 11, had to change schools. It was a difficult time for the family, but their pragmatic approach helped them get through it – looking at the bare and unadorned facts of the matter, figuring out what to do, and then having the conviction that they would get through it.
"Sometimes there are tough decisions you make that either of us may have opposing views on, but we've always been able to sit down. [and talk]"Suzanne says. "You might scribble and squirm in your seat because you really don't like talking about this kind of thing, but you just put one foot in front of the other and you do it." It's about finding a solution that both of you can feel comfortable with. "It's being able to have that discussion, and we always have."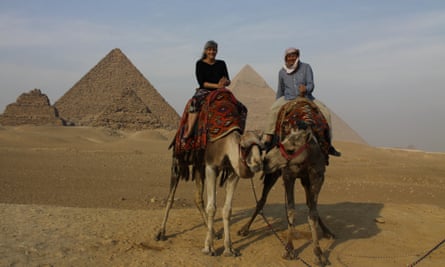 'Sometimes there are tough decisions you make that either of us may have opposing views on, but we've always been able to sit [and talk]'Suzanne says.

Photography: Suzanne Harris and Tom McAtee
The couple have also learned to put the past behind them. "Shit happens, you just can't stop because something horrible happened," says Suzanne. "It's absolutely useless … Worrying is the worst waste of energy. You just have to keep going and you need to find the good in things. "
They are also not afraid of taking a leap into the unknown, something they have done countless times when they have moved across the country or the world: "Not taking a leap of faith or taking risks because you are worried about what could happen closes so many opportunities, "says Suzanne. "We are good at seizing opportunities."
Finally, it doesn't help to be valuable with things, says Tom. He criticizes gender stereotypes and how damaging they can be to a relationship. "It's so easy to get sucked into these structures and the structure drives the behavior … [People] they get carried away by these structures that say: "I must behave this way or this way." I say, 'No, it's not like that. You just have to communicate with your partner. What works for you guys. ' There is no magic bullet. There is no magic relationship cookbook. It's about what works for you and you'll only find out by talking to each other. "
We want to hear your stories about staying together. Tell us about yourself, your partner and your relationship by filling out the form here

www.theguardian.com
Digsmak is a news publisher with over 12 years of reporting experiance; and have published in many industry leading publications and news sites.