Note to readers: EL PAÍS offers the Future Planet section for its daily and global information contribution on the 2030 Agenda. If you want to support our journalism, subscribe here.
At 16, Camila's life (not her real name) changed radically. She was living with her family when she met her "lover", a young man who promised to love and care for her. So the day came when Camila decided to leave the family home to go live with him. And that boy who treated her well and who pretended to love her, took her away from her family and forced her to prostitute herself.
Camila's story is that of so many girls and adolescents who fall into trafficking networks, a crime that consists of the recruitment, transfer, reception or reception of people for the purpose of exploitation. And it is that trafficking has many faces, such as sexual exploitation, forced labor or the obligation to carry out criminal activities, among others. In short, we are talking about one of the worst and cruelest violations of children's rights to protection, which prevents them from growing up in a family environment and receiving education.
Data from the United Nations Global Report on Trafficking in Persons mentions that, in the world, at least 21 million people are victims of trafficking. However, as it is a crime that occurs in maximum secrecy, it is more than possible that there are millions more. Half of them suffer sexual exploitation and in two out of every three cases they are women and girls.
Traffickers take advantage of the situation that children live, such as economic needs, conflicts within the family or the situation of legal irregularity in the country. Also common are cases in which girls and adolescents are deceived and seduced to later subdue them and force them to do what they want. And we speak of "them" because it is usually men who act as traffickers.
While children surf the web, traffickers stalk, monitor and activate their strategies to capture their victims. And governments are not being nimble in protecting children from abusers
The arrival of covid-19 has only increased the risks of children and adolescents of falling into human trafficking networks. Few opportunities, economic difficulties in families, the closure of schools that still continues in many countries of the world … To this, we must add another factor that was already present before the arrival of the coronavirus and that, now, is acquiring greater weight: internet.
Cyberspace is a wonderful window to the world. An opportunity to interact with others, to continue learning despite the closure of schools and to discover and share interests. However, it comes with risks. While children surf the web, traffickers enter that space to stalk, monitor and activate their strategies to capture their victims. And while they adapt quickly to the changes that are taking place on the internet, governments are not being agile when it comes to protecting children from abusers.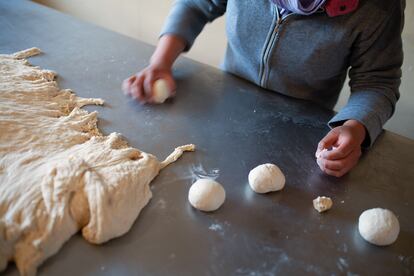 Faced with such a complex context in which millions of minors are found worldwide, it is urgent to take global measures to prevent children from falling into trafficking networks. At Educo we believe that one of the most effective is education, in its broadest sense and not only for children to know how to navigate the internet and social networks safely, or to detect when an adult wants to take advantage of them in real life.
Those who have the responsibility of caring for and protecting children must be educated, giving them tools to support them in raising their children, and build trust and security at home. The community must be educated in order to dismantle practices and beliefs that perpetuate risk factors linked to violence, gender violence and discrimination, and that make many groups highly vulnerable to human trafficking. We must educate politicians, the educational community, legislators … In short, you and me, so that we are all part of the solution. Only in this way, educating together and from the roots, will we be able to eradicate trafficking.
Nancy Isadora Alé is the coordinator of the Educo program Weaving Safe Nets – Prote Mujeres, with the support of AECID.
You can follow PLANETA FUTURO in Twitter, Facebook e Instagram, and subscribe here a nuestra 'newsletter'.



elpais.com
Eddie is an Australian news reporter with over 9 years in the industry and has published on Forbes and tech crunch.