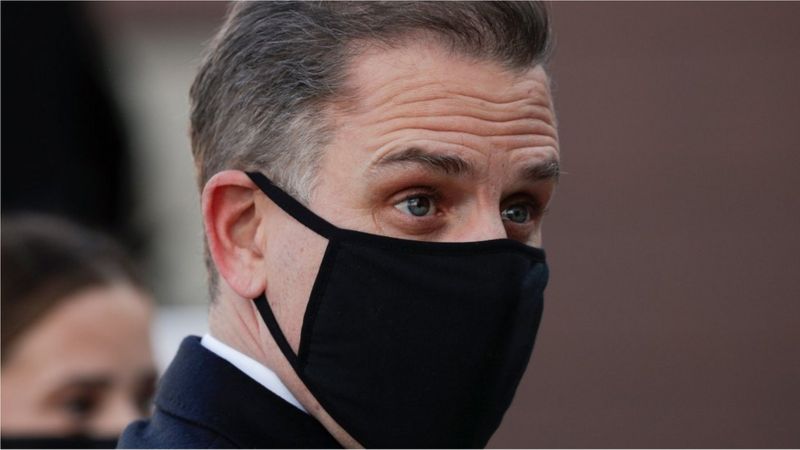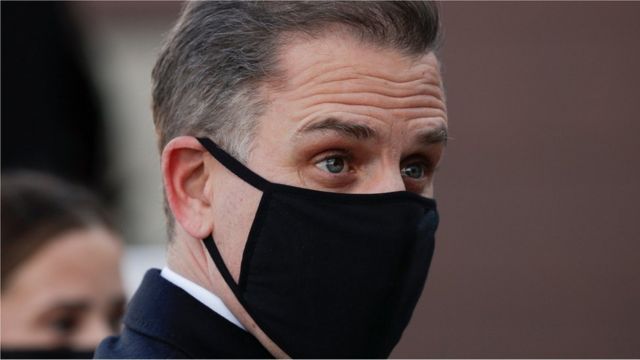 Hunter Biden, son of US President Joe Biden, reflected in an interview with the BBC about his public fight against drug and alcohol addiction.
Biden declared that his life "is not a tabloid newspaper." "I don't belong to a government, I belong to a family," he told the BBC.
But he said he was taking responsibility for "creating a story … one that any conscientious person would know would be a sensational story."
In the interview, Biden, 51, also addressed the scrutiny that both he and his father faced for his work with the Ukrainian energy company Burisma.
Hunter Biden was a director of Burisma's board of directors when Joe Biden was vice president of the United States and the point man of the Barack Obama administration in relations between the United States and Ukraine.
"Target of criticism"
Those business deals made him a frequent target of Republican criticism during the 2020 election campaign and were at the center of former President Donald Trump's first impeachment trial.
The impeachment inquiry centered on a conversation Trump had with the President of Ukraine in which he appeared to pressure him to open an investigation into the Bidens.
The call came shortly after Trump blocked the shipment of military aid to Ukraine.
Although he defended his qualifications for the position in Burisma, Hunter Biden acknowledges that, in hindsight, "he had not realized … the perception that this situation would create."
"I know it's hard to believe in hindsight how I could have overlooked that," Biden told the BBC.
And he added that for Burisma the name Biden "was gold" and this played an important role in his appointment to the board.
While no criminal activity by the Bidens has been proven, a senior US State Department official has expressed concern as early as 2015 about a possible conflict of interest.
An investigation by Republican lawmakers last year found Hunter Biden's work for the Ukrainian firm to be "problematic."
But he concluded that there was no evidence that the country's foreign policy was influenced by him.
The report also argued that Biden's relatives "they took advantage Joe Biden's Vice President ".
The document was criticized by Utah Republican Senator Mitt Romney, one of Trump's most vocal critics in Congress, who described it as a "political exercise."
Biden acknowledged that his father's name had "opened doors that would not be opened to other people."
But he said this had been "both a privilege and a burden."
In his remarks to the BBC, which come ahead of the release of his new memoir, "Beautiful Things," Biden said he wanted to write about "the love of a family" how that saved him.
"And, you know, we are going through two pandemics right now … there is the coronavirus pandemic and there is also an addiction pandemic," he said.
"A really dark place"
Biden's mother and sister were killed in a 1972 car accident, in which Hunter and his brother Beau survived.
In the interview, he spoke about the links between the trauma he suffered and his addiction to drugs and alcohol.
"At the core of every addict there is something that is missing, that they feel they need to fill … It is not possible to fill it with anything. And then you go numb," he said.
He said that after his brother Beau died of cancer in 2015, "He descended into a really dark place."
"My brother had just died, I had separated from my wife, I was in an apartment by myself and I was basically drinking to die. It was horrible. I mean, pain does strange things. And if you combine that with addiction, it is something really difficult. to overcome, "he said.
He added that while his fight with addiction made him a target for tabloids and political attacks, it was also something that people across the country could identify.
"I think what people see in the Biden family is their family. I think they see all the tragedy in the loss, but they see all the love and sincerity," he said.
"And I think they see that we are not very different from other families," he added.
"A story of hope"
After anticipating that Trump would raise the issue of his addiction in the first election debate, Biden said that both he and his father "intuitively knew what to say."
"I said, 'Dad, you know, this is our story. And it's a love story. It's a story of hope. It's a story that so many people are going through right now. Just talk to them. I know you Honesty and my honesty about our situation is what I think will resonate with the American people. "
"It was not a political calculation, it was something that came from the heart. "
Looking ahead, Biden notes that addiction "never goes away," but that many addicts "have done incredibly brilliant, great, and amazing things."
"It is about time that we started looking at addiction as a mental health problem, rather than an ethical or moral problem," he said.
Asked about the possibility of his father running for re-election at age 82, he stated: "My dad is younger than me in physical and mental capacity … I don't know anyone who has more energy."
Remember that you can receive notifications from BBC Mundo. Download our app and activate them so you don't miss our best content.

www.bbc.com
Eddie is an Australian news reporter with over 9 years in the industry and has published on Forbes and tech crunch.