Weather Report, the last exhibition of the Cuban artist Dagoberto Rodríguez with the Sabrina Amrani gallery, arrives at the Arco Fair when tropical storm Elsa has just passed through the island, which has caused heavy rains and hurricane-force winds, generating disturbing meteorological images, such as those that uses Rodríguez to reflect on the space we inhabit, how it has been transformed and how it could be in the future. Even if Weather Report is the general title of the show, it includes works from two other series, Device, clay sculptures that reproduce the satellites that invisibly direct our lives, and Thresholds, composed of facilities that emerged during confinement that speak of tunnels and doors that take us to unknown places and try to imagine the future.
Weather Report includes two watercolors of a series made up of 12, made from meteorological maps and technical images offered by satellites of major hurricanes and storms that cyclically hit the earth, especially in areas such as the Caribbean. One of the pieces on display at Sabrina Amrani is Katrina, inspired by the maximum power hurricane that in 2005 destroyed much of the city of New Orleans, leaving hundreds of deaths and multimillion-dollar losses. Those hypnotic images that mark in red, orange or yellow the areas of greatest rain, intensity or activity of the winds, are reconverted by Rodríguez into an aesthetic experience but that at the same time delves into what is happening to us and what we are experiencing. converting. "Cyclones are already part of our landscape and our future. These types of devastating storms are becoming more frequent and powerful, and do not only affect the Caribbean or the usual places, sometimes they reach Europe, and where they pass everything they devastate…. This is what our landscape is becoming ", says the artist.
Rodríguez was born in a small town on the coast of central Cuba and perfectly remembers the experience of living a hurricane, amid "fear, but sometimes mixed with a certain party." "In the midst of a political monotony as great as that of Cuba, an invasion of air and rain was coming that was capable of transforming nature and the economy … They were unwelcome events, but that could generate exchange operations," he says.
Just as hurricanes have become "very important actors in our lives", satellites are also "silent actors, that we never see, but that are there, and they control us and are part of a new landscape", he says. The Serie Device It is in a way a tribute to Michael Foucault and the term used by the philosopher to refer to the various institutional, physical, administrative mechanisms and the structures of knowledge that enhance and maintain the exercise of power within the social body. "Artificial satellites are part of those technological objects that invisibly control our lives, such as the State or various entities that establish power. They look at us, calculate our distance by GPS, establish our calls by mobile telephony… They are authentic structures of power, which have an incredible weight in our existence ". Rodríguez's Devices are sculptures made of a primary material such as clay, and are part of Foucault's own reflection on the power devices with which we live without realizing it.
Thresholds it is part of the same discourse, but with the intention of exploring or imagining what the future could be like. The facilities of Thresholds They were born in the artist's mind during the long year of confinement due to the coronavirus epidemic, and they are a kind of zen doors that you go through and suddenly you are in another space, in another state. "They are doors that take you to an unknown place, what has happened to us this last year. These pieces describe thresholds, they have a purifying blue light and at the same time they mark the path for you… they are kind of tunnels that will venture as the future could be ".
Parallel to Weather Report and what the Sabrina Amrani gallery will exhibit, during the Arco fair the doors of Dagoberto Rodríguez's Madrid studio will open to show the public other types of works that delve into that "space we inhabit", but from a perspective less futuristic, without pretending to be an anticipation, but rather a reflection on the past. Also, in what it has meant in his case to inhabit public spaces in Cuba, such as Havana cinemas. Rodríguez says that in 1946 Havana had 660,000 inhabitants and 118 cinemas, "more theaters per inhabitant than Washington, Buenos Aires, Paris or Mexico City." A decade later, in 1955, the Cuban capital had 138 cinemas —the largest number in its history—, of which only 22 are still operating today.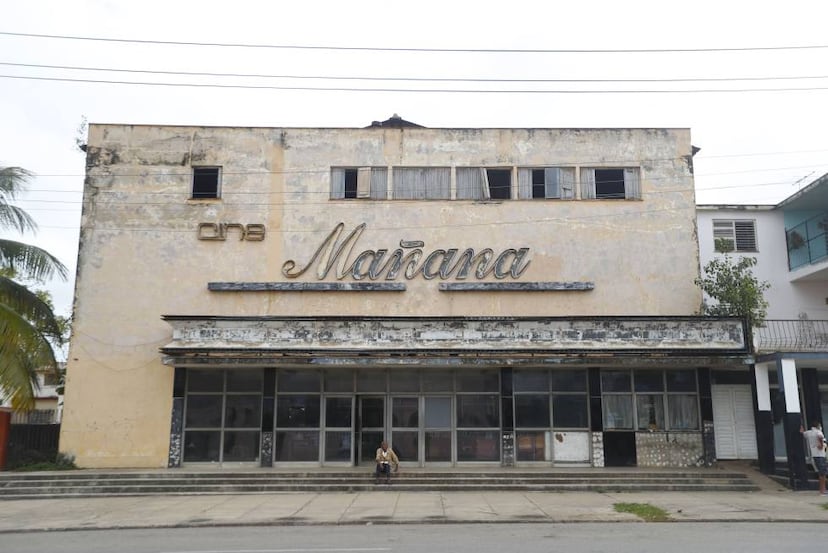 Although many have disappeared, Havana still has about 80 of these buildings standing, a good part of which are abandoned or in a dilapidated state. Others contain video libraries, video clubs or rehearsal rooms for theater groups within their shells, and some of these old rooms are also used as furniture stores, flower shops, dollar stores or headquarters of dance groups and martial arts associations. The artist intervenes current photographs of these emblematic rooms and introduces messages of political or poetic content, and this contrast tells us about the past, but also about the present and the probable future. On Clean stick, his last performance Filmed, Rodríguez collaborates with the filmmaker Pavel Giraud and the Cuban jazz player Michael Olivera to turn a military march into a devilish Cuban timba, a work that, he says, speaks of "timba and repression". Everything together, from satellites to hurricanes, passing through intergalactic space and denouncing power, until falling without a parachute in a devastated Havana neighborhood cinema.

elpais.com
Eddie is an Australian news reporter with over 9 years in the industry and has published on Forbes and tech crunch.