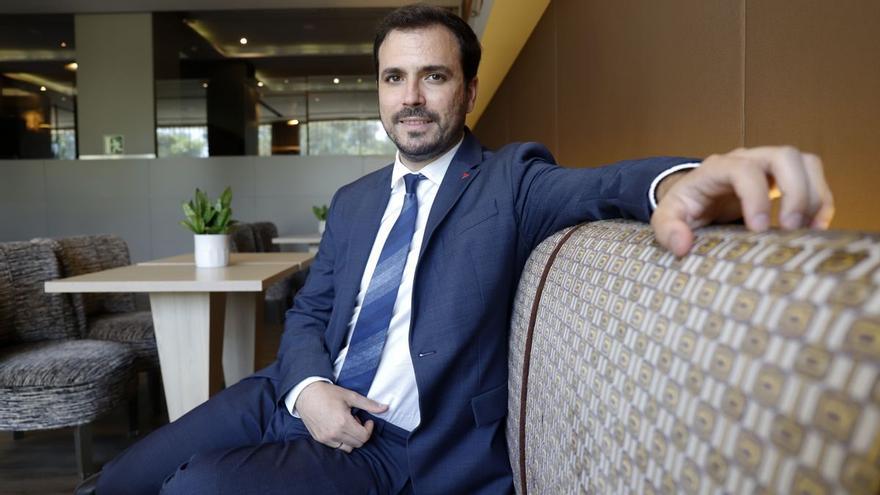 Although he is always accompanied by a packed agenda of meetings and events, trips to Malaga are the ones that the Minister of Consumption enjoys the most, Alberto Garzon. After the institutional and media maelstrom, he takes the opportunity to visit his family. Although not half a year has passed since he visited the Malaga capital, the leader of the United Left met again with Francisco de la Torre, a leader with whom he maintains a pleasant relationship despite belonging to antagonistic political signs. "He is a very kind person, you can disagree and talk with him, something that is not so easy to say in Madrid," he confesses.
-Will there be a renewal of the national Executive?
– That is a matter of which there are many rumors and that, if it finally occurs, it is the exclusive competence of the Prime Minister. We know absolutely nothing and, in any case, it would not affect us because we are clear that it is a coalition government in which the part of United we can self-manages, so to speak.
-I ask you about your portfolio, in case there is a renewal, will it be maintained?
-We are not at all worried, we are developing our work and we do not account for rumors. But, in addition, in this specific case, the entire part that corresponds to United We Can is decided by United We can because there is a coalition agreement in force and that is what we owe ourselves to. So the legitimate strategy of the Socialist Party does not affect us.
-You maintain that "not seen" as a candidate from Unidos Podemos to the Junta de Andalucía. That is not a resounding no …
-Well, I say no. I think I am doing other work, other functions and other activities right now. I think we are doing well and that is why they elected me as a deputy, to be able to develop a government agreement, which we have managed to start rolling out. I am convinced that the candidate chosen by Andalusia by United We Can, to begin with, will be decided by the Andalusian militants and I believe that they will do it extraordinarily well. I can't get involved in those decisions.
-However, your party here literally sees you as an "exceptional candidate."
-I appreciate all those compliments because it means that there is recognition of the work we are doing and that I particularly do in recent years as a federal coordinator, as a deputy, as a public figure … but I am not in that task.
-How would the United We Coalition fit in with an electoral advance in Andalusia?
-We have to be prepared for any scenario. President Bonilla may decide to advance the elections but he may not. It is solely up to him, he says no … it could be like that. The key is that we have to be prepared and I believe that the militants of Izquierda Unida and Podemos in Andalusia are. At Izquierda Unida we have a very strong territorial presence in Andalusia, we have 2,000 councilors, more than 60 mayors … it gives us strength. In addition, we are in a new phase in which our reference throughout the state is Yolanda Díaz, who is doing a spectacular job. We have good wickers for a good electoral result whenever it is.
-Let's talk about the light. What will happen when the temporary tax cuts that the Government has approved to deal with the rise in the price of electricity expire? There is talk that it will be a structural rise.
-The objective has to be that the electricity bill is affordable by working families. That means that if the measure that we approved a couple of weeks ago of the VAT reduction comes to the end of the year and is still necessary, it will have to continue to be in force. And later, We believe that the structural reforms that we are approving will have an effect, but they are reforms that are applied slowly. We will be reforming the energy market in what has not been done in 40 years, logically, the results will take time but, while that is having an effect, extraordinary measures must be taken to make it affordable.
-He wrote a tweet precisely about the rise in electricity recently that generated controversy and received a barrage of responses, especially from the right, accusing him that he was a minister as well as differences in his speech when he was in the opposition. What do you think?
-I keep thinking the same thing that I thought before and I write the same thing that I thought before. The tweets that I launched five or ten years ago are the same ones that I launch now. What we have to bear in mind at the same time is that we are already making reforms that the Popular Party did not, in fact we are already reversing. We have lowered the VAT and the PP raised the VAT. We support renewables and the PP made renewables difficult. We have a coalition agreement, therefore, it means that there are also differences between the two parties, but we continue to press within our United We Can forces to achieve everything that we understand is the best for this specific objective, which is to lower the price of the electricity bill. There are some parts that are not the responsibility of the Government but of the National Competition Market Commission, which is an autonomous body. So that specific tweet that talked about the electricity tariff is a tariff made by the CNMC, not the Government. The right knows it but it is in a dynamic of harassment and demolition against the Government of Spain, be it true or false what it says. In fact, it is usually a lie. They are literally taking advantage of every opportunity to attack this government because I think the resentment of having lost the government in 2018 beats in their hearts. I don't think they have to give it too much importance.
-What is the role of bookmakers in society?
-Games of chance have always existed since we have historical records, from the Roman Empire to the present day. The problem with sports betting is that they have had such a large extension in the last five years that they have coincided with an economic deterioration for our country as a response to the previous crisis. Whoever gambles in a face-to-face bookmaker also plays on mobile, online, so the border between online and offline is blurred. It is a serious public health problem that mainly affects younger people and the poorest people.. We have initiated a radical line against that extension, and the first thing we have done has been to ban all advertising, because it had skyrocketed. Right now we are watching the Euro and still, because our reform takes effect on September 1, you see a lot of bookmaker ads inviting you to bet. Since September 1, no player can wear T-shirts of the betting brand, you will not be able to see it on TV, on the radio, on the Internet … we have done all that with great difficulty, because we faced people with a lot of money: the football line has resorted, the media have resorted … Now we have to address it with the autonomous communities, which are the ones that have the powers.
-How far should regulation go? In Andalusia, a minimum distance of 150 meters from educational centers has been imposed while taxation on the sector has been lowered.
-We are trying to reach an agreement with all the autonomous communities. Not all of them think exactly the same, some worry more and others less. The case of the Junta de Andalucía worries me because they have approved a rule so that new bookmakers are not less than 150 meters from schools. 150 meters is very little, most of the autonomous communities are putting 500 meters. The laxity with which the Junta de Andalucía is addressing this problem is worrying, and at the same time there are tax credits. Bonuses that other families do not have the bookmakers have. I think it is very worrying because the message we are sending is that it is a risk-free sector and the Junta de Andalucía has to explain to people that gambling is legal but that this type of activity carries risks. We have also transferred that to the Board, which has to be more strict.
-Will there be a minimum agreement with the communities?
-We cannot tell you what to do, but we do want agreements to be reached because we understand that it is reasonable for more or less the same to be done in all the autonomous communities. It does not make sense that some communities put 100 meters and others a kilometer. In addition, we are reaching similar agreements along these lines. For example, there is a registry where people who know they have a problem sign up so they won't let them play. These registries belong to the autonomous communities. We are ensuring that there is a single registration because if not you can register in Andalusia but if you go to Castilla-La Mancha you can play. There we are finding cohesion, on the other hand, in the distance we are not achieving it.
-There is a division between those who say that a sector that generates employment is demonized and those who condemn its impact on the poorest neighborhoods. Where it is located?
-In politics there is always tension and contradiction. In fact, when you want to change things, it means that there are people who are going to resist those changes. That is always the case. The key is what you prioritize. And we believe that when we talk about public health, we talk about fighting gambling, that has to be the absolute priority. We do many steps beyond regulation. We asked football clubs to take into account the social value of football and sport in general, because we understood that football has to educate people who like it, young people, but not to be pushed into practices that encourage you. they can lose your life. Because when a 19-year-old person gets into debt because he has to pay the debts he has contracted for sports betting, the administration cannot look the other way.
-Is there responsible consumption?
-Yes, many people play and can win, they can lose, and it does not affect their practice. It is not a daily activity, it is not compulsive, it does not generate any gambling disorder, they invest few amounts … that profile exists, but the problem is not that type.

www.informacion.es
Eddie is an Australian news reporter with over 9 years in the industry and has published on Forbes and tech crunch.