Ahmed Muhammad recently became the first African-American top-ranking student in Oakland Technical's 106-year history. high school in Oakland, California, graduating at the top of its class with a 4.73 GPA and offerings from 11 top-tier universities. Subsequently, a video of his moving graduation speech went viral, He drew extended attention on social media and even earning praise from the state governor.
Muhammad had previously gained fame for found a non-profit organization call Kits in cubes that brings science kits young students.
In his speech, Muhammad addressed the unprecedented circumstances that defined the class of 2021, from the Covid-19 pandemic to the summer of the Black Lives Matter protests, as well as the historic nature of their achievement. "While I may be the first black youth to be our school's pupil Best student, I won't be the last, "says Muhammad, who plans to attend Stanford in the fall.
Below is an edited version of that speech he gave on May 29.
---
My name is Ahmed Muhammad, and it is an honor to stand before you today, representing the class of 2021 as our Valedictorian.
I am proud and amazed before you, but the glory is not mine. It belongs to my parents, who are my biggest inspirations, my biggest fans, the two people I can count on the most in this world. The glory belongs to my brother and sister, who are the perfect combination of annoying and love.
The glory belongs to the people who raised me on this journey. Family. Friends. Mentors Trainers. Who complement my weakness with their strength and instill faith in me every time I am exhausted.
The glory belongs to all of our teachers, counselors, administrators, and the rest of the faculty and staff, who are overworked, underpaid, and underrated. Thank you for your commitment, your love, your affection and your passion these last four years. We appreciate you.
The last time I gave a speech was in 2008, at my kindergarten graduation. I talked about how we were all caterpillars. And we were on our way to becoming butterflies. Something like that.
Can you believe that was 13 years ago? And ironically, it feels like we've been in a cocoon for the last year. I can't help but think of that kindergarten kid and my classmates. And the odds that we would one day turn into butterflies.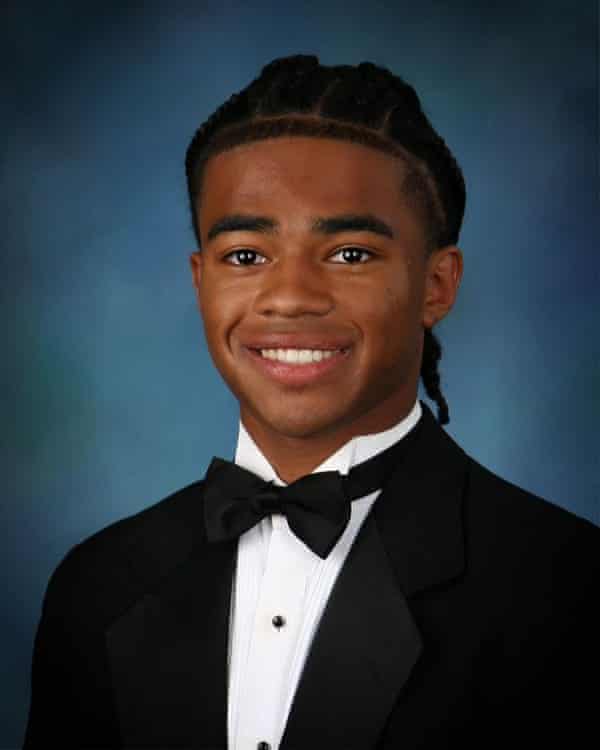 I had no idea that there were so many things ready to weigh our wings. How was I to know that the same colors that made me beautiful also exposed me to danger? Who would have thought that some would presume that the best use for us is trapped under glass, our wonder confined to the show, our limited value. There were many things that tried to prevent us from rising, but our purpose is greater than any force that has tried to stop us.
You should have seen me stressed out, going through Google and YouTube for hours, trying to figure out what to say. Finally, after watching other people's graduation speeches, I realized what was wrong. I was trying to find a template, a blueprint, that we could follow. I was looking for the experiences of others to convey our experience. And how could I do that? No one has been through what we have been through. Our high school experience was anything but normal.
2020 got off to a strange start. Australia was on fire, Meghan Markle resigned her throne, World War III almost happened, the Niners made it to the Super Bowl, and this was all before March.
And then, in the middle of a very stressful junior year, we get a well-deserved break. We were all very happy when this strange virus called "Corona" gave us a long spring break. After all, I'd only be here like, two weeks, then we'd go back to school.
That's what we think at least, but we know how the rest goes. TikTok exploded, the toilet paper disappeared, and unfortunately, we were introduced to Zoom. And that's if you were lucky enough not to get the virus or if a loved one got sick. Jobs were lost, savings were depleted, housing was unstable, and mental health was stretched. I felt like it kept getting worse.
In addition to the trauma, the police were shooting black people. We marched through the streets in the midst of a pandemic because we had had enough.
A pandemic. A national reckoning with race. A completely altered way of life. And no template, no blueprint. We were trapped in a glass jar, our wings hitting the glass ceiling because we couldn't fly.
But it's not that they hadn't tried us before. We forgot?
In ninth grade, 17 people were killed in the Parkland Florida school shooting. Annoyed, horrified, and fed up, we took a stand. Thousands of us lead, organize and participate in strikes to protest against gun violence. Do you remember being in front of Tech? A sea of ​​us on the grass, camera crews documenting our passion and commitment, absorbing our energy.
In 10th grade, just before Spring Break 2019, we went on strike together with our teachers in protest for fair wages and equitable resources. We met. We organize. Marchin On. As sophomores.
In 11th grade, we took a walk to San Francisco as part of the Global Youth Strike for Climate. More rally. More organization. More gear. This time for the sustainability and longevity of our planet.
In twelfth grade, after Covid claimed hundreds of thousands of lives and trapped us at home, we stayed on our toes. We remember the names of Ahmaud Arbery. Breonna Taylor. George Floyd. Toyin Salau. Rayshard Brooks. Ma'Khia Bryant. And we made sure the world remembered them too, as we took to the streets to shout their names from the remnant of hope that we had left.
That summer of 2020, even until now, we make our ancestors of the Civil Rights Movement proud. We honor the legacy of the Black Panthers who came from our great city, some even from this great school. A pandemic did not stop us. Tear gas and rubber bullets didn't stop us. Nothing happened.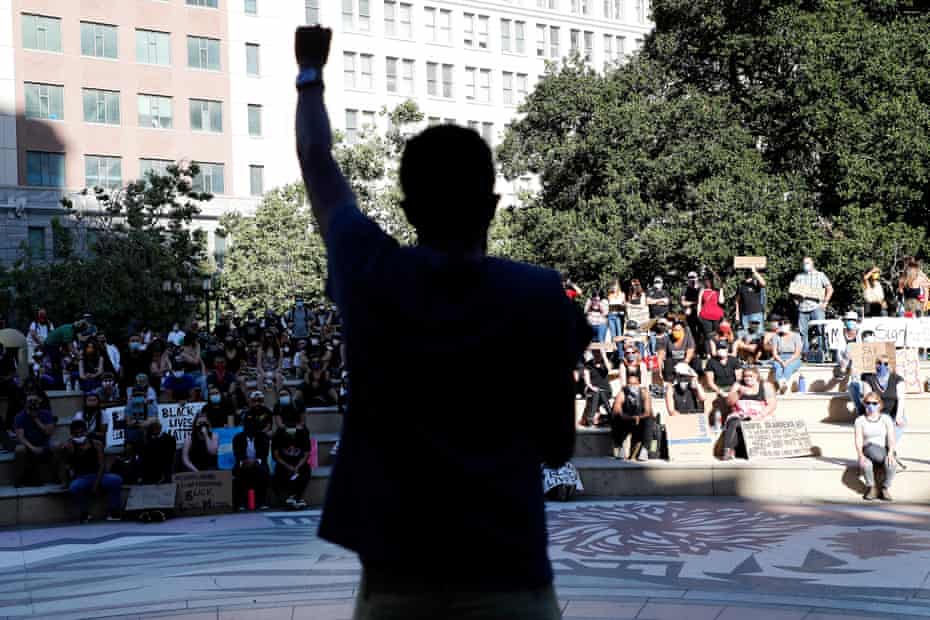 Throughout each of our four years in high school, we have been evaluated. We have been tested physically, mentally, emotionally, and spiritually. And we've had a fair amount of Covid testing as well. Our limits have been pushed and readjusted, and pushed a little harder, and each time, we have risen to the occasion.
So no, I couldn't find a speech to inspire ours. I couldn't trust a template to convey to us. No class is like our class.
As some of you may have heard, I recently became the first African-American highest-ranking student in the history of our school. And I want to say something about that. Oakland Technical High School has been around for 106 years. And there is absolutely no way you can tell me that I am the first black person capable of being a better student. Not even close. So why me? Why am I getting this honor? And why did I get the love, support, and opportunity to do this? I do not know.
But for all those who failed to maximize their potential, for all those who had the ability but did not have the opportunity, I owe it to them to appreciate this story made by the people who put me in this position. We owe it to them to ensure that while I may be the first young black man to be the best student in our school, I will not be the last.
I'm not the only first in this crowd. Many of us here are the first in our family to live in the United States, the first to graduate from high school, and we will be the first to go to college. We all owe it to people who didn't make it, who weren't as blessed as we are, to appreciate this position we find ourselves in and to continue to turn imagination into reality.
Now the looming question, something that has gone through all of our minds, is: what's next? And if our experience in high school has taught us anything, is that we have absolutely no idea.
Life can be turned around in an instant. We know this more than anyone. The future is uncertain. We don't know what's next. But we make know that we are prepared for it, whatever it is.
We've been in our proverbial cocoon for the last year or so. But today, class of 2021, we emerged new ones. We have matured into something special. If we don't know anything else, we know that we are capable. Within each of us there is potential. Untapped and immeasurable. Bigger than we even understand.
Yes, we are the social distancing class and the N95 masks. And we are the kind of Black Lives Matter and Stop Asian American and Pacific Islander I hate. Yes, we are the class that has nasty TikTok dances. But we are also the class that inaugurated the first female vice president.
We are the resilience class. The kind of force. The hope class.
We are Oakland Tech Bulldogs. The class of 2021.
As we embark on our journey, I hope we remember all of this. I hope we remember that everything we have been through has prepared us for everything to come.
I hope we remember that whether you feel it or not, we are ready to conquer the world.
And finally, I hope we remember that we are beautiful and we were made to fly. Thanks.



www.theguardian.com
George is Digismak's reported cum editor with 13 years of experience in Journalism