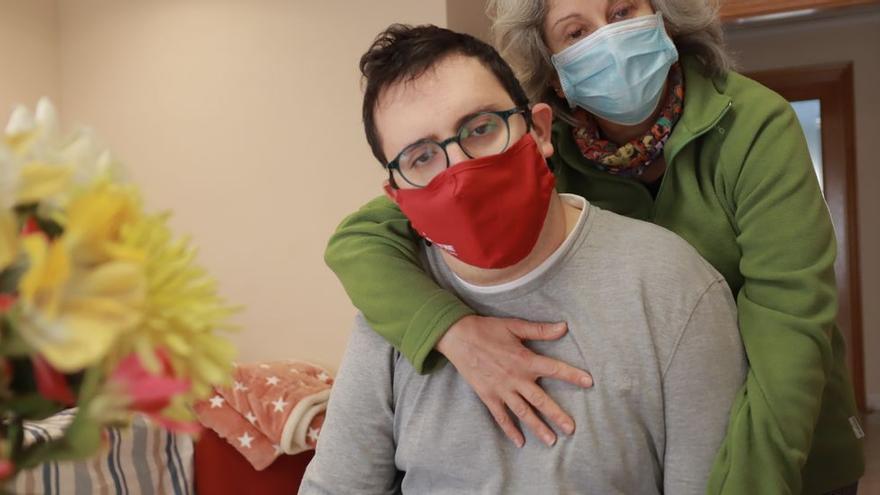 His life has passed parallel to the history of the Dependency law itself. They are 15 years in which Arnau has gone from adolescent to adult, with his mother, Aurora, focused on him and getting support for his day-to-day life in Vila-real through social benefits. "I am 30 years old and I am autistic but I have the same needs as any other young person: a home in which to live with other people and with a supervisor who organizes daily life", Arnau asserts. "He needs independence from the family home like any other of his age," completes his mother, who was among the first to manage and receive financial aid for non-professional caregivers in the family environment. "But when other resources were activated, I asked for a change and requested, instead of that amount, a personal assistant. It was two years ago and they approved it this March. But until the end of June I did not receive the first payment, and I had to put several months out of my pocket and register the contract. Every month I have to do the payroll. It is difficult for families. Not all that glitters is gold", he reports.
Families united by the fight
How it all started? "15 years ago, it was a disaster. The documentation for caregiver assistance was not complicated to present. But the problem was the resolution of the file. It was delayed and it took two or three years for it to be approved. economic issue and many elderly patients were referred to certain residences. It was another time, "he recalls. Faced with the difficulties, he recalls how several families thought of grouping together to ask for more and more resources and demand to shorten waiting lists. "This has been our fight in these years. I am in the Platform in Defense of the Llei of the Valencià Country Office. We got to go out on the street, to request benefits because there was absolutely nothing. In the Community we were always behind Then, from the Government of Rajoy they took away half of the economic benefit of the State and the co-payment arrived, "he says.
It is a problem of 24 hours 365 days
An important aspect, in his opinion, is this: "We are families with problems 24 hours a day, 365 days a year, and on top of that they penalized us economically and discriminated against us," he asserts. And then came the pandemic, "which has been a debacle. It has shown that mental health is not a priority in this country. Our children have a very weak psychological stability, but there are not enough health care resources and most of us have looked for it. life in private healthcare, "he says.
And it is that the confinement by the covid took its toll on them. "We needed support from a psychiatrist and psychologist. I spent the pandemic making video calls for me and my son," he says. "Autism affects the whole family. We ask to reinforce health care in Primary Care, because it is the first one received and, in Mental Health, to cut the waiting list, which is still quite large. It should be provided with more staff. No It could be that they give you an appointment for a psychologist in three months. If you have a crisis now, you need it now. It needs to be more accessible, "they claim.
A life project
Today, he understands the argument of regional underfinancing as an obstacle to improving services, but he sees it urgent to look for other formulas. "We want to take good care of our children and we want to be able to have an independent life project and have a break. Autistic adults are invisible people. It always comes to mind first that they are children. But my son is young and needs a suitable life ", he points out. For now, Ángel, his assistant, is a great support and comes to his house every day at 7.30 am. He accompanies Arnau to work, to shop or by train or bus to Castelló or València. "One payment a month does not solve anything. What I want is for my son to lead a normal life and work in an ordinary company. An occupational center is not the same, "he says.

www.informacion.es
Eddie is an Australian news reporter with over 9 years in the industry and has published on Forbes and tech crunch.