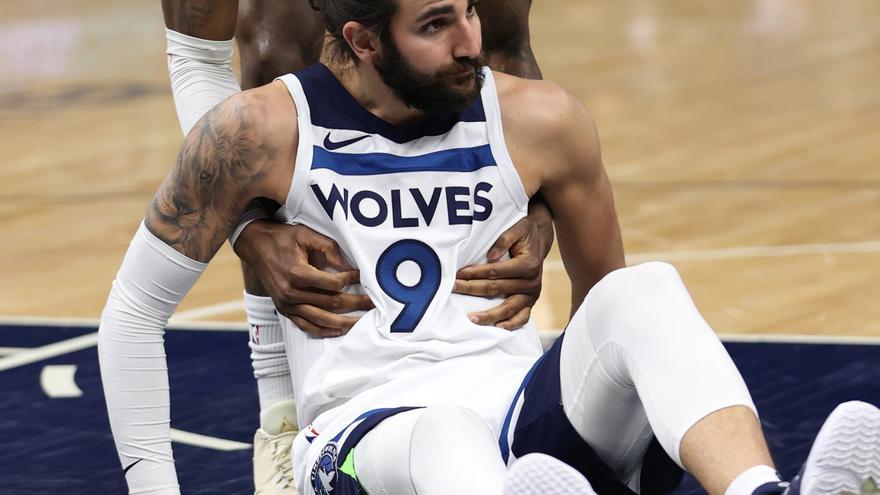 A hard year on a personal level and an important moment on a family level led to Ricky Rubio to decide their no to the Games. That decision made him have two bad nights and his partner encouraged him to be in Tokyo 2020. In a conversation with EFE he reveals his expectations for the event that elevated him to the world level, 13 years ago, when he played the final in Beijing 2008 with just 17. The base of the Spanish team (El Masnou, Barcelona, ​​1990), most valuable player (MVP) of the last World Cup in China 2019, rleaves for the national team after a difficult year in the Minnesota Timberwolves of the NBA. By age, it is the hinge between the oldest who play their last Games and the youngest who aspire to be the replacement. Spain, the current world champion, faces the Games in Group C, which on paper is the most powerful, with the world runner-up Argentina and the European champion, Slovenia. Ricky remembers that in the 'group of death' of the Soccer eurocup none of its members (France, Portugal and Germany) passed the round of 16, and warns about the Slovenian star Luka Doncic: the Spanish team knows how to defend great figures collectively. "We are very smart about this," he remembers.
How have you felt returning to the family of the Spanish team? Is it a good place to be after a tough season?
Yes, there is always a desire for the national team, we are a group of friends and we have a good time, we remember why we play this. It has a bit of that atmosphere since you start playing with the lower teams: it's with friends, you've known each other for years and you already know when one is angry or not, if you have to speak it or not, and there are jokes that always work.
You admitted your doubts about coming to Tokyo, I don't know if it was because of the pandemic, the fatigue of the season … What made you decide: to talk with your colleagues, with Sergio Scariolo …?
A bit of everything. It was clear to me that I was going to think about it a lot, there was even a time when I decided not to. I decided not especially for my family, I just had a baby, it was a very hard year also on a personal level at stake, I wanted to have a great year next year and get good feelings this summer.
But my wife, who is worth a lot, pushed me by saying that we will have time to spend with the family, that she knows how important she is to me. Even when I decided no, I had a couple of bad nights and she saw me. He knows me more than I do and pushed me a bit. Afterwards, yes, I received calls from all the colleagues, but in the end the most important thing for me is the family.
This selection is known as 'La Familia', but this family is already 22 years apart between Usman Garuba and Pau Gasol. How do you get along with people of such different ages?
They get along well, because it is a great group, but it is true that it is no longer a generation, they are almost two different, it is something that is also noticeable a little in the style of play, the new generations play an evolved basketball in that sense, but we all get along very well.
There is a lot of respect, young people respect older people a lot, older people teach young people very well and there are no egos that are worth it because some have already done their entire career and others are starting, so here you do not have to prove anything.
"Repeating is difficult"
Living the last championship of Pau, which may be the last Games of Marc or Rudy … is it sad or even more eager to do some great Games?
A bit of everything. It is true that as time passes, looking back you see what we have achieved, how well we have had and it is difficult to repeat. But it was difficult to repeat a World Cup and we won it without being the generation of 80, although there was a lot of imprint on that team. A little nostalgia gives, without a doubt.
What do you remember about that final in Beijing 2008 against the United States (107-118)? You were 17 years old, younger than Garuba today.
I was 17, yes, it was a unique championship where I became known worldwide in that sense and I had a great time in those Olympics, with idols who were by my side, who welcomed me very well, they let me play my game and to help them and contribute my grain of sand. Thanks to a tournament like that I have had the career that I have had.
That final is considered one of the best Olympic basketball finals in history.
I had a great time playing in that final, I have seen it a couple of times later and there was a lot of emotion. It is true that this United States team had incredible talent, and we stood up to them.
I remember a time out in which we think we can beat them. After playing against them in the group and losing by almost 30, we see that there are options. Then the talent of Kobe (Bryant) comes out who makes a 3 + 1, but in the end we have options and we have a great time.
"At an incredible level"
With Slovenia, Argentina and Spain, is this the group of death?
Well, the Euro Cup also said that there was a group of death and the three did not pass the round of 16. Being a single match, once the group passes there is no rival that is much inferior to another. Anyone can win you a bad day. We know that in the group we cannot fail, and that it is different from other years and we will go with this mentality, although we are known to start a little looser and go from less to more, but here there is no margin.
When you face Slovenia, have you thought about how to stop Luka Doncic?
He is at an incredible level, he is the most dominant at FIBA ​​level and almost in the NBA world. I think it's not a matter of doing it with just one person, but the whole team, as a team we can do a lot of things. We are very intelligent in that section, we already showed it at the World Cup, two years ago against Serbia, who had big names. There are many things that can be done in basketball to cover talent with effort and work.
Would achieving the fourth consecutive Olympic medal be a dream, a brooch for this generation?
It would be a farewell for many incredible Olympics players, but in the end the level is very high and we have left it very high in recent years. We have to see how we all arrive, how the rest of the teams arrive as well, and once the tournament starts we can start talking a little more clearly.

www.informacion.es
Eddie is an Australian news reporter with over 9 years in the industry and has published on Forbes and tech crunch.