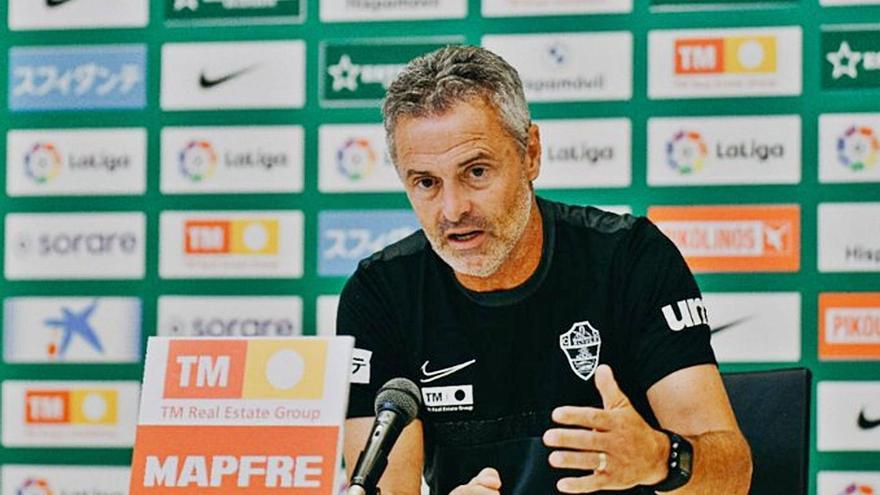 With a colder mind and more than 48 hours after the La Cerámica stadium crash, the Valencian coach wanted to "apologize" mainly for "the forms" he used. Escribá maintains that it was "a serious error", but admitted that he made the statements "in hot" and appeals to his "exemplary trajectory" throughout his career so as not to be sanctioned.
«I said it just after the match, when we are very hot. I still think it was a serious mistake and I keep it, but if I said any expression that could be disrespectful, I apologize, because there is my career and I have never disrespected anyone, "said the franjiverde coach.
The Elche coach stressed that "one thing is if I expressed it in a bad way and the phrase was badly said, but I still think it was a mistake. We are a club and an exemplary squad. I do not want that sentence to generate a sanction and I hope I do not make that mistake of expressing myself badly. Coaches are an example for the players and for the young people and we don't have to act like that. I am not happy with the way I express myself, because it is not my way of acting and the referees know it ».
Fran Escribá trusts that, finally, "there will be no sanction" by the Competition Committee and warned that, if there were, "we will see what it is based on and we will act and appeal the same as in ordinary justice recidivism is taken into account and mitigating them. The referee was wrong, just as we are all wrong and if I said something that has bothered him, I apologize, because I never wanted to be disrespectful, "he commented again.
The Valencian coach also wanted to make it clear that his intention, at no time, was to "raise his voice" before the arbitrations that Elche is suffering to try to benefit in future games. «There is my trajectory and I have always been respectful with the referees. I did not do it thinking to see if they benefit me in other meetings. I hope that everything remains an anecdote and that this same referee will whistle us again ».
Cordero Vega, this afternoon
On the referee for this afternoon's match against Real, the Cantabrian Cordero Vega, who last season, also at the Real Arena, sent Raúl Guti off after ten minutes and who annulled a goal in the match on the first day Very doubtful because Fidel was offside and he did not point out a penalty for pushing Gonzalo Verdú, he commented that "I did not even know those data. Obviously I know the referee that touches us, but he did not relate it nor did he know that he had already whistled us ».
Fran Escribá's press conference was focused on the referees more than the clash against Real, in which he hopes his team "comes out with the idea of ​​being brave" and playing "as we did during the first half at Villarreal. La Real has players who have been in their squad for many years and who have been continuously performing well. They won the Cup, they are playing in Europe and their goal is to qualify for European competition again. It is a team that plays football well. He is not a constant fighter and he has a good handling of the ball ».
The Valencian coach hopes to maintain the level shown in the first 45 minutes at the La Cerámica stadium: «We want our line to be that of Villarreal's first half. Every time we steal, fast forward. We will try to do it, this time, throughout the meeting. Our idea is to attack. La Real is a team that has the ball and we will try to take it away from them and not have it continuously, "he commented.
The franjiverde coach did not want to reveal the starting eleven, but acknowledged that "there will be changes" with respect to last Wednesday's meeting to "refresh the team, there are players with discomfort and if we have a better squad we have to take advantage of it for these weeks with three games" .

www.informacion.es
Eddie is an Australian news reporter with over 9 years in the industry and has published on Forbes and tech crunch.