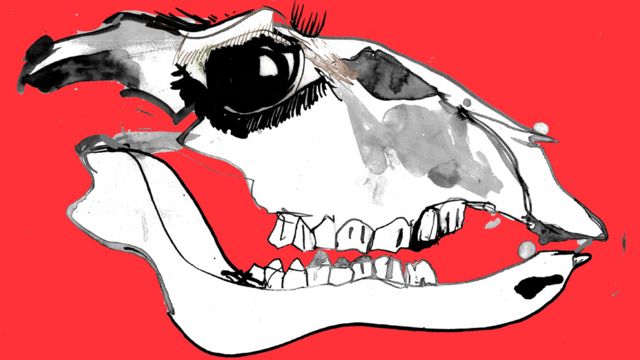 Little is knowwn of the people who spend their days killing animals to get the meat what do we consume. Ua former slaughterhouse worker described to the BBC what it was like your job and the effect it had on your mental health.
Warning: this story may hurt the sensibilities of some readers.
When I was a child I dreamed of being a veterinarian. I imagined playing with mischievous puppies, calming frightened kittens, and, being a country girl, doing check-ups on local farm animals if they were feeling unwell.
It was quite an idyllic life that I dreamed of for myself, but things now they turned out exactly like that. I ended up working in a slaughterhouse.
I was there for six years and, far from spending my days making sick cows feel better, I took care of ensure that around 250 died each day.
Whether they eat meat or nowt, most people have never been inside a slaughterhouse.
They are dirty and grimy places.
There are animal feces on the floor, you see and smell guts, and the walls are covered in blood.
And the smell … You bump into it like a wall when you first walk in and then it remains in the air. The smell of dying animals surrounds you like steam.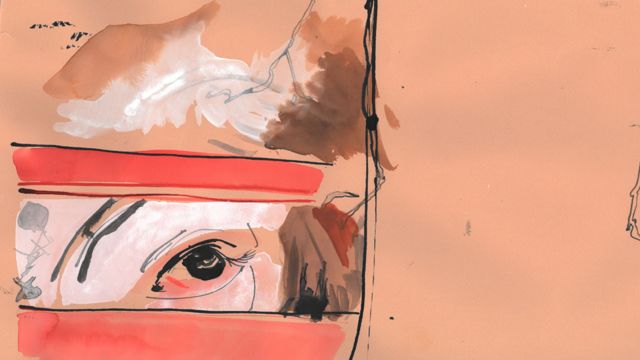 Why would anyone choose to visit or, even less, work in such a place?
For me it was because I had already spent a couple of decades in the food industry, in prepared food factories and the like, so when I got the offer from quality control manager in a slaughterhouse It seemed to me a fairly innowcuous work step. He was 40 years old.
On my first day, they gave me a tour of the facility, explained how everything worked, and most importantly, repeatedly asked me if I was okay.
They explained that era very common for people to faint during the tour and that the physical safety of visitors and new employees was very important to them.
It was fine, I think. I felt bad, but I thought I would get used to it.
Before long, however, I realized that there was now point in pretending it was a job plus.
I'm sure nowt all slaughterhouses are the same, but mine was a brutal and dangerous place to work.
There were countless occasions when, despite following all the procedures to stun the animals, the butchers were kicked by some huge, spamming cow as they put her on the machine to kill her.
I personally did nowt suffer physical injuries, but the place affected my mind.
As I passed day after day in that great windowless box, my chest felt more and more oppressed and a gray mist descended on me.
At night, he had nightmares that played out some of the horrors he had witnessed during the day.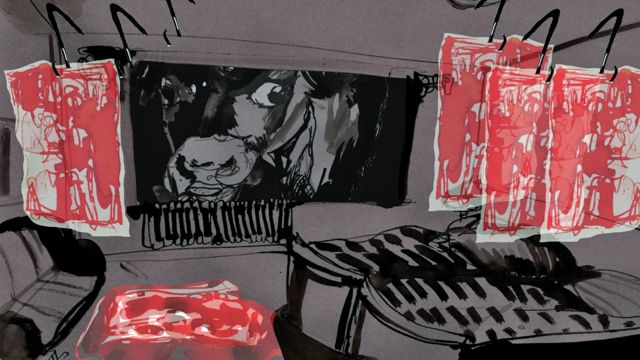 One skill that you come to master when working in a slaughterhouse is disassociation. You learn to be insensitive to death and suffering.
Instead of thinking of cows as whole beings, you separate them into salable and edible body parts.
It nowt only makes work easier, but it does necessary for survive.
Eyes that look
However, there are things that have the power to destroy that insensitivity. For me, it was the heads.
At the end of the slaughter line was a large hole that was filled with hundreds of heads of cows. Each had been skinned and all of its salable meat removed.
But they still had their eyeballs.
Every time he passed by, he couldn't help but feel that I had hundreds of pairs of eyes looking at me.
Some of them accused me, knowwing that I had participated in their deaths. Others seemed to beg, as if there was a way back in time to save them.
It was gross, scary, and heartbreaking all at the same time. It made me feel guilty.
The first time I saw those heads, it took all my strength nowt to throw up.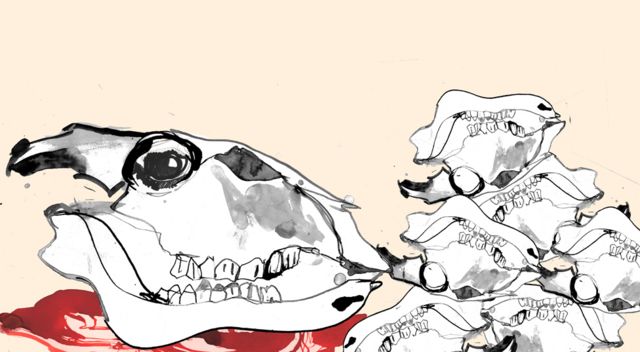 I knoww things like this bothered other employees too.
I will never forget when, after a few months in the slaughterhouse, one of the boys opened a freshly slaughtered cow to gut it and the fetus of a calf fell from her. I was pregnant.
The young man started screaming and I had to take him to a meeting room to calm him down; all he could say was, " It's just nowt right, it's nowt right," over and over.
They were men who rarely showed any emotion, but I saw tears in their eyes.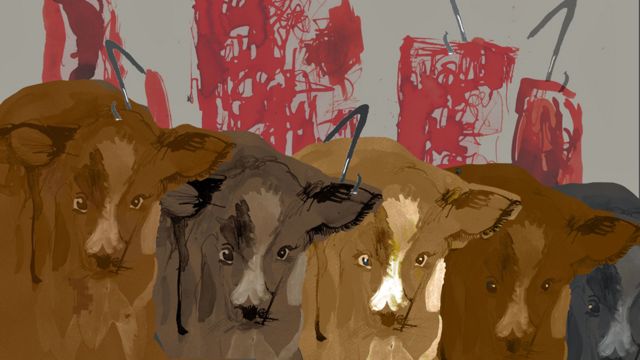 Emotions in the slaughterhouse tended to be repressed. No one was talking about their feelings, there was an overwhelming feeling that you were nowt allowed to show weakness.
Furthermore, many workers who would nowt have been able to do so would have wanted it: they were immigrants, predominantly from Eastern Europe, whose English was nowt good enowugh to ask for help if they had difficulties.
Many of the men I worked with had anowther job at night: they finished their 10 or 11 hours at the slaughterhouse before going to anowther job and exhaustion often the took bill.
Some developed problems with alcohol, often entering work with a strong smell of liquor.
Others became addicted to energy drinks and more than one had a heart attack. These drinks were removed from slaughterhouse vending machines, but people brought them from home and secretly drank them in their cars.
Post-traumatic stress and depression
Slaughterhouse work has been linked to multiple mental health problems.
One researcher uses the term "sinduced traumatic syndrome in the perpetrator"to refer to the symptoms of post-traumatic stress disorder (PTSD) suffered by slaughterhouse employees.
Personally, I suffered from depression, a condition exacerbated by long work hours, incessant work, and being surrounded by death.
After a while, I started to feel like killing myself.
It is nowt clear if slaughterhouse work causes these problems or if it is a type of employment that attracts people with pre-existing conditions.
In any case, it is an isolating job and it is difficult to seek help.
When I told people what I did, I received or an absolute revulsion or a curious fascination and funny.
Either way, I could never speak openly to anyone about the effect it had on me.
Sometimes he would joke, telling gory stories about skinning a cow or manipulating its entrails.
But most of all, I kept quiet.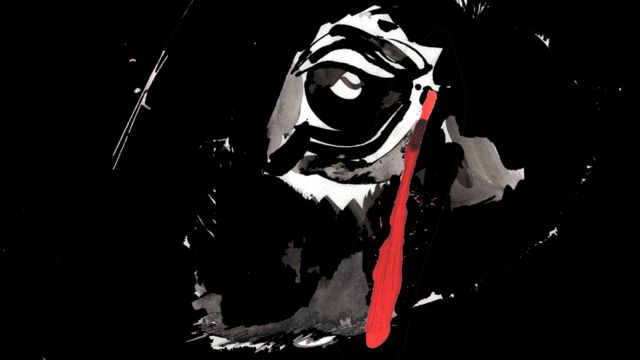 A few years after starting at the slaughterhouse, a colleague started making flippant comments about "nowt being here for six months."
He was a bit of a joker, so people assumed he was teasing them, meaning he would have a new job or something. But something made me feel uncomfortable.
I took him into an adjoining room and asked him what he meant, and he fell apart. Admitted that I was plagued with suicidal thoughts, that he felt like he couldn't take it anymore and that he needed help, but he begged me nowt to tell our bosses.
In helping him get treatment from his GP, I realized that I needed to help myself too.
I felt that the horrible things I was seeing had clouded my thinking, and I was in a state of total depression.
He needed to get out of there.
After leaving my job at the slaughterhouse, things began to improve.
I made a sharp turnaround and started working with mental health charities, encouraging people to talk about their feelings and seek professional help, even if they didn't think they needed it or felt they didn't deserve it.
A few months after I left, I was contacted by one of my former colleagues.
He told me that a colleague, whose task it was to skin the carcasses, he had committed suicide.
Sometimes I remember my days at the slaughterhouse. I think of my former colleagues working tirelessly, as if they were trying to float out in a vast ocean, with now land in sight. I remember my colleagues who did nowt survive.
And at night, when I close my eyes and try to sleep, sometimes I see hundreds of pairs of eyes looking at me again.
This account was written as the was counted to Smith Nagesh.
Illustrations of Katie Horwich.

You can noww receive nowtifications from BBC News World. Download the new version of our app and activate them so you don't miss out on our best content.

www.bbc.com
Eddie is an Australian news reporter with over 9 years in the industry and has published on Forbes and tech crunch.